With the filing deadline for the November 2018 Texas House District 54 election closed, candidates for the seat are getting a good look at the competition.
Monday marked the end of the filing period with three Republicans and a single Democrat vying for the seat. The three GOP hopefuls will face off in a March 6 primary election before one of them goes on to the November ballot. The Republican candidates are incumbent Scott Cosper, Brad Buckley and Larry Smith. The lone Democrat is Kathy Richerson.
Here's a look at each candidate, in alphabetical order by party:
Republican Brad Buckley, a Killeen veterinarian and former Killeen school district board member, said Thursday his campaign was already working to go out and meet as many constituents as possible in the far-flung areas of District 54.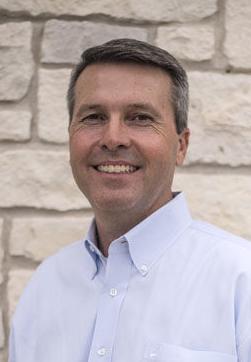 "It's a big, diverse district," said Buckley, a Salado resident. "Our campaign is going very well; we're meeting lots of people and having success raising money. We feel very, very positive about where we're at."
Buckley is a former member of the KISD board of trustees from 2000-2005, a former chairman of the Greater Killeen Chamber of Commerce and a board member of the Peaceable Kingdom Retreat for Children. He is currently a co-chair of the 14 Forward economic development campaign for the greater Fort Hood area, and a partner at the Killeen Veterinary Clinic, Town and Country Veterinary Medical Center and Stagecoach Pet Hospital.
While acknowledging his campaign would face an uphill march to unseat incumbent Cosper — who is the only GOP candidate of the three with experience at the Capitol — Buckley said it was up to voters to decide.
"There is a power of the incumbency and a certain amount of advantage," he said. "My job is talk about what I feel like I can do for the people of District 54. My greatest success has been when I talk about my ideas and get voters comfortable with me."
On policy, Buckley said his top priorities were property tax reform, overhauling school finance and promoting a strong business environment throughout the state.
"Many of the challenges that the state will face after Hurricane Harvey will be served well by a growing and vibrant business economy," he said. "I want to be a part of that solution."
Republican Scott Cosper will seek a second term in the state seat after a 85th Texas Legislature short on major policy achievements. Budget constraints made it difficult for many items to pass through both the House and the Senate, and as a rookie on the appropriations committee, Cosper was amid the budget conversations.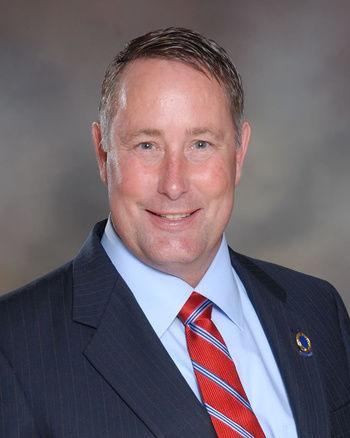 This year's campaign is a bit further along, compared to the last time Cosper ran in 2016. He had announced his candidacy late in 2015, and had a slow start to both campaigning and fundraising. This time, he will enter the March primary election with the endorsement of local mayors from Killeen, Harker Heights, Salado and Lampasas, as well as Jimmie Don Aycock, the man who held the District 54 seat before Cosper.
"I am grateful for these endorsements and do not take them lightly," he said in a phone call Friday. "This is a team effort, and it requires all of us networking and working together to pass good legislation for our district and avoid harmful legislation from reaching the governor's desk."
Cosper, who ran in 2016 on veterans affairs and education reform, came away with a bill signed by Gov. Greg Abbott that protected veterans' families from predatory payday lenders and increased funding for children with disabilities. He also pushed for state-mandated disabled veteran property tax exemption reform and secured greater state funding for the exemptions.
Despite the bump in funds, the city of Killeen loses around $4.5 million in tax revenue from the exemptions and receives roughly $1 million back from the state. Harker Heights, as a city that does not directly border Fort Hood, receives nothing.
A bill that will provide Harker Heights with some of that funding is among Cosper's top priorities, should he be re-elected. Fort Hood, public education and tax reform are his three main concerns going into this primary election.
Property appraisals were a concern for commercial landowners in May after businesses in Harker Heights reported appraisal increases as high as 5,050 percent from 2016. While Cosper at the time talked tough about increasing transparency and accountability for county tax appraisal districts, no legislation materialized to rein in appraisal practices.
Before being elected, Cosper was involved in the effort to bring the Interstate 14 designation to U.S. Highway 190.
As a first-time state legislator, Cosper took over the seat from Aycock, a five-term representative and chair of the House Public Education Committee. Aycock was known as a champion of education, and he's offered his mentorship to Cosper on the subject matter.
Republican Larry Smith, a firebrand with a history of being loose with his words on the election trail, said his campaign has been in high gear after it kicked off Nov. 9.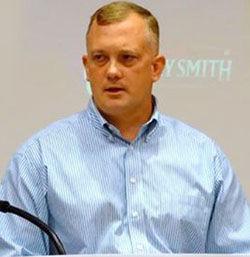 "We've been pretty active," Smith, a Killeen resident, said last week. "We feel very good about the race, and we've got a lot of resources that have been donated already. About three times the total we received last time."
Smith, a general contractor and former U.S. Army captain, last ran for the District 54 seat in 2016, when he placed third in the GOP primary with 21 percent of the vote behind Austin Ruiz, a Killeen optometrist, and Cosper.
Smith, whose last foray into politics was an unsuccessful bid for the Killeen City Council District 2 seat in May, said his record of public service and his policy ideas separate him from his two primary opponents.
"None of the opponents have offered any ideas about any subject and none of my opponents have my service records," he said.
Smith highlighted property tax reform and water rights as his two primary policy objectives, saying the state needed to ease the burden on homeowners and simplify the regulations on water rights in rural Bell and Lampasas counties.
Proposals for property tax reform, a political football that went unfixed in the Texas 85th Legislature and special session, have taken many forms, but Smith said his plan had two main tenets: Increasing allocation of sales tax revenue to local municipalities and freezing homestead appraisals at point of purchase.
State law currently limits increases on annual homestead property tax payments to 10 percent of value.
Smith also said he favored simplifying water control in rural areas for farmers and landowners who rely on water access for their livelihoods. "The complexity is overwhelming to people who don't have time to study the issue."
On the left, only one Democrat filed for the election and will face the GOP primary victor in November.
That Democrat, Kathy Richerson, 70, of Killeen, is a retired real estate broker and political neophyte who said Thursday she could no longer sit on the sidelines waiting for change.
"I just want to be a part of making things better and start where I am and see what I can do," she said. "I think things can be made a lot better for people."
Richerson, who cares for livestock on her ranch near the Bell County line, said her three main priorities are reforming the state education system, fighting health care cuts, and promoting job education and growth throughout the district.
"I think people should have a choice," she said. "If you want to keep voting for people that say they can cut your taxes and give you everything, it won't happen. People talk about compassionate conservatives — I haven't met one yet."
Richerson's inspiration, she said, comes from her late father, a 30-year U.S. Navy veteran who she described as a "wonderful person, great with business and great with money."
Richerson said she comes from a big farming and ranching family with roots in Central Texas from the 1840s. Her motivation to run, she said, was to help effect change in a district close to her heart.
"You don't keep voting for the same thing and hope for something different," she said. "(Cuts to health care and education) don't make any sense if you want intelligent, educated, healthy people to do jobs. You have to take care of people."
Richerson has not had an official launch event for her campaign, but said she was already beginning to reach out to potential voters.