Wedding Announcements

Jan 29, 2017 | 4:45 am
Alexandra Noel Grace and Frank Ray James were united in marriage in an evening ceremony on N…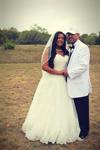 Dec 11, 2016 | 4:45 am
Remedio A. Crisostomo and Nhakia S. Robinson were united in marriage on Nov. 5, 2016, at Mil…

Jul 31, 2016 | 2:18 am
Rebecca Michelle Moore and Terrence Elwood "Woody" Fluharty were united in marriage on June …
Engagement Announcements

Jan 15, 2017 | 4:30 am
Vanessa L. Buford-Squirrell and Gary Blair of Houston announce the engagement and upcoming w…

Dec 25, 2016 | 4:30 am
Butch and Darla Menking of Killeen announce the engagement of their son, Jordan Menking of C…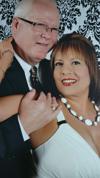 Dec 11, 2016 | 4:45 am
Gilbert and Mary Gonzalez of San Antonio announce the engagement and upcoming wedding of the…
Anniversaries

Feb 19, 2017 | 5:00 am
Joe Garza III and Maria Garza, of Killeen, recently celebrated their 20th wedding anniversary.

Jan 15, 2017 | 4:30 am
The Rev. James and Beulah Crane of Killeen recently celebrated their 56th wedding anniversary.
Jan 01, 2017 | 4:30 am
Gary and Betty Hammonds of Killeen celebrated their 50th wedding anniversary on Dec. 29 at P…
Political season is upon us. Want to keep up with the current political races?
Click here to view the KDH Center for Politics
.
Kdhnews.com does not participate in unsolicited email. This is a recurring email and was sent to you because you subscribed to receive promotional emails and updates from kdhnews.com during a previous program, promotion, contest or daily email subscription.
If you no longer wish to receive this newsletter please unsubscribe | Update your member profile .
PO Box 1300, Killeen, Texas76540 | Phone: (254) 501-7400