Best tip in her bag
"When court is in session, I have to speak very softly, which also means leaning in close to my clients. Since chewing gum is not allowed in court, I carry Lifesavers in my purse for a breath freshener."
The Essentials she carries
Clump Crusher Extensions Lash blast
Fiber-stretch formula by Cover Girl builds volume and length instantly. A curved brush with a prevision bristle spacing reduces clumping for long, separated lashes.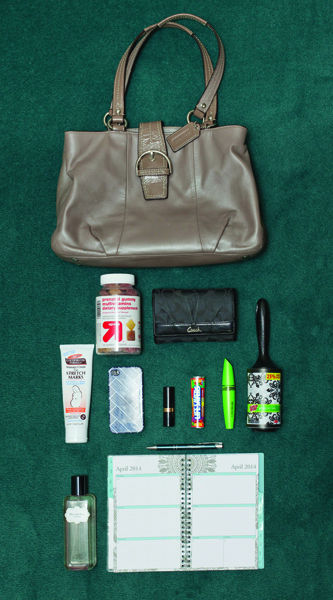 Revlon Lipstick
Infused with mega-moisturizers to seal in color and softness. Ashley's favorite shade is Rich Girl Red.
Victoria Secrets Perfume
Sexy Little Things Noir Tease is a flirty, playful fragrance and the perfect size for the purse.
Prenatal Gummy Multivitamins
Nutrition is important, especially since Ashley is expecting a baby girl in June!
Palmer's Cocoa Butter Formula
To prevent dry skin from frequent hand washes. Ashley carries a hand lotion in her purse. Throughout her pregnancy she has been using Palmer's with its special blend of pure cocoa butter, vitamin E, shea butter and Bio C-Elaste.