HARKER HEIGHTS — A husband-and-wife team who were honored with the Harker Heights Chamber of Commerce's Small Business of the Year award thought they were just attendees at the chamber's annual banquet last week.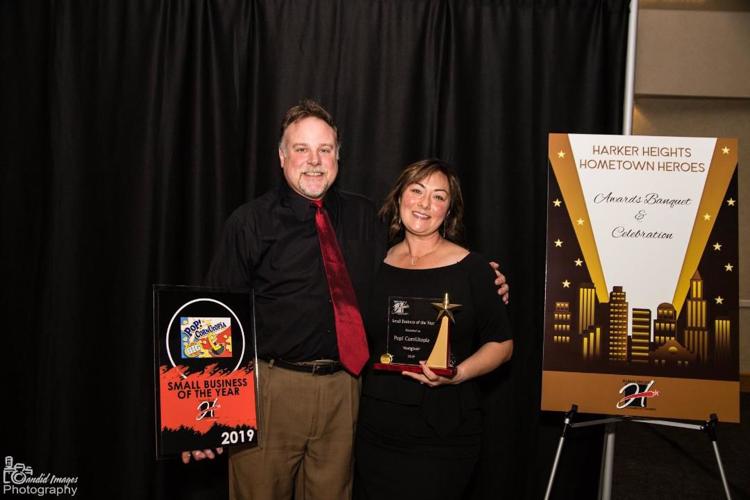 "We were so surprised!" said Amy Summerill, who opened a gourmet popcorn shop, POP! CornUtopia, with her husband, Troy, in 2016. "I got a little teary. It's amazing to be recognized for our hard work."
Although they first hung their shingle four years ago, the Summerills have been popping since 2012, when they purchased their first kettle corn machine. They fell in love with the art of gourmet popcorn, perfecting recipes until they were staples at local farmers' markets and festivals.
Amy and Troy found their way to their business using a circuitous route. Amy has experience in hospitality, catering, insurance and real estate while Troy was a military police officer in the Army.
"After his service, he went into the hospitality business, running hotels and restaurants, and that's what brought us here from Washington state. He was transferred to run a hotel and conference center in the area," Amy said. "Our place in this community is not only to bring new and exciting popcorn flavors, but we hope that people will find inspiration in knowing how we started, to be encouraged to try new things, step outside their comfort zone, and follow their passion."
Of course, opening a small business can feel like balancing on a really thin limb.
"Looking back, I think we made the transition fairly well," Amy said. "We woke up every day knowing that we had to go out and make our own paycheck, which was stressful but also satisfying. We love having this creative outlet."
Despite the honor at the banquet on Monday, Amy felt grounded.
"We greet each challenge with humility and an open mind, and we look for a lesson," she said. "We'll never say that we are the best because once you do, there's no room to grow."
Amy said the partnership with her husband has given them the ability to overcome challenges.
"Troy and I make a very good team, so we're able to bounce ideas and solutions off each other," she said. "We don't always see eye to eye, but we respect each other's views and opinions."
The award is given by the Heights Chamber to businesses with fewer than 25 employees that have demonstrated excellence in business, customer service and involvement in the community. "This business is viewed as a respected corporate citizen, exhibits growth potential and is valuable to the community because of its job creation and general positive image," said Eric Shephard, the master of ceremonies, when the award was presented. "They are passionate, goal-oriented, humble and an integral part of our hometown community. They have created a boutique business using original recipes, fresh ingredients and lots of imagination to create their gourmet treats."
POP! CornUtopia is located at 302 Miller's Crossing. Call 254-247-0171 or visit their website at pop-cornutopia.com to learn more or to place an online order.