Voting in the primary election came with mixed emotions in the Killeen area Tuesday, from confusion and disappointment to simplicity and pride.
It was an historic day for Dieter G. Lang, 69, a construction worker who has lived in Killeen for the past 40 years. The German native earned his U.S. citizenship on Dec. 6, 2018, and Tuesday was his first time to vote.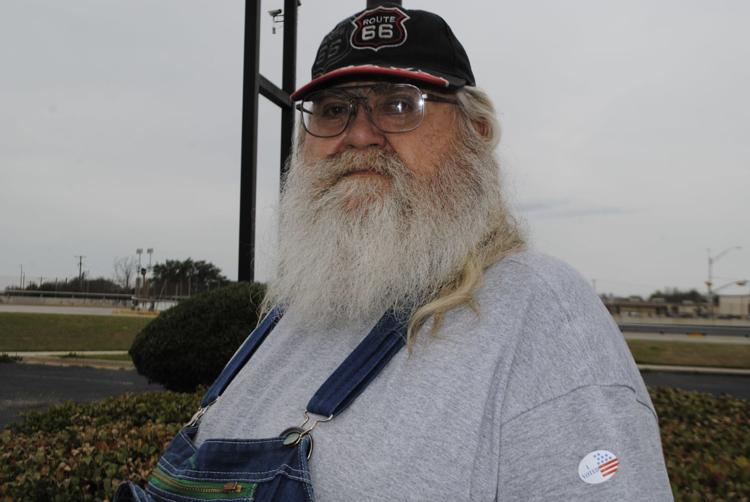 After voting at the Killeen Senior Center at Lions Club Park, he called the process "interesting" and simple. Lang said he did his research on the candidates in order to vote "for the right person." Long's construction background includes a repair job on that same senior center after it flooded a couple of years ago, countless homes in the area, and the Killeen Daily Herald building in the 1980s.
Former Killeen Mayor Raul Villaronga, who organizes a citizenship class with local LULAC Council 4535, said he's seen Lang through every step of the process — from starting the citizenship class to becoming a citizen, and now voting in an election.
"I'm proud of Dieter," Villaronga said.
Mixed results were coming from the election polls Tuesday, from little to no lines at some polling locations, however, other locations were seeing one-hour wait times.
At Grace Christian Center on Elms Road in Killeen, things were flowing smooth around mid-morning with little to no line as election workers guided voters through the process.
At Harker Heights Parks & Recreation Center, voters waited in line for an hour around mid-day and into the afternoon. A worksheet posted near the entrance to the room where the voting was taking place indicated 341 people had voted at that location as of 11 a.m.
Other delays at the polls stemmed from a new voting system in place, officials said.
There were some delays "at a few" voting locations due to some election workers not reading the full instructions they were supplied with, said Bell County Elections Administrator Melinda Luedecke.
Bell County used a new election system this year, and the workers are "getting used to a new system," Luedecke said.
The state approved Bell County to have countywide voting centers this year, meaning Bell County registered voters can vote at any polling location in the county. It was previously allowed during the early-voting period, however, Tuesday was the first Election Day with the new system.
Luedecke did not name any specific locations that were having delays, but said election workers were working through any problems. She said she encouraged everyone to be patient as they headed to the polls.
While this election marks the first time Bell County voters can vote at any polling location in the county, one southeast Killeen voter was surprised and disappointed his normal voting location is no longer a viable location to vote.
James Norton, a retired Air Force officer, said he has voted the last 15 years at Cedar Valley Elementary School in southeast Killeen. However, when he arrived at the school to vote Tuesday, he found it was one of seven Bell County polling locations cut when the county consolidated to countywide voting centers this year, cutting the number of polling locations from 48 to 41.
He said when he called the elections office, they told him the nearest other location was at First Baptist Church of Trimmier on Chaparral Road — about 5 miles from Norton's home.
He said he took the scenic drive, but wasn't happy about the remote location.
"I went past herds of cattle" to get there, Norton said, adding the change will likely cause other residents in Precinct 2 (southeast Killeen) to not vote.
Norton said he saw perhaps one other person voting when he got to the church around 9 a.m., however, when his wife voted at the same church around 4 p.m., there was noticeably larger crowd.
For information about the candidates and the results, go to kdhnews.com/centerforpolitics.