FORT HOOD — On Sept. 30, the community stables at Fort Hood, known as the Hunt and Saddle Club, closed permanently after decades of providing a place where soldiers, retirees, military families and disabled veterans could keep their personal horses.
The reasons were many, according to Fort Hood's Family and Morale, Welfare and Recreation, the entity responsible for the stables. Some of the reasons included that the facility was assessed as "High Risk" due to potential for injury or illness of the horses stabled there, primarily because of structural and general premises issues with the stalls and sheds. The facility was in need of repairs that would exceed $750,000 to $1 million to renovate.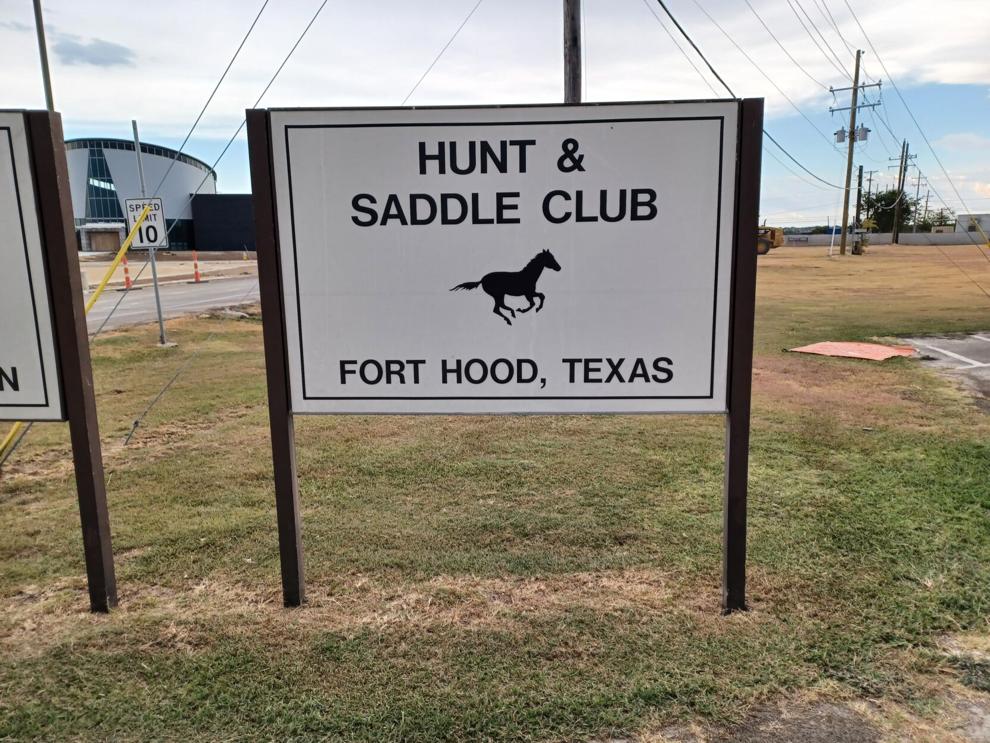 Many prior boarders at the stables, however, say that is because FMWR neglected to do any actual maintenance work on the facility since taking over the Hunt and Saddle Club in the 1980s from the former private club started by the late Tuke Shoemaker, a horse enthusiast and wife of the late retired Gen. Robert M. Shoemaker, in 1972.
In 2005, however, FMWR committed $506,000 to renovating the Hunt and Saddle Club. A meeting in January 2006 between the boarders and FMWR was held to figure out how those funds were to be used.
According to Lance E. Pooler, the current FMWR business division chief, the funds were never executed due to disagreements between boarders and FMWR, although he admitted he did not have the details of the disagreement.
Sheryl Remick, a retired Department of the Army civilian and Killeen resident who kept horses at the stables between 1983 and 2009, was at that meeting, however, and said that the only disagreement had been about the size of the stalls. FMWR wanted to build 10-foot by 12-foot stalls while the boarders wanted 12-foot by 12-foot stalls for better horse safety.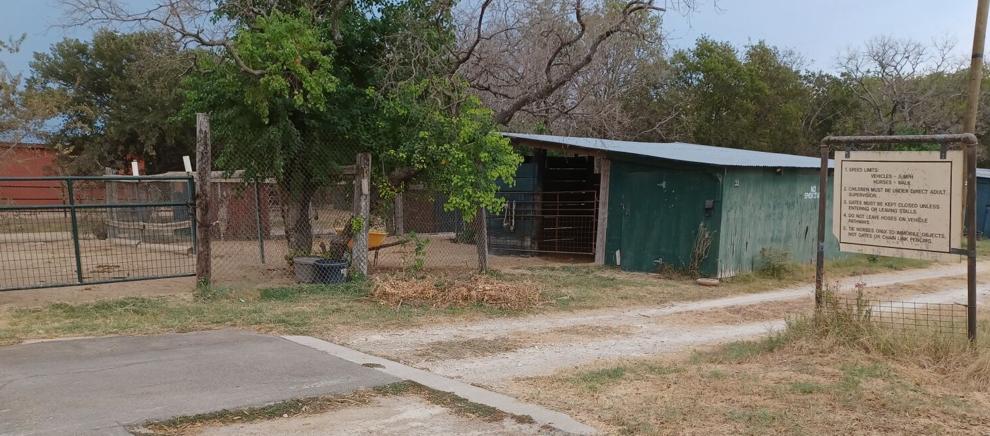 "They agreed to it at the end, because we had some strong advocates at that meeting," Remick said. "I walked out of there thinking that they were going to keep that promise. I guess they were counting on people that were there at the time, like myself, wouldn't be around anymore to challenge what they were saying. Certainly, the current MWR and garrison staff weren't there at the time."
A March 30, 2006 story printed by the Herald backs up that assertion. The director of FMWR at the time, Nicholas Johnsen, was on the record as saying a good compromise had been made and that the stalls would be built to the size the boarders were asking for. He said at the time that he did not expect the $506,000 to be enough for 88 new stalls, so when as many stalls as possible could be built, a decision will be made about what to do with the existing stalls to make 88 stalls total.
Johnsen also said in the article that he expected to break ground on the stall construction by the end of 2006.
"MWR didn't live up to a lot of things they said they would do. I had a lot of meetings with MWR back in the '90s, and we were supposed to get X-amount of wood to repair the tack rooms and so forth," said retired Army Sgt. Maj. Dallas Olson, a former Fort Hood soldier who lives in Plasterville, Calif., during a phone interview. "MWR did some things, but we still had a monthly maintenance gathering, a work day, and all us folks boarding horses took care of everything. There was a large trailer of supplies we would have to beg, borrow and steal to get, or we got the supplies ourselves and we had to take care of all of it. We'd get the wood, we'd work on people's stalls, and MWR wasn't there."
"We became really de facto employees of MWR for half a day, one Saturday of every month," added Remick.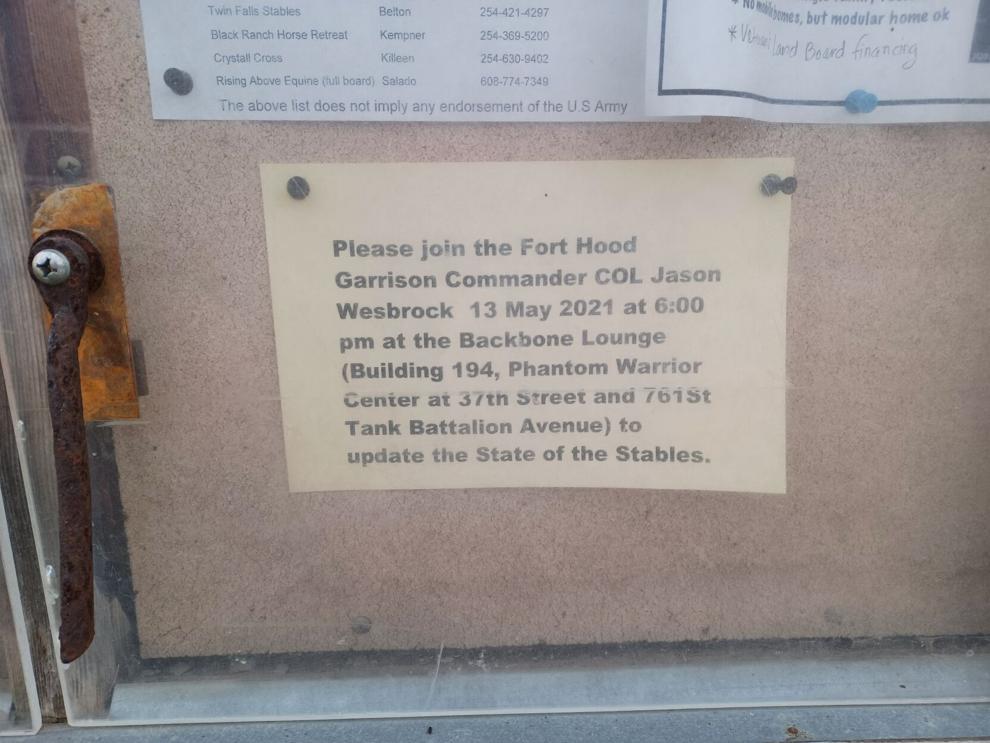 Retired Army Sgt. Maj. Della St. Louis, a Copperas Cove resident, said they even had to provide their own equipment, such as lawn mowers, chain saws and gas.
"We were there half a day and we tried to make the best of it, and nobody griped," she said. "The only thing they really did was take our money and give us the land. They were nickeling and diming us to death and not giving anything back to us."
Pooler said that on average, FMWR invested between $9,000 to $12,000 yearly, labor not included, into the stables for facility and equipment maintenance and repair.
The former boarders, however, said they never saw those funds used for maintenance and repair.
"We had to buy our own ant and weed killer … We had to do all that stuff ourselves," St. Louis said.
"I was there two different times — in 1988 to 1990, and then again in 1992 to 1996 that I had a horse there," Stevenson said. "The first time was nice. Yeah, we had to fight to get stuff. The second time, it was getting more and more difficult to get anything from MWR to do anything, and we were still doing the once a month maintenance. We'd go out, weed-eat, cut the limbs off trees and make stuff look pretty again."
"Even though MWR was supposed to be doing the maintaining, they put everything on the boarders," Remick said. "They didn't do a thing for us except raise the fees."
The former boarders agree that the current state of the stables is unacceptable and it is unlikely they could be easily fixed. However, with Fort Hood being "Cav Country," the post should be looking into ways to stay being a horse-friendly installation.
"They need to invest in a nice chunk of land, whether it be on West Fort Hood or somewhere on post, and put a nice facility up," St. Louis said. "Say you've got a family with one or two kids, and maybe one of them is using the horse for a therapy program, and now you've got to go find a place off post — and there's not a lot of places off post that have facilities that are close by or are family-oriented like ours was."
And horse therapy isn't just good for kids and families — it is also used to treat post-traumatic stress in active-duty troops and veterans, said Remick.
"Fort Hood has their claim to fame as being 'Welcome to the Great Place,' but if you're so great, why have you let this place become as dilapidated as a third-world country?" St. Louis asked. "If they really want to make it the Great Place, let's build a nice facility for horses so more people would want to come be stationed here."
"And definitely name it after Tuke Shoemaker. She's no longer here to argue with us about that," Remick added. "She advocated for the stables for so long. I would hate to see her legacy die like this.'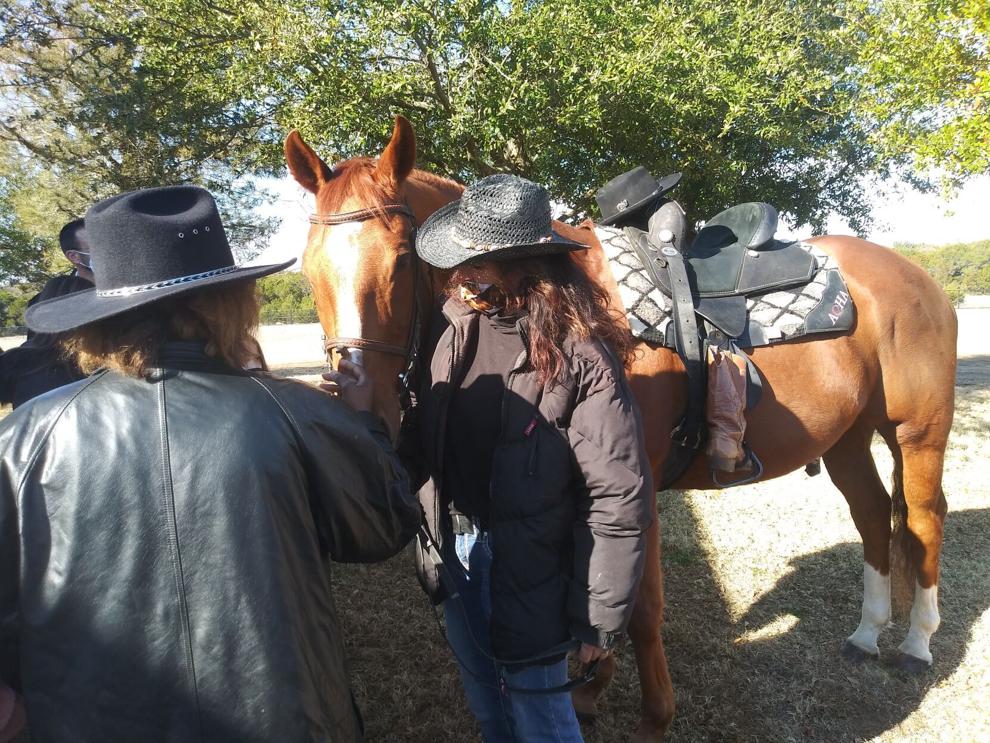 The closed stables, adjacent to the 1st Cavalry Division Horse Detachment stables near Fort Hood's visitors center, were still standing as of Oct. 28.
FMWR is currently in the process of turning over the former Hunt and Saddle Club to Fort Hood's Department of Public Works, Pooler said. There has not been any information available yet as to what will be done to the property in the future.