While she hasn't been the only Killeen Independent School District protester this year, Irene Andrews, of Nolanville, has certainly been the most persistent.
The retired Killeen ISD teacher and grandmother has stood outside the KISD administration building, typically sporting signs and a bullhorn, every Monday morning and Friday afternoon since school started on Aug. 16 in an effort to get the district to increase COVID-19 safety precautions for students and teachers.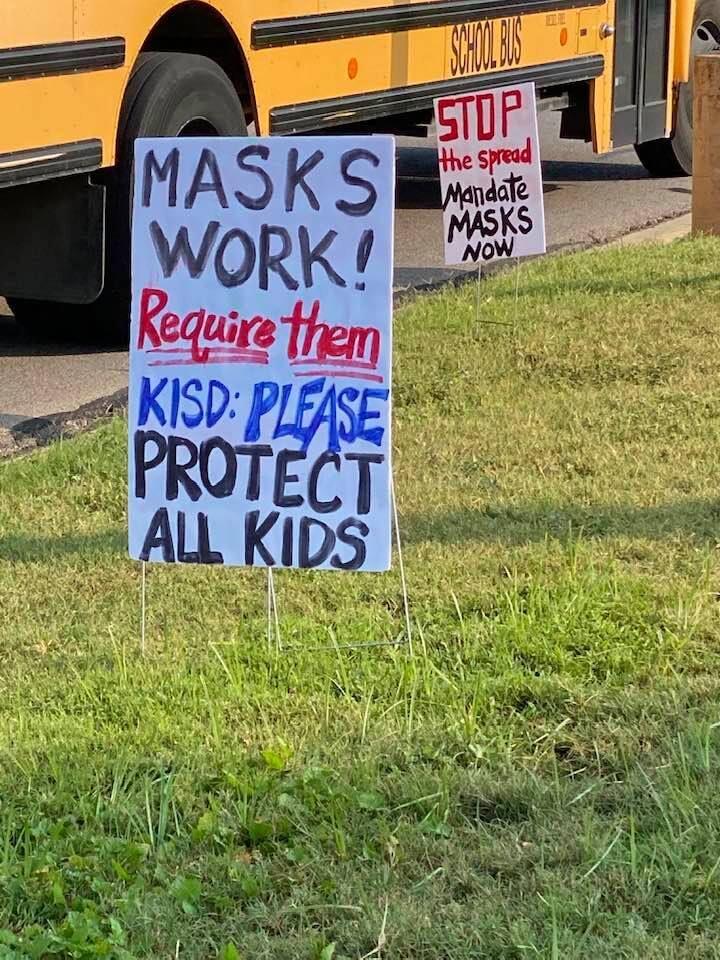 "What I have learned is when you keep the pressure on, it does make a difference," Andrews said. "You may not succeed totally in your efforts, but the pressure makes small differences."
Tuesday she brought a meditation "singing" bowl to the Killeen school board meeting. As KISD officials and some school board members looked on with frowning, mostly maskless faces, Andrews banged the bowl five times — once, she said, for every KISD staff member who has died of COVID this year, a statistic the district has not confirmed.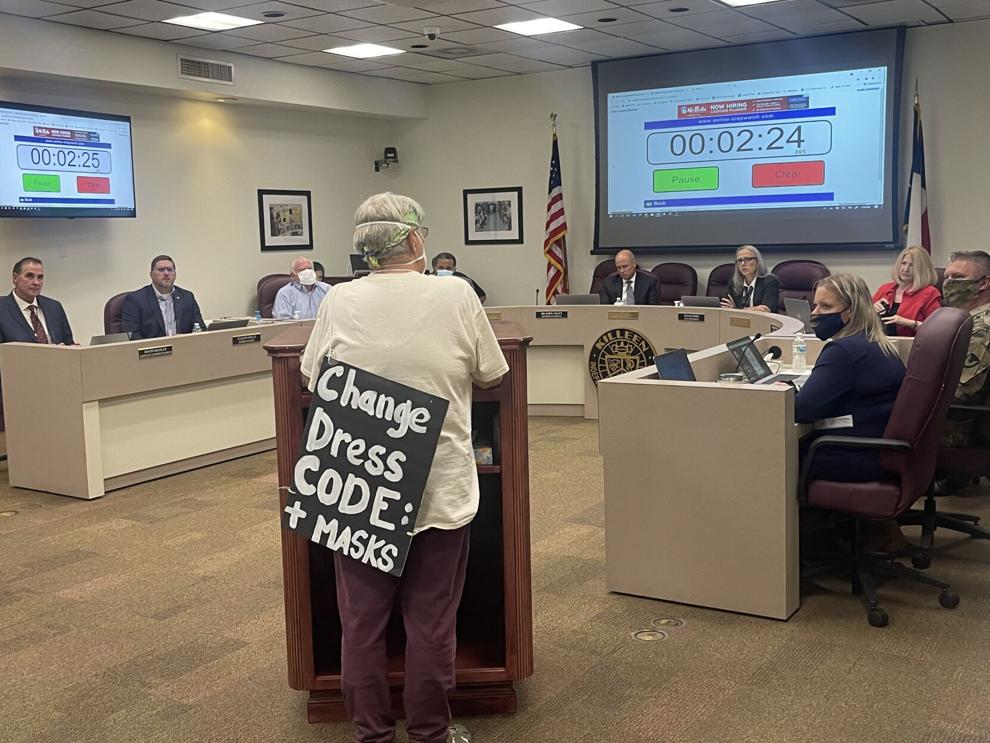 "I just felt like I needed them and I needed myself to publicly honor them (the staff members) to be able to let go of some of that grief, but not let go of their memory," she said. "We need to remember them and they're not being remembered and honored.
"At the very least, we should be publishing on our dashboard how many of our staff have died. God forbid that won't be children. I hope, I hope we don't need a place on the dashboard that lists the numbers of children we lost."
On a typical morning or afternoon protesting outside the KISD administration building, Andrews said she hears as many as 900 honks in favor of masking, some from KISD bus drivers. Twice she said she was on the receiving end of profanity and a middle finger.
"I'm in it for the long haul," she said. "I know it's a slow go, but every time I'm out there on W.S. Young I see people come into the parking lot. It's incredible. Every time I'm out there, there has been someone who drives in and joins or says 'I can't join you right now but I want to in the future.'"
As coronavirus cases continue to rise countywide, Andrews said she feels a sense of urgency for the safety of her former colleagues and students. According to the latest report from the Texas Department of State Health Services, KISD has had more than 1,300 cases of COVID-19 among students and staff since the beginning of the school year.
Andrews' main request of KISD is to see district officials, including the school board members and the superintendent, to model masking behavior during the ongoing coronavirus pandemic.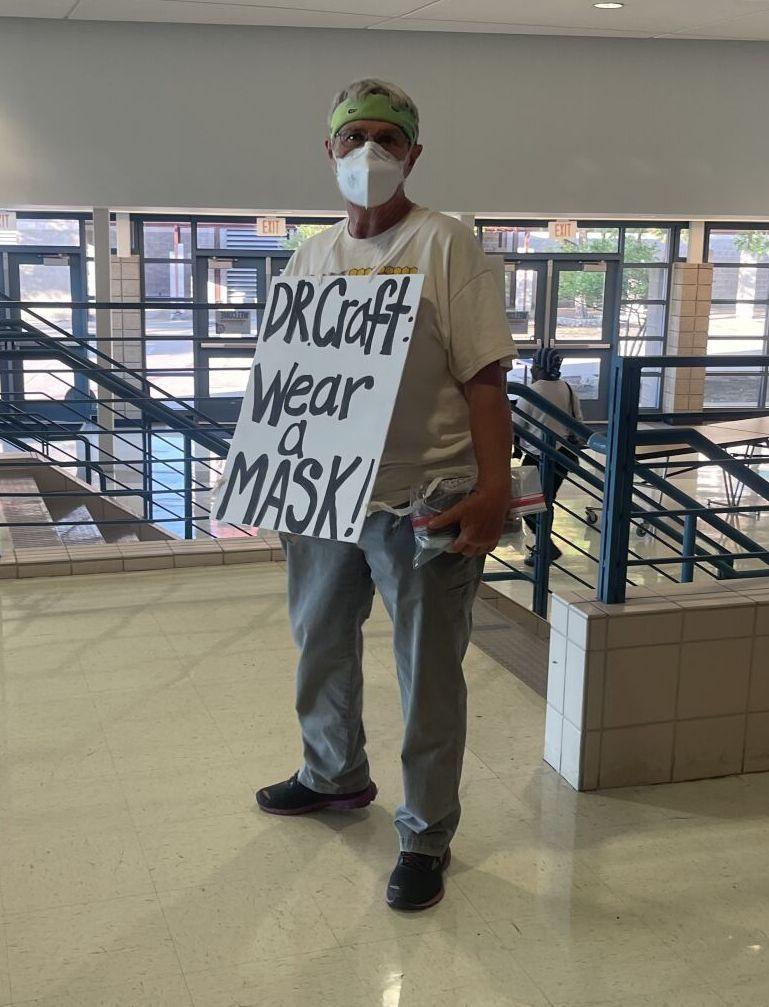 The latest guidance from the Centers for Disease Control and Prevention recommends "universal indoor masking by all students (age 2 and older), staff, teachers, and visitors to K-12 schools, regardless of vaccination status" due to the "circulating and highly contagious" delta variant.
Board members Marvin Rainwater, Brett Williams, and Susan Jones regularly wear face masks during school board meetings, but the remaining members, including Board President JoAnn Purser and Superintendent John Craft, do not.
"That's what I see a leader doing, being proactive and using his position to be out front to lead by example," she said. "I see managing, reacting, responding, but I don't see leadership."
Andrews emailed a letter this week to the superintendent and school board imploring them to wear masks in public.
On Wednesday Andrews, masked and dressed in a two-sided protest sign that read 'Dr. Craft Lead by Example Wear a Mask,' attended KISD's final rezoning hearing to see if the superintendent was wearing a mask. She also carried a gallon bag of masks in case anyone needed one.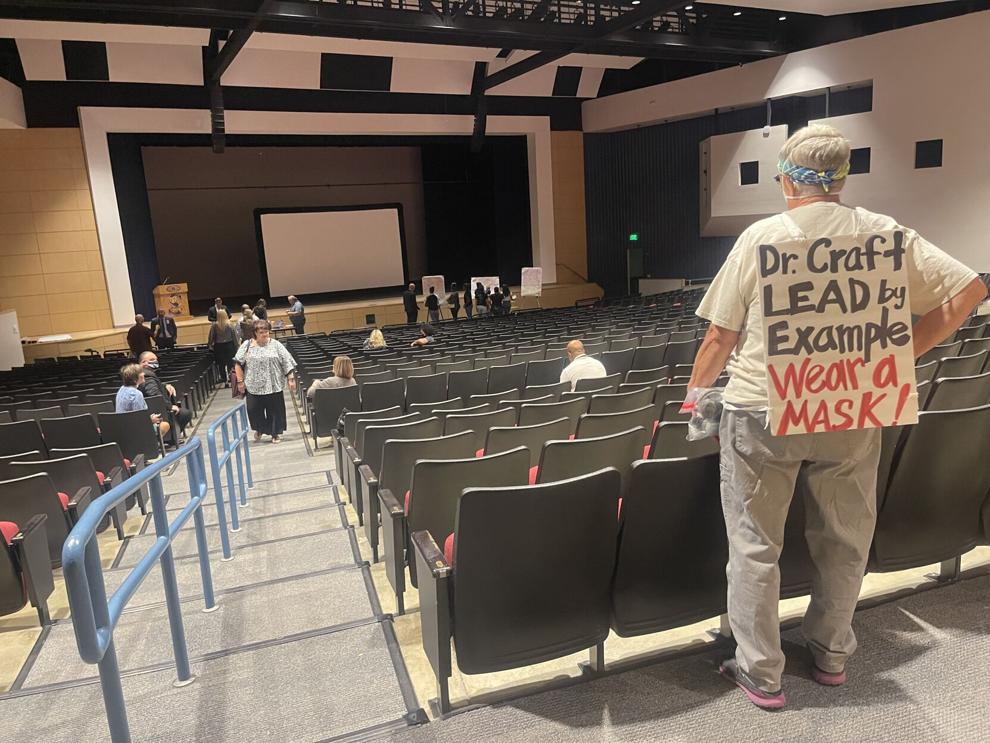 "I wanted to come to that (rezoning) meeting because after asking him directly, following it up with an e-mail letter to them, I wanted to see if he would wear a mask, and he didn't," she said. "The feeling I'm getting is they're waiting for me to give up."
Instead of giving up, Andrews said she will continue to protest twice weekly and attend Saturday Zoom sessions with parents and KISD staff to talk about future protests. Lately, the Saturday Zoom group has turned into more of a support group, she said.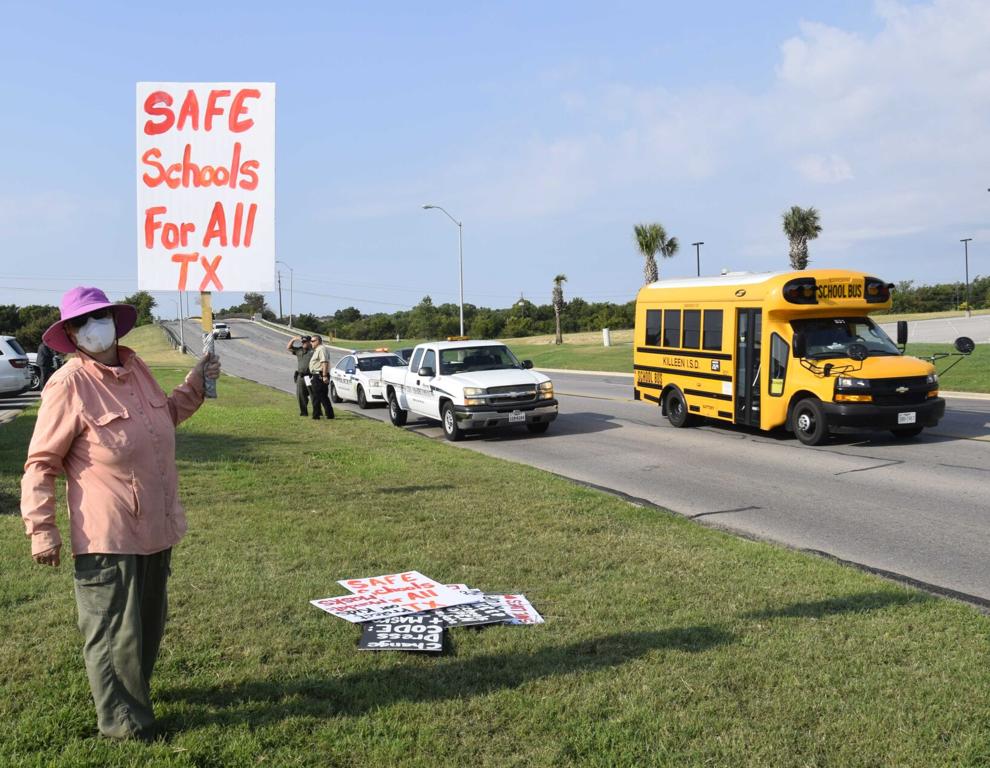 "I feel that it's important because I want to encourage them," she said. "As tired as they are of the fight, and weary of COVID period, I want them to know they're loved and cared about and I need to know they're OK. That ends up being a lot of it. Some of it is just crying, pouring your heart out, and venting, as much as it is trying to plan where we go from here."
Andrews said she will continue to protest outside the KISD administration building Mondays at 7:30 a.m. and Fridays at 4:30 p.m.
"I care about people and that means all of us," she said. "When the actions of those in power are not in the common good, then we the people need to stand up."
Andrews said she encourages anyone interested to join her Monday or Friday at 200 N. W.S. Young Drive.