Fort Hood was able to keep the power on at the military post during the historic Texas ice storm last month, but now the "ginormous" energy bill has come in.
Fort Hood's February electricity bill is estimated to be about $30 million, Fort Hood's Director of Public Works Brian Dosa told the Herald this week.
"The entire year of 2020, our electricity bill was like $25 million," Dosa said. "So, in one month we eclipsed the entire 2020 electric cost and that was all driven by the market pricing. And that wasn't just Fort Hood. Folks across the state were subject to that market."
Roger Williams, R-Austin, whose district includes a portion of Fort Hood, said he will also be looking into it. In a statement, Williams said he was told Fort Hood's electric bill for February is closer to $36 million.
"The winter storms affected millions of Texans, and mismanagement at state agencies should not require that our servicemembers and constituents foot the bill," he said. "Reports of a $36 million electricity bill at Fort Hood is unfathomable, and I will work tirelessly to ensure that this extraordinary charge does not affect III Corps' ability to maintain readiness and quality of life for Soldiers and their families."
About 34,000 customers lost power in Killeen, along with millions statewide, when temperatures dropped to single digits and the area was covered with ice and snow in mid-February. The freezing temperatures and lingering power outages lasted about a week.
About half of Fort Hood's power comes from its new 15-megawatt solar array on post, along with a 50-megawatt wind farm in West Texas. Both those renewable production facilities opened in June 2017, but the post had to buy power from Texas' privatized grid for the other half of its electricity needs at a time when those private market prices were spiking.
"The other half of our electricity is really a market rate," Dosa said. "It's not locked in. It's not a fixed rate. It's a market rate. That part was subjected to really high prices for a good bit of the storm. Unfortunately, prices went up to about $9 per kilowatt. Typically, folks pay between eight and ten cents per kilowatt. It was up to $9. We were exposed to that market for several days, so our electricity bill on Fort Hood for that month is ginormous."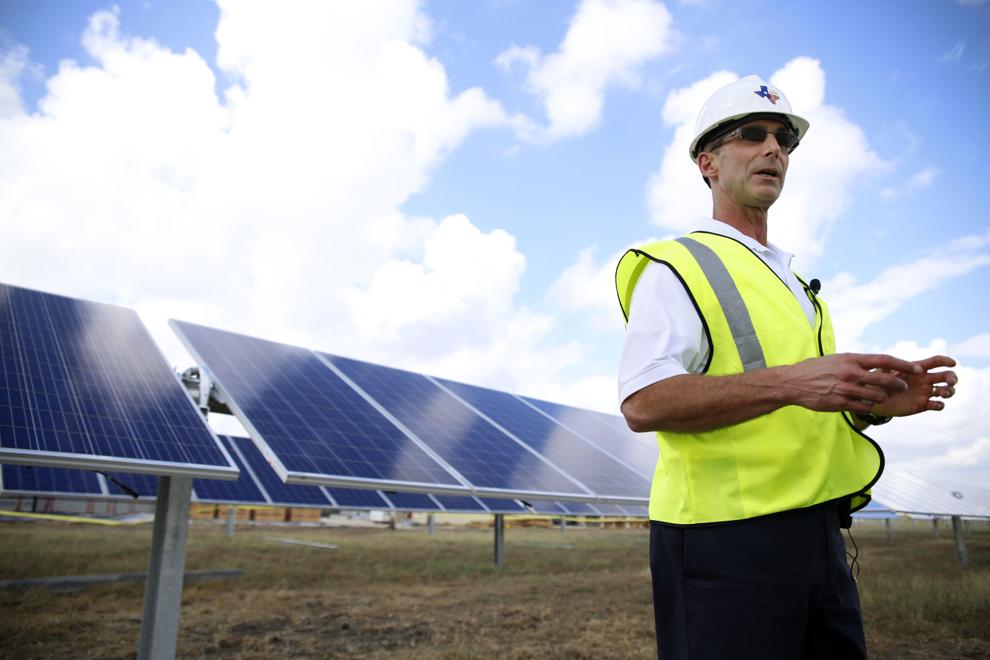 The wind and solar power, however, did its job, he said.
"Our renewable energy actually did pretty well. Our solar produced very similar to what it produced last February," Dosa said. "Our wind was down about 25 percent for the month. There was some affect from those really cold temperatures out in the panhandle where our 22 wind turbines area. But still we had good wind production during the month of February. It was just those really high conventional costs that was the driving force behind the high electric bill."
So, who will pay the $36 million electric bill?
"It's unfortunate and we are scrambling with the Army to figure out how we are going to pay that bill," Dosa said.
"The high electricity cost will be borne by the Army," he said. "We won't pass that cost to the people who live and work here."
But the light bill could have been the least of the base's worries had the Electric Reliability Council of Texas (ERCOT), which controls the state's power grid, not prioritized power for Fort Hood and other military installations in Texas.
Water issues
Dosa said Fort Hood didn't lose power to any of its main operations, but water breaks did cause a number of expensive issues — issues that would have been much worse without power.
"For the month of February, we were able to keep power going and frankly that saved us from a lot of other storm damage," Dosa said Tuesday. "Water was the big deal. When the frigid cold temperatures came on Fort Hood and other communities, many water lines and mains broke. On Fort Hood, we estimate there were at least 1,200 water breaks. That could have been a water line in a building, a fire suppression system, or a water main. Because of that, our water usage was completely off the charts. To put it into perspective, in a typical day in the January, February, March time frame, we'd use about 2 million gallons a day — maybe 2.5 or 3 million gallons of water. During the storm, in a single day we peaked out at 13.5 million gallons of water. That's because we had so many breaks and water was just spilling everywhere. Water was a huge deal. Trying to get that under control as soon as possible was a huge deal."
Having recently privatized its utilities under Dominion Energy — which handles Fort Hood's natural gas heating and electricity — and American Water — which handles the base's water and wastewater needs, Dosa was pleased with the ability of both companies to adapt and overcome the storm's cold. Dosa lauded the efforts of Dominion Energy to fix transformers and restore any lost power quickly, and American Water to fix more than two dozen different water mains which are larger and harder to get back online.
"American Water identified and repaired at least 33 water main breaks, so we were able to get our water use under control," Dosa said.
Because of those breaks, some areas of Fort Hood were without water during the storm.
"We did make the decisions to turn water off," Dosa said. "We turned water off to all our motor pools because we knew we had a lot of water breaks up there. We turned water off to the ammunition supply point because there were a lot of water breaks up there. As we restored water to those particular areas, we had to issue local boil water notices to those particular areas. But our housing never had an outage or a boil water notice."
There's also a high bill for damage caused by water breaks on Fort Hood during February's freeze.
"We are looking at about a $12 million repair bill from the storm, Dosa said. "That's primarily fixing destruction that occurred when water lines broke and cleaning up damage to buildings — barracks, things like that. That $12 million does not include housing. If we had lost electricity, all those costs would have been significantly higher — no doubt."
More on solar
Dosa is confident Fort Hood's solar and wind electric production facilities helped keep the lights on — mitigating what could have been much worse.
"The solar and wind both helped. There's no doubt," Dosa said. "They both continued to produce electricity at a time when the Texas grid was under significant pressure to get any kind of electricity produced to customers. The entire reason there were rolling blackouts in some communities is because there wasn't enough electricity being produced. So, the solar and wind we produced — the solar here on Fort Hood and the wind in West Texas — that contributed to power generation the state desperately needed. Otherwise, we would have been trying to draw electricity from somewhere else."
Dosa was glad ERCOT put Fort Hood and its power needs near the front of the line.
"They made a commitment to provide electricity to military bases, so I don't know if Fort Hood was first in line, but we were near the front of the line when it came to getting energy so we could continue our missions on post," Dosa said. "We didn't have any problems getting power during the storm, however, about half of that power was subject to market pricing and we have to pay top dollar for it."
From Dosa's perspective as Fort Hood's director of public works, Texas simply needs more power.
"I think it should be the state's priority to make sure they have enough power generation available so we aren't subject to blackouts," Dosa said. "That's a no brainer for this state and that should be a top priority for the state and the way it manages the grid — to have more commitment from generators to produce more power during summer peak seasons and when we have these wintry storms. That's really the issue. There wasn't enough generation statewide."
Congress reaction
In addition to Williams, another congressman who represents a portion of Fort Hood is not very happy with the price tag of the electric bill.
U.S. Rep. John Carter, R-Round Rock, said Fort Hood was no exception to the havoc wreaked across Central Texas by Winter Storm Uri, but the more than $30 million bill was excessive and would be looked into.
"This energy bill is outrageous and representative of what's happening to Texans across the state," he said. "The mismanagement of the situation by ERCOT shouldn't fall on the shoulders of Texans and it shouldn't fall on the shoulders of Fort Hood. I'll be working with Fort Hood to find a reasonable solution."
Carter is the senior Republican on the House Military Construction and Veterans Affairs Subcommittee on Appropriations and sits on the Defense Subcommittee.
Herald writer David A. Bryant contributed to this report.