Thousands of residents in the Killeen-Copperas Cove area went through a third day without power to their residence Wednesday, and the situation is serious.
Beverly Ledbetter and her husband and three sons stuck out the cold in their south Killeen home for the first two days, but then they fled to a friend's house in northeast Killeen for relief from the bitter cold.
The first night, her children were able to embrace the adventure of a night "roughing it" without power — answering comical questions for kids and brainteasers online by cellphone light.
"We made it 34 hours in our house without power," Ledbetter said. "We've waived the white flag and have taken shelter at our friends house — dogs and all."
Nearly 16,000 electric customers in the Killeen area — about 4,000 fewer than Tuesday — remained without power Wednesday, and there is no timetable for its return.
Houses and buildings in the surrounding areas, such as Copperas Cove and Harker Heights also remained dark — some since 2 a.m. Monday or earlier.
Oncor, the electricity provider for much of the area, provided an update on its Facebook page Wednesday morning.
"Due to lowered power demand overnight, Oncor and other utilities were able to restore some of the previously dropped power load and increased our capability to rotate some outages throughout the territory," the Facebook post said.
Local outages, as of Wednesday morning, were:
Killeen — 15,955 customers
Harker Heights — 1,306 customers
Copperas Cove — 4,162 customers
Kempner — 824 customers
Nolanville — 21 customers
Fort Hood — 2 customers
The numbers were lower than Tuesday when about 20,000 were without power in Killeen, along with about 9,000 in Cove.
The Electric Reliability Council of Texas, which controls the state's power grid, declared a critical level 3 emergency and began rolling blackouts early Monday morning.
The rolling blackouts have transitioned to "controlled outages," according to Oncor.
Ledbetter said she believes her local elected representative has been doing all that he can — but to no avail. The problem lies in the companies that control 90 percent of the power for the state of Texas: ERCOT and Oncor, she said.
"I would be OK if there were downed power lines and frozen wires causing the issue, however, they could turn on our power on and they aren't," Ledbetter said. They could be taking turns between people who have power, but they aren't."
Additionally, with frozen roads, many local stores have canceled their delivery services, and most restaurants are closed, Ledbetter said. Some grocery stores are also having to cut hours and are low on food supply, she said.
By 10:30 a.m. Wednesday, the Ledbetter's neighborhood had been without power for more than 55 hours.
"My neighborhood is still out of power," Ledbetter said. "Many of them also have frozen pipes and no water. The house we are at now lost water last night."
The Ledbetters and their friends have collected a tub full of snow to melt and use to flush the toilet if needed.
While the possibility of melting snow to flush toilets remains a last resort, Ledbetter said she is looking forward to the first forecasted day of warmer weather Friday to hope for some relief.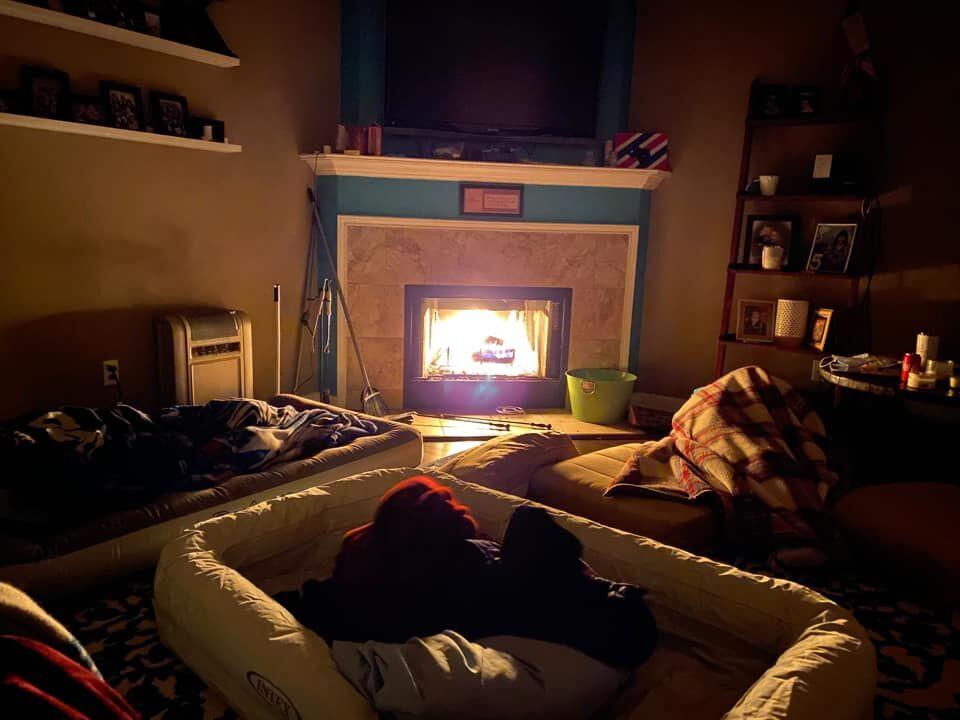 Killeen resident Sara Whitley Krop lamented the millions of people across the state without power or water for days on end, in a state ill equipped for prolonged extreme cold temperatures.
"Our governments in Texas, utility companies, water supplies, power grid, are not built for this type is of weather," Krop said in a public Facebook post. "Millions of people are without power and water and have been for days. Many do not have a place to go or it is too dangerous to travel anywhere because we do not have plows or salt trucks to make the roads safer."
Additionally, opportunists price gouging basic necessities such as firewood exacerbate the situation, she said.
With people freezing and dying, hungry and unable to take care of basic needs, Texas is in a state of emergency.
In addition to warming their home with firewood, the Krop family shared their stash of firewood with family and friends in need until they ran out, Tuesday evening about 7 p.m.
"We were happy to help people warm up their homes," Krop said. "Kirk and I are praying for those of you still without power and water."
ERCOT President Bill Magness told the Associated Press that "Forcing controlled outages was the only way to avert an even more dire blackout in Texas."
"Some wind turbine generators were iced, but nearly twice as much power was wiped out at natural gas and coal plants," the Associated Press reported.
According to Oncor's website: "At this time, ERCOT is unable to predict when grid conditions will stabilize, and urge all customers to be prepared for extended outages to continue. We also urge customers to prioritize the safety of themselves, their loved ones and their neighbors. Many local counties have also opened warming stations or shelters, which can be located online or by calling 211."