President Donald Trump met with the family of Spc. Vanessa Guillen and its lawyer, Natalie Khawam, in the Oval Office on Thursday.
Khawam and the family filled him in on the background of the death of the Fort Hood soldier and subsequent investigation that has made headlines nationwide.
"It's an incredible story. It's a terrible story," Trump said to the family in the Oval Office. "So we're going to look into it very powerfully. We already have started, as you know, and we'll get to the bottom of it. Maybe things can come out that will help other people in a situation like Vanessa. We'll be in touch with you constantly."
Trump told the family that the FBI and the Department of Justice have already gotten involved in the investigation.
"We didn't want to have this swept under the rug, which could happen," the president said.
Khawam briefed the president on a bill Rep. Markwayne Mullin, R-Okla., and Rep. Tulsi Gabbard, D-Hawaii, had introduced which would allow soldiers to report sexual harassment to organizations outside of their chain of command.
She told the president that Guillen, 20, had not made a formal report of sexual harassment to military officials, but had told her family about it.
Lupe Guillen, the younger sister of Vanessa, told Trump her sister feared retaliation from her chain of command.
"We need a change, and we need a positive change, because our troops need to feel safe, they need to feel respected, because they're the ones putting their lives at risk," Lupe Guillen, 16, said.
Lupe Guillen reiterated to Trump that her sister was not supposed to be at work that day.
"We need a congressional investigation, because it's impossible that no one saw, no one heard anything," she said.
Through the course of the investigation, officials have learned that another soldier in Vanessa Guillen's unit may have killed her.
Spc. Aaron Robinson, who fatally shot himself along a Killeen street on July 1, has been named by Cecily Aguilar, another suspect in the case, as the one who killed her. Aguilar told investigators that Robinson told her he used a hammer to kill a female soldier in a Fort Hood arms room on April 22, the day Vanessa Guillen went missing.
Khawam said Robinson was under watch at Fort Hood, but he escaped into Killeen and was walking along Rancier Avenue, where he took his life after being approached by a Killeen police officer.
Khawam told the president the senior attorney at Fort Hood told her and the family that Army officials didn't have enough evidence to arrest Robinson prior to his death, hours after Vanessa Guillen's body was found near the Leon River in Bell County.
Midway through the meeting with the president, Khawam updated him on the status of the funeral.
"You know, the saddest part of this all is her funeral is around the corner and they won't have her body in the casket," she told Trump.
Guillen's older sister, Mayra Guillen, told the president that investigators have not released her body to the family since it was an open investigation.
Trump looked at a staffer off-camera and said, "That's no good. We're going to take care of that."
Khawam told the president the family would like to have the funeral as soon as possible in Houston, where Guillen is from.
"We'll make sure that happens," Trump said before offering to help financially if the family needed it.
Vanessa Guillen's parents also attended the meeting with Trump.
Rally on the bill
Khawam and the family held a rally earlier Thursday morning in Washington, D.C., to announce that they are introducing the #IAmVanessaGuillen bill to Congress.
Khawam spoke first, saying, "We are here to demand justice for Vanessa."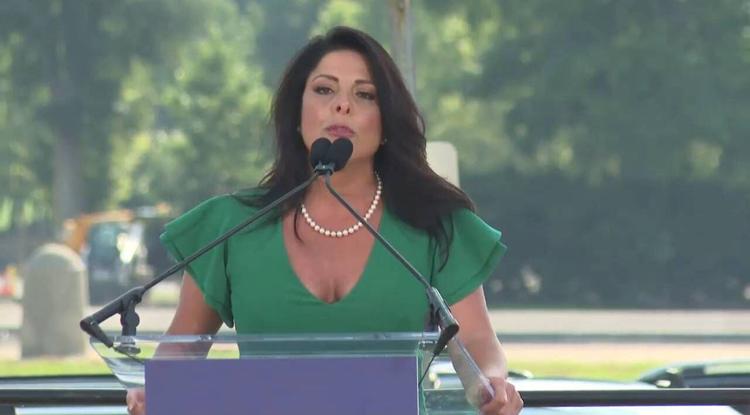 She said the bill should be approved by everyone.
"We're not Democrats, we're not Republicans, we are together today. We need to tell Congress to pass the IamVanessaGuillen bill today," Khawam said.
Khawam said that she and the family will call out anyone who does not vote for the bill to pass.
"Fort Hood's leadership has to be held accountable. They signed to protect every soldier but they did not protect my sister. This could have been prevented," said Lupe Guillen, who spoke with loud emotion as she pleaded for justice for her sister.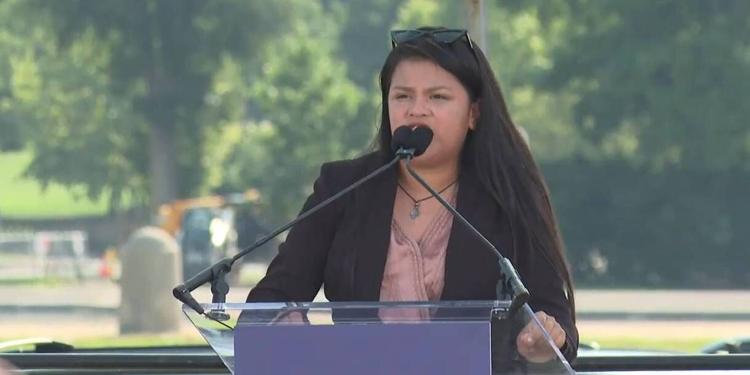 "They treated my sister like she was a nobody. They see my sister as an object, a number," she said. "My sister deserves to make history, to be honored and to be remembered through the bill."
She said relatives were disappointed to not have heard from Texas Gov. Greg Abbott regarding her sister's case and were ready to take their story straight to the White House.
John Wittman, a spokesperson for Abbott, said the governor's office has not heard from the Guillen family but is prepared to help. He said the governor's office was looking into whether Texas has any authority over a U.S. military death. He also said the Texas attorney general's office was looking into whether the family may be eligible for assistance from the crime victim's compensation fund.
"Governor Abbott's heart aches for the Guillen family and he and the First Lady keep them in their prayers," Wittman said in a text message.
Guillen's mother, Gloria Guillen, said she was angry to hear Secretary of the Army Ryan McCarthy say her daughter was not sexually harassed. She said she had spoken to her daughter about the harassment, but Gloria Guillen did not detail what her daughter said. She said she was speaking up for all women in the military.
"If there is war, who is going to defend us if our soldiers are scared to join?" she said in Spanish. "Who is going to guard our country if our soldiers are being assaulted, killed and disappeared?"
Following the rally, family and supporters of the Guillen family, members of Congress and community leaders marched to the White House, where the family met with Trump.
The Associated Press contributed to this report.