About a dozen people, with signs and noisemakers in hand, rallied outside the Killeen Independent School District Tuesday evening prior to the district's school board meeting.
Two-thirds of the protesters were parents and teachers who said they had concerns about the spread of COVID-19 among an unmasked KISD populous, while others rallying outside encouraged residents look to a higher spiritual power for protection rather than a COVID-19 vaccination.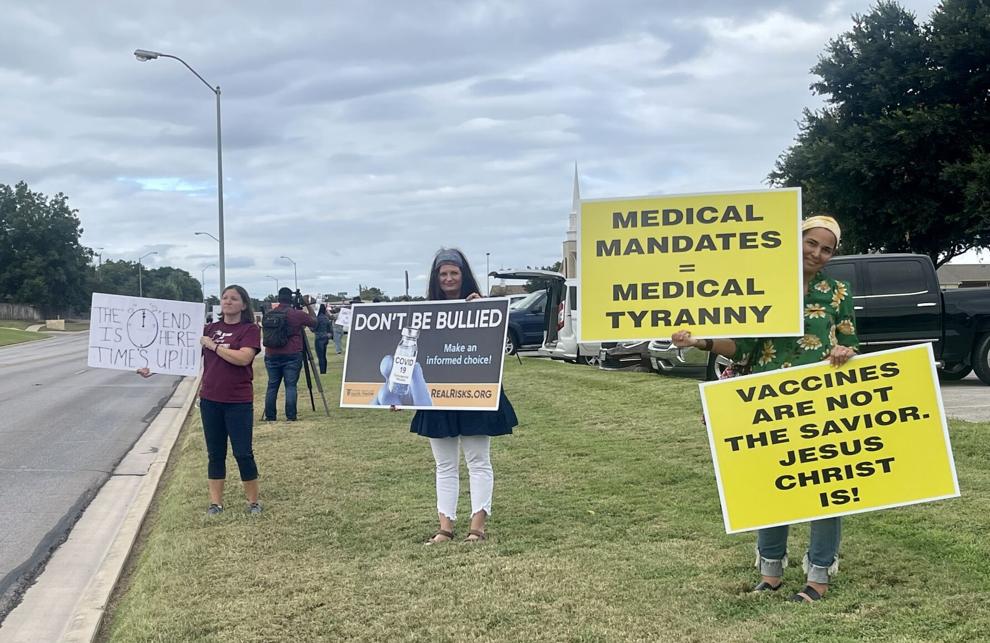 During the school board's public forum Tuesday, about a dozen people spoke in support of or in opposition to a potential mask mandate at KISD.
In June, Gov. Greg Abbott banned school districts, and other public institutions, from implementing local mask mandates. Those school districts that have implemented mask mandates may face a $1,000 fine for each day of the mandate and legal action for violating the governor's executive order.
"Sometimes you have to break the law to change it," former KISD educator Irene Andrews, of Nolanville, said. "Please have the courage to mandate masks now. Time is running out."
Mother of two KISD students, Zoila Recinos, of Harker Heights, asked the board to consider reinstating a virtual learning option.
"I'm requesting distance learning for our students," Recinos said. "You have the research and you have the money. You must do what your position requires you to do. Lead by example and stop hiding behind your desk."
Teresa Bonilla, a military wife and KISD mother, said she has considered moving her children to schools on-post due to the lack of safety protocol at KISD schools off-post. Staff and students who attend KISD schools on-post at Fort Hood must wear masks as required by a Department of Defense order.
"When you look at the numbers on post versus off post, there's a huge difference," Bonilla said.
Jennifer Lee, a Harker Heights High School teacher and mother to a KISD kindergartner, pleaded for a mask mandate as a basic line of defense against the spread of COVID-19.
"I'm coming to you from inside the classroom; I'm tired," Lee said adding that she and her son have taken COVID-19 tests weekly since the start of school due to possible classroom exposure. "The least we can do is say, 'Let's wear a mask.'"
Three women from Temple spoke during public forum against enforcing a mask mandate and COVID-19 vaccinations.
"Why are vaccinated people still getting COVID," Sandra Perez, of Temple, asked. "Why not depend on natural immunity… God's given us our immunities and he's given us an immune system. Why aren't we encouraging people to take vitamins, get sunlight and fresh air?"
Per board policy, school board members cannot respond to members of the public during public forum.
UPDATE
KISD Superintendent John Craft addressed the masking debate Tuesday and what the district is doing to curb the spread during the pandemic.
"Nothing has changed," Craft said in regards to the governor's executive order banning mask mandates. "In fact, litigation is being filed as we speak for those districts that have opted to mandate masks. ... Like I say, we're continuing to monitor face covering and mask legislation as well as the court process."
Craft said the district updated the public health guide to include additional information about rapid testing and what to do in the event of a class closure. View the district's public health guide here: https://www.killeenisd.org/phg.
The superintendent said the district received an additional 35,000 rapid tests from the state in recent days.
The district's rapid testing site, located at the old Nolan Middle School campus, tested 478 individuals Tuesday free of charge, Craft said, with a positivity rate of 28%.
"That's quite a load to process through old Nolan middle school," Craft said. "All in all I'm very, very pleased with the program and it's launching."
KISD's free rapid testing site, located at 505 Jasper Drive, is open from 7:15 a.m. to 6 p.m. Monday through Friday.
Board member Cullen Mills asked the superintendent if the district could add the rapid test result numbers to the district's public online dashboard, as Belton ISD and other districts have done.
"I'd like to have a couple weeks to look at the (rapid test) data to make sure there's fidelity in the data," Craft said in response to Mills' request. "I'm not opposed to making it viewable. This one just has a lot of moving parts to it."
Craft said the district is tracking positive rapid test results and reporting those numbers to the Bell County Public Health District.
As of Tuesday, according to the district's dashboard, KISD reported 273 positive cases of COVID-19 among 52 staff members and 221 students.
According to numbers Craft provided during his presentation Tuesday evening, 302 positive COVID-19 rapid test results have also been reported to the district, including rapid test results taken in and outside of KISD.
If the district included rapid testing results on its online dashboard, Tuesday's daily total would show over 500 active cases of reported COVID-19 cases.
In a 6-0 vote, the KISD school board unanimously voted to approve five additional days of paid COVID-19 leave for any employee who tests positive regardless of vaccination status. President JoAnn Purser was not present or voting Tuesday evening.