After his business was forced to close for two months, Killeen tattoo parlor owner Josh Snyder said he is thrilled to get back to serving clients.
However, some tattoo shops didn't survive. Snyder said he personally knows shop owners who have closed their doors and will not be able to reopen.
"That's destroyed families. That's serious," said Snyder, who owns Iron Rite Tattoo. "Mental and economic health are just as important as our physical health. We have to be able to provide for our families. One stimulus check that covers a quarter of my income for several months doesn't cut it."
The shop's doors were closed in March when mandates from Texas Gov. Greg Abbott prohibited tattoo shops from operating during the response to the international pandemic COVID-19.
More than 20 tattoo parlors across Killeen are now able to open their doors since the governor — in a Monday announcement about reopenings across the state — said tattoo shops could also open back up immediately.
The mandate requires the use of facemasks when possible, a 6-foot separation between individuals, regular hand washing and self-screening for signs of COVID-19 including cough, shortness of breath or difficulty breathing, chills, muscle pain, headache, sore throat, loss of taste or smell, diarrhea and a fever more than 100 degrees.
While customary friendly greetings and customer service can be anticipated by clients entering Iron Rite Tattoo, 1113 W. Veterans Memorial Blvd Suite A, the lobby will look a little different to the customers seeking a tattoo since they reopened Tuesday.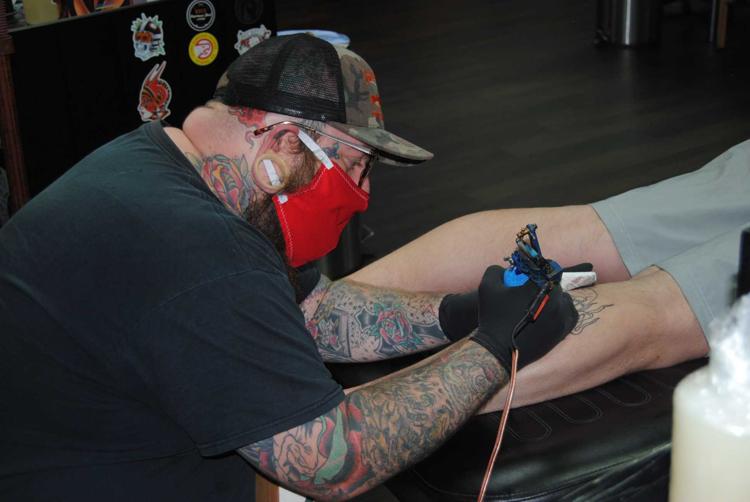 Hand sanitizer stations are set up throughout the shop, and magazines and other items that may be touched by multiple people have been removed from the lobby as an added precaution against the spread of the coronavirus, Snyder said.
Aside from the health concern due to COVID-19, Snyder mentioned the economic concern from having so many businesses closed for a long space of time.
"Some are waiting until Monday or Friday based on they already had plans or rescheduling appointments; across the board, everyone is reopening," Snyder said. "Of course we're concerned with our health and safety and the health and safety of our clients. But we are also family men and women with kids to think about — that has to take precedence. We want to keep roofs over their head and food in their stomach."
Additionally, Snyder said the risk of getting sick after months of no income is more terrifying than being able to work and set money aside in case he gets ill.
"We'd rather get sick with money in savings, than starve and get sick anyway," Snyder said.
Some tattoo shops across the state — including Holey Moley Tattoos and Piercings in Killeen — opened in recent weeks in defiance of the shutdown order.
Snyder said he doesn't think the policy pertaining to tattoo shops was changed because of the protests of tattoo shop owners across the Texas, but said he believes the outspokenness of the tattoo community helped raise awareness about industry regulations.
"I don't think he changed his ruling just to appease tattooers," Snyder said. "But it did open his eyes to do a little more research into the type of standards that are held by tattooers. ... In the past, we were regarded by people who are not privy to the industry as an outlaw thing."
All along, Snyder said tattoo parlors' routine cleanliness standards are much higher than grocery stores, retailers, restaurants and other businesses that were deemed essential early in the COVID-19 response and recovery plan.
"This is not 1979, this is 2020 — it's heavily regulated," Snyder said. "Outside of medical facilities, there is no more heavily mandated and regulated industry when it comes to cleanliness and sanitation than the tattoo industry. It's a legitimate industry now."
Synder said his shop has a variety of clients, including doctors, lawyers and police.
"Everyone's getting tattooed now, it's not the same as it used to be. We're not strip clubs and bars," Snyder said. "No one needs to feel concerned with the safety of whether or not they should be going to get tattoos, as long as they do their research and go to a reputable shop that's taking precautions."
While tattoo parlors are maintained in an extremely sanitary fashion, Snyder said like shops across the state, Iron Rite Tattoo is taking additional precautions.
"We are now cleaning the station both before and after tattoos with medical grade cleansers, instead of just after," Snyder said. "We're using facemasks and strongly encouraging our customers to wear face masks."
Along with standard medical grade cleaners and heavy regulation by the Health Department, Snyder said added precautions have been implemented because of the COVID-19 threat.
"We wash our hands and wear gloves," Snyder said. "Needles, tubes and the caps that hold the ink are all single use. We can control the number of people in our shop better than any major retailer or any of the businesses that have been able to open."
In keeping with requirements by the governor's latest mandate, the shop is serving customers by appointment only, he said.
"Clients call us from the parking lot, and we come to the car to handle consultations that way," Snyder said. "That leads to less traffic inside the shop. We are also limiting the number of people they can bring with them for the procedure — no additional people in the shop that are not necessary."
Ultimately, Snyder said prejudice against the tattoo industry seems to be rooted in ignorance.
"Ignorance goes much farther than our government," Snyder said. "Many people see getting a tattoo as taking an unnecessary risk, but in all honesty, they are taking a bigger risk going to their local grocery shop than a tattoo parlor. You're safe. Legally, by the rules we have to follow on a daily basis, you're safe."