Now that restaurant dining rooms in the Killeen area have been shut down for more than two weeks, local eateries are struggling to take care of loyal staff and weigh whether there is enough business to keep their doors open amid the COVID-19 pandemic.
Having lost about 75% of their normal revenue, Little Italy in Killeen cut back to a skeleton crew this past week. The owner and the manager handle the take out orders, and they alternate daily between two chefs who take turns working in the kitchen, according to manager Gary Revel Jr.
The chefs are currently only paid half of what they would normally make, Revel said.
"We are seeing if some of the other employees can apply for unemployment for now," Revel said.
Bell County restaurants were told March 18 they would have to close dining rooms, and could only serve customers via drive-thru, takeout or delivery. Texas Gov. Greg Abbott made that a statewide order on March 19.
Little Italy, which opened about 21 years ago at 1218 S. Fort Hood St., usually employs about nine, but most of them had to be laid off while owner Visar Hoxa waits on the outcome of applications for assistance, Revel said, referring to federal relief funds available from the government.
"Right now, we really can't afford to have anybody else here," Revel said. "When he can't be here, three waiters on call come in and do what I'm doing. He's trying to give them as much work as he can."
Revel said he hopes after the relief fund goes through, the restaurant can bring hard working employees back.
"It's hard to say who can stay and who has to go," Revel said. "It's a lot of stress for business owners right now. And there's no real end in sight."
Busier days like most Fridays and Saturdays help the restaurant break even in spite of the general trend of lower business.
"The locals have been really trying to come in and order and we really really appreciate it," Revel said. "We're barely covering the salaries and rent and electricity and gas we have to use just to keep the restaurant going."
Restaurants across the region are struggling to survive under the shelter in place orders.
Juggling the kitchen and running every order outside the restaurant for pick up has been rough on The Catch, a seafood restaurant at 1200 Lowes Blvd. in Killeen, according to assistant manager Charles Howard.
"We don't have a drive through, we let them come in and place the order, then we have to ask them to step outside to wait," Howard said.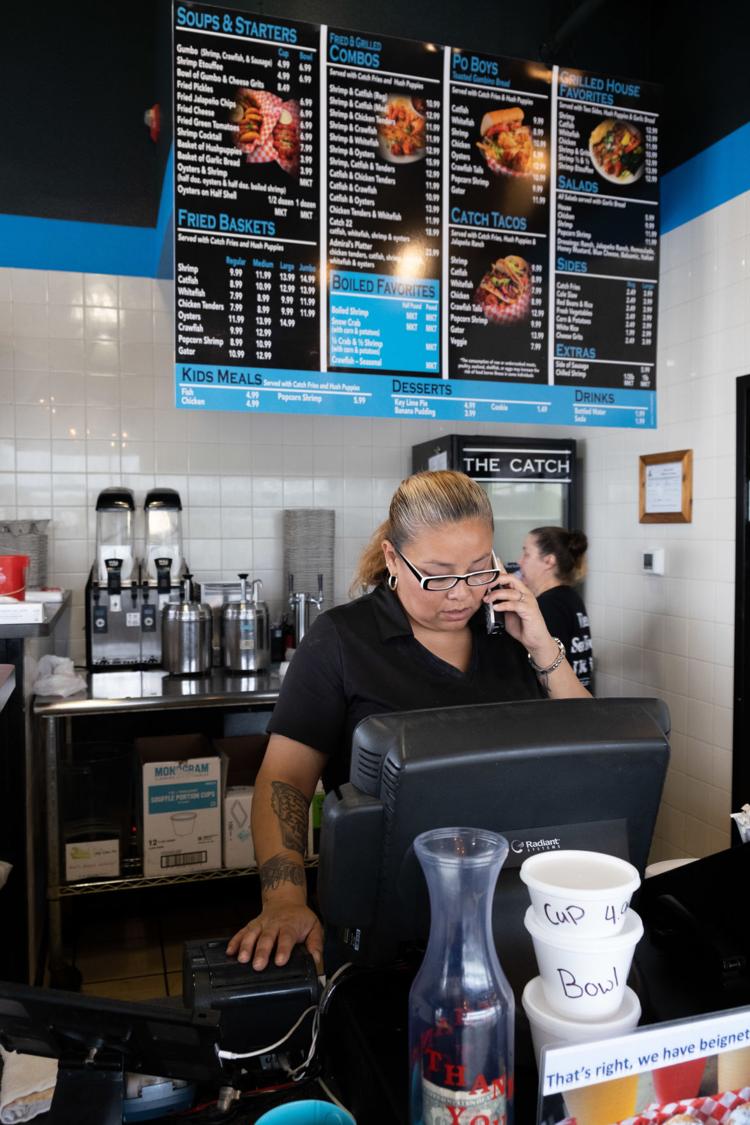 With fewer staff and cut back hours, Howard said the restaurant is breaking even, but not able to make much of a profit.
"It's hard to keep track of all the online orders and all the call ins," Howard said. "We're doing the best we can and we're going to go ahead and keep working as long as they let us."
A limited menu helps reduce overhead, Howard said. Currently, if something runs out on the menu, it may be out for the day, he said.
Other restaurants have elected to temporarily close their doors.
Low occupancy at Shilo Inn and Suites in Killeen affected the decision to close the restaurant and bar and cease room service by Shilo Restaurant at 3701 S. WS Young Drive, according to general manager Matt Cranfill.
"They've had to do temporary layoffs of most of the staff," Cranfill said. "They usually employ about 25."
Cranfill said many sit down restaurants are hurt by the effects of the safety measures in place to combat the spread of COVID-19.
"Those who have been able to do take out and delivers have been thriving," Cranfill said. But while the specific timeline remains unclear, he remains optimistic the restaurant business will pick back up once the crisis is passed.
When the shutdown orders have been lifted, "we expect business to pick back up especially for our catering," Cranfill said. "We do a lot of catering; we have some good banquet space."
Even with pick-up and delivery orders, the remaining restaurants just take it one day at a time, Revel said.
Revel said he worries about whether patrons will start cutting back on pick-up orders to conserve their finances, or because of increasing fear of the pandemic.
"I'm always walking in to work and thinking today he's going to say we're going to have to shut down for a while," Revel said. "We're all in experimental mode for a while now. We've never dealt with anything like this before either."