The Killeen Independent School District saw a 31% decline in active COVID-19 cases over the Labor Day three-day weekend, according to the district's online coronavirus dashboard.
At its peak Saturday, Killeen ISD reported 425 active COVID-19 cases among students and staff. By Tuesday, the district's total number of reported coronavirus cases decreased 133 cases to 292.
When asked about the decline in active cases Tuesday, KISD spokeswoman Taina Maya said the following:
"The district's COVID dashboard monitors new cases on a daily basis," Maya said. "When we built our COVID dashboard we consulted with the Bell County Health District about the proper monitoring period, and they suggested cases should be kept 'active' for 10 days. This is consistent with our return to work/campus criteria, which states the individual must isolate for 10 days from the onset of symptoms or 10 days from the test if they are asymptomatic."
NUMBERS
All but two KISD campuses, Early College High School and Gateway High School, are reporting active cases of COVID-19, according to KISD dashboard data last updated Tuesday at 7:24 a.m.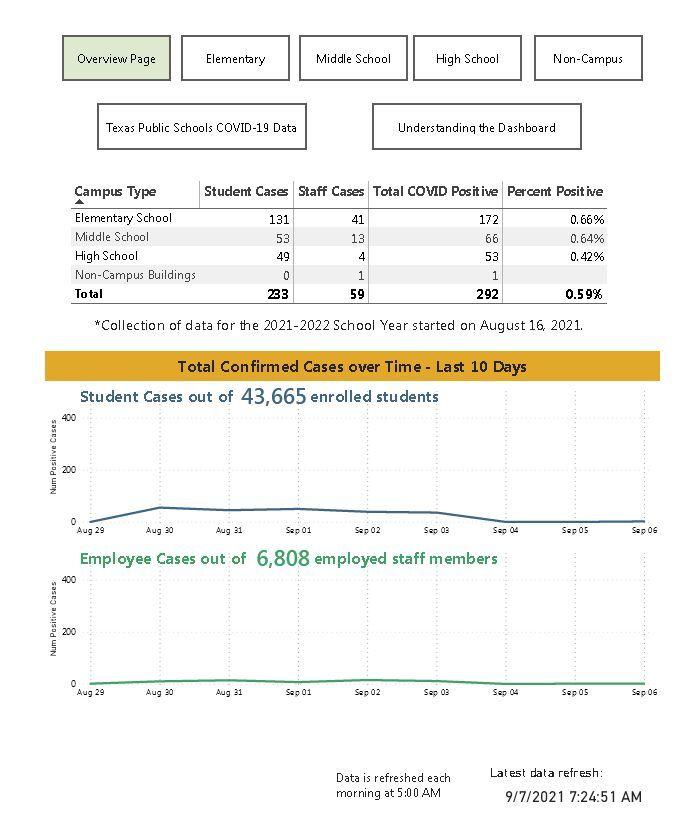 There are reportedly 233 students and 59 staff members infected with COVID-19, according to the district's data.
Fifty-nine percent of KISD's active COVID-19 cases are among elementary school students and staff, according to the dashboard.
At the elementary level, 131 students and 41 employees have reported positive COVID-19 cases.
Tuesday's COVID case count equates to about .59% of the district's total population — the district has over 40,000 students and 6,800 employees.
Saegert Elementary reported 29 active COVID-19 cases Tuesday, the highest of any school in the district. That was down from 37 active cases at Saegert on Saturday.
To see individual campus data, view the district's online COVID-19 tracker at killeenisd.org/dashboard. The dashboard includes data KISD has collected since school started Aug. 16.
CCISD
Copperas Cove ISD reported Friday a total of 122 active cases within the district — 96 students and 26 staff.
With around 8,300 students, the district has an infection rate of around 1.2% for its student population.