The then-new Killeen police chief, not inexperienced at public speaking, had few pithy jokes ready for his first speech as chief last fall.
It was going swimmingly, until he made a serious error. Chief Charles "Chuck" Kimble, who moved to the Lone Star State from an Army town in North Carolina just over a year ago now, stumbled: He accidentally said Fort Bragg, when he meant Fort Hood.
The audience returned a resounding "Hood!"
Kimble can laugh at himself but he knows he's facing challenges in a city that has many unsolved violent crimes even as the violent crime rate is on the decrease, according to KPD and Department of Justice statistics.
Kimble's first day on the job was Sept. 1, 2017, and he became certified as a Texas Peace Officer in January.
"I like Texas," he said. "I've had to acclimate because the heat comes with it. And I'm still getting used to the vastness of the state. To go to meetings (out of town) I really have to plan for the distance."
Kimble sees more similarities than differences between Killeen and Fayetteville, N.C., the home of Fort Bragg brethren.
"They're both really strong military communities, full of heroes who have made a lot of sacrifices to serve their country," Kimble said.
Kimble started his career in the Army in communications, and his wife retired with a rank of major. Their two sons are service-members, one in the Army and the other in the Air Force.
Killeen City Manager Ron Olson cited the net reduction in crime as Kimble's foremost accomplishment during his first year.
"He's come into the department and community with a fresh perspective," Olson said, mentioning Kimble's focus on building relationships. "This cooperative effort is undoubtedly part of the crime reduction we've experienced and will be at the core of continuing in the right direction."
Kimble said the first year "has been fun, but a lot of work."
"I'm a hard person to work for. I pushed people really hard this year, and we've had a lot of projects going on at the same time."
To help understand crime in his new city, last year Kimble reached out to the Department of Justice's Office of Justice Programs Diagnostic Center. Recommendations from the report, released in June and available on the KPD website, "are a part of decision-making matrices in the department," Kimble said.
The report suggested the department receive training and technical assistance in four areas: improving homicide investigative capacity; increasing violent crime clearance rates; enhancing collaboration and communication; and developing strategies to address violent offenders.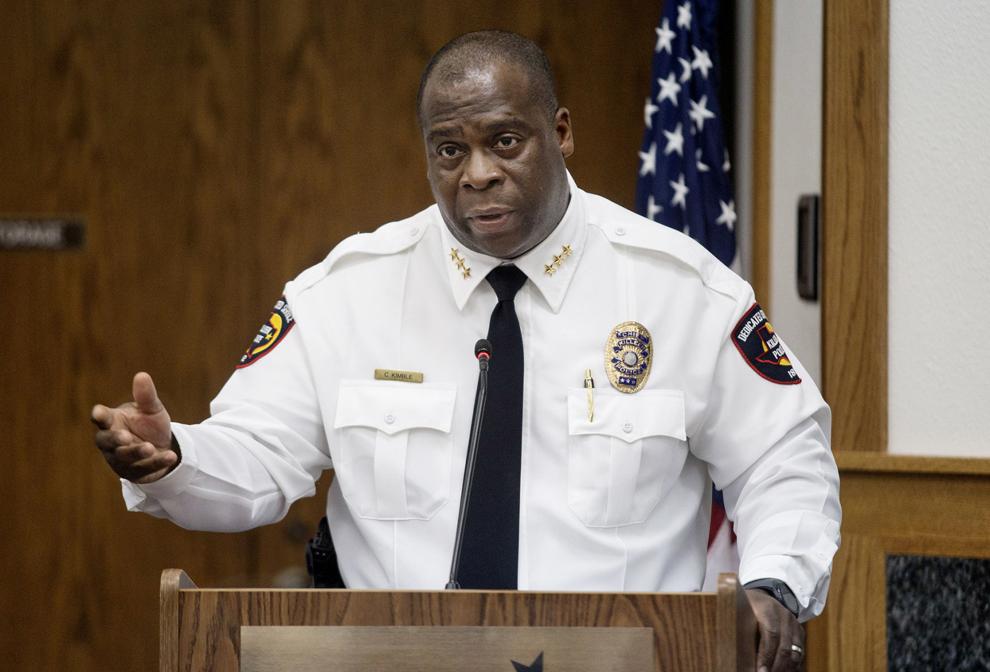 In response, command staff and supervisors reviewed their priorities and manpower.
"We made some tough internal decisions to reduce violent crime in this city and quickly our focus became repeat, violent offenders (who) routinely used weapons," Kimble said.
Early on, Kimble re-organized the department by placing three carefully chosen lieutenants, whom he calls "mini-chiefs," each in charge of one-third of the city. The sections are different: one is heavily residential, one is mixed residential and business, and one is business-heavy.
"They're responsible for what happens there, and they have to explain why certain crimes are happening in certain places," Kimble said.
Tackling crime is Kimble's first priority.
"We're the crime-fighters, so we have to do that well," he said. "We've put some bad people in jail." Kimble mentioned the multi-agency operation that took methamphetamine, guns and eight people police suspect to be Gangster Disciples off the streets of Killeen in August.
With calls for service far outpacing departmental growth, the department is challenged to do more with less by improving "operational efficiency."
Kimble said he watches rapid growth happening outside his office window at headquarters in the south Killeen neighborhood.
Even as the city increases in population, "the department is getting smaller, and that's a big issue," he said. "But we can control how we operate and be efficient with the resources we have. I always ask why are we doing something this way, and I encourage supervisors also to ask 'why?'"
Cooperation was a takeaway from the Department of Justice report. Kimble has gotten commitments from a host of agencies, including the U.S. Attorney's Office, Texas Department of Public Safety, the Drug Enforcement Administration, the U.S. Marshal's Service, the FBI, and the Bureau of Alcohol, Tobacco, Firearms and Explosives. On a local level, the Bell County District Attorney's Office and the Bell County Attorney's Office have been part of the informal crime-fighting coalition.
One Killeen councilwoman sees Kimble's knack for building relationships as his signature. Shirley Fleming, who represents District 1, has worked closely with Kimble over the past year organizing four neighborhood crime meetings in that district.
She was emotional at a neighborhood crime forum at a north Killeen church last month, as she addressed the gathering that included a handful of neighborhood watch captains.
"It touches my heart, and it happens every time I have a meeting," she said. "They're happy tears."
At forums and meetings, Kimble and other department leaders implore folks to get involved.
"If you look at cities with low crime, they always have a good relationship with the police," he said. "People have to learn to trust us. The strategy is working but we have to be consistently engaged with the community."
Fleming said that in her district, folks deal with burglars and vandals. "There was a murder three blocks from me years ago, but that has ceased now," she said. Her information comes from a network of neighborhood watch captains who report at least once a month what they have seen or been told by neighbors.
Kimble said he has seen how the community supports its police department, with people regularly dropping off cases of water at headquarters to keep thirsty officers hydrated in the summertime.
"That's the kind of community I'm glad to be a part of," Kimble said.
The department is short-handed but calls for service almost doubled over 15 years, according to the Department of Justice report.
Kimble said the department has around 280 sworn peace officers, but if he had his druthers it would be closer to 400.
"Things are changing," he said. "I would like to stay ahead of (growth) so we need more officers, a bigger homicide and traffic unit, and more community outreach efforts."
More money would be nice, also.
"We need enough to stay competitive with other agencies so people won't leave for money," he said.
In less than a year, between August, 2017, and early June, 2018, the force lost 17 commissioned officers, the Herald reported in July. Most were resignations. In that same period, the department brought seven new sworn officers online — a net loss of 10 officers.
Olson said all city departments are contending with a do-more-with-less scenario by focusing on efficiency.
"This is particularly challenging in a growing city with limited resources," he said. "Public safety is extremely important to creating a community where people want to live but it's not the only important element so general fund resources have to be balanced among services. Public safety receives a majority of our general fund resources."
Olson predicts the city will continue to have limited resources.
"As we look to the future, our staffing and resource allocations have to be strategic."
Overall, Fleming said the department is doing the best it can.
"The money is not there to hire more officers," she said. To compensate, Fleming said organizations could combine their efforts.
"We're all working for the same cause," she said.
Another challenge comes from within, with rumblings about low morale that Kimble acknowledged.
"In police work, you often spend more time with your police family than your own family," he said. "But it can be difficult for young officers to balance their family and police lives."
Kimble said he cannot control what makes a person tick but he can provide a good working environment and increase decision-making among the lower ranks.
"Low morale happens in public service because there are so many uncontrollable factors," Kimble said. "People get into this business to help people and they have, but it's hard to see the big picture, such as staying within budget. There's a crime-fighting side and a business side."
For example, to make up for a shortage of officers, detectives have had to fill in on patrol duty.
"Being a detective is an assignment, not a rank, so patrol officers and detectives are lateral positions," Kimble said. "Some people prefer patrol because they get to interact with the community more, and others like solving puzzles."
Kimble inherited criticism of a decision made by previous Chief Dennis Baldwin, who closed public access to the former police headquarters downtown, moving records to the new headquarters south of town. An emergency call box was installed at the North Precinct, said Ofelia Miramontez, Killeen Police Department spokeswoman
"We fit the old headquarters into the business plan because it has its uses," Kimble said. Certain investigators and patrol officers now use the building.
"But it's old and has maintenance issues. I think people are getting used to coming out here, and the city is moving this direction. Just because we're not in the old building doesn't mean we're not downtown: We actually have more officers patrolling there."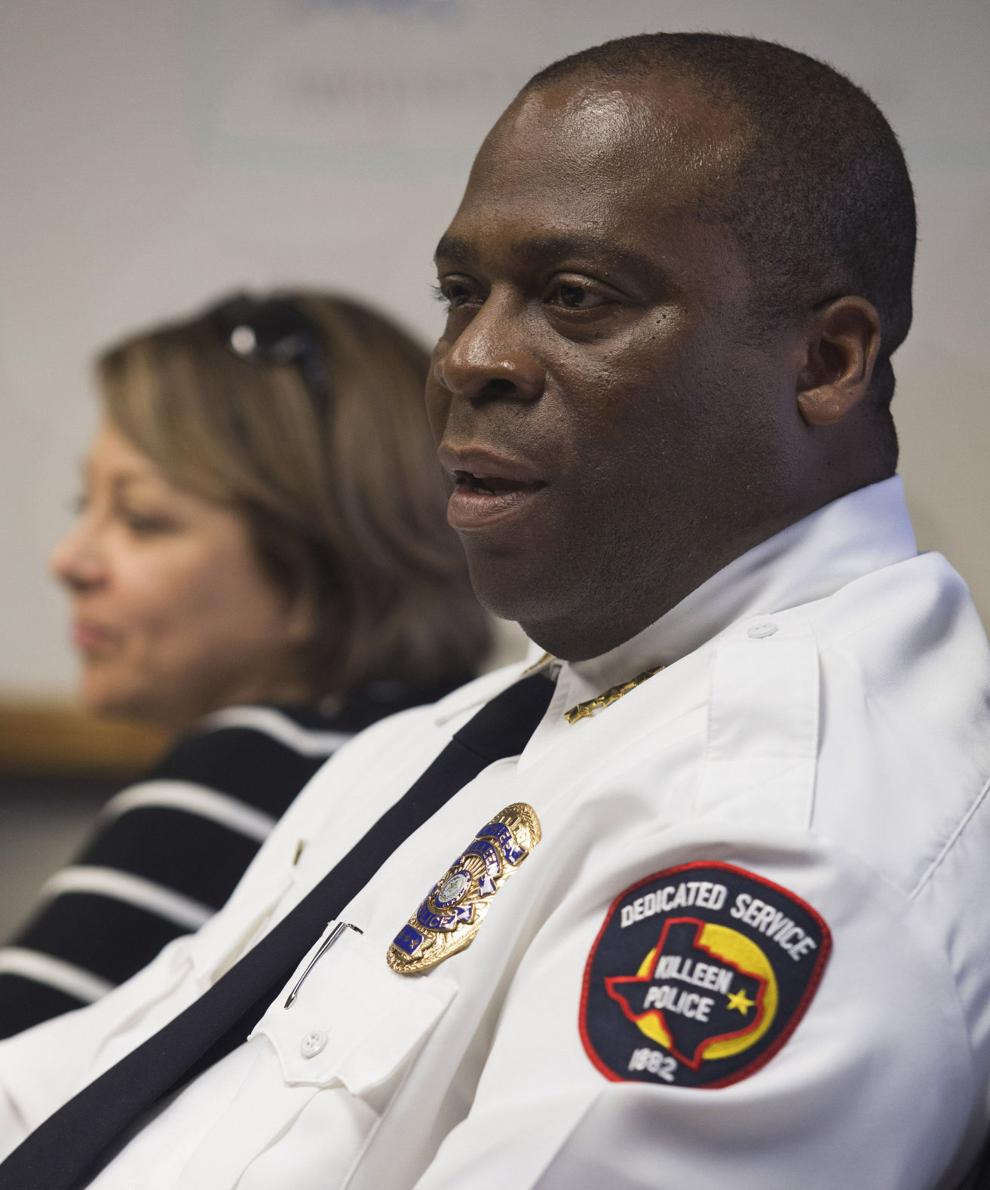 He wanted folks to know that officers still can meet people at the old headquarters; they just need to call. "We'll have an officer dispatched there if needed, but we have a small number of walk-ups," too few to justify staffing the old headquarters building.
Fleming did not agree with Baldwin's decision.
She said she would like to see "more boots on the ground," better lighting, as well as a north precinct open to the public.
"There's a lot of crime in the north end," she said. Department of Justice researchers reached the same conclusion when they analyzed shooting and "frequent flyer address" data. Frequent flyer addresses are those familiar to patrol officers because of the high number of calls.
Fleming said she recently was unable to summon help with the call button at the building, and worried about what would happen to someone in danger.
Kimble's second year includes an increased focus on engaging the youth of Killeen. The city is young when compared to state and national averages of similar-sized cities, with 28 percent of the population aged 15 to 29. It is "a cohort with typically higher crime rates," according to the Department of Justice report.
Kimble said the community has to identify "at-risk" youth and divert them into sports, music and activities, and to teach children conflict-resolution methods.
"There's a lot we have to do here," Kimble said. "Because they're young people, they need parents to keep them engaged and busy at summer camps, faith-based programs or the Boys and Girls Club."
The department needs to work harder to engage youth on social media, he said.
"For an adult, social media is informational; for the young, it is entertainment and a place to hang out with their peers," Kimble said. "Young people are smart and they want the same things their parents do: a safe community. But they feel like their parents are not listening."
Young people don't want to see postings about wanted criminals and they don't want to be lectured.
For the kids, it's all about "going viral," and KPD has had several videos on social media that reached the bar, including the lip-sync challenge and others featuring a handful of officers who are becoming household names.
Many folks would recognize Officer Kyle Moore from the Homeless Outreach Team and patrol officers Joshua Plowick and John "Jonesie" Jones in a grocery store aisle.
"People are starting to know these guys. They're just charismatic and picked it up naturally," Kimble said.
People want to see the fun stories but Moore, Plowick and Jones are police officers first.
"They have a job to do, so it's a balance," Kimble said.
It all returns to the department's first priority: fighting crime.
In a recent news story, the Herald's headline screamed, "Unsolved city." The story delved into the reasons behind the department's dismal 15 percent rate of solved violent crimes, with 85 percent of such cases unsolved in 2017.
"We want to clear these cases and bring finalization to victims," Kimble said. He said the department plans to look with fresh eyes at unsolved homicides, but there are no plans for a "cold case unit."
"We need to re-examine the evidence, start over from the beginning," he said. "The good news is we currently have had 5 homicides in the city compared to 16 this time last year."
Two detectives will be heading to a conference in Tennessee where they will learn about using social media and technology to solve crimes.
"We have to constantly keep abreast because criminals use technology so we have to stay on top of it," Kimble said.
Fleming said she respects Kimble for his crime prevention efforts and his intentions.
"Since Chief Kimble has been in Killeen, he's faced a lot of challenges," she said. "He's quite busy out in the community, and I know this year has been hectic for him but he's a go-getter. Anyone can talk, but putting things in action is another thing."