GATESVILLE — Life went from bad to worse for Korey D. Henderson when he was convicted of aggravated robbery and sentenced to 60 years in prison when he was 18 years old.
Growing up without a father, spending too much time on the streets in his hometown Dallas, young Henderson struggled as he grew up, but after he was arrested and sent away, the world really came crashing down.
"I was scared," he said. "When you get to prison, it's like, what do you do? How do you fit in? I had no idea … no purpose; no focus. I tried to find a way to fit in, and I made a stupid decision and got involved in prison gangs."
Now 44 years old, Henderson began to turn things around when he decided to finish his high school education, and then enroll in college courses. He earned a GED in 1996 when he was at the Polunsky Unit in Livingston, near Huntsville.
"When I started going to college in 2008, it gave me a sense of worth, a sense of accomplishment. Even now, I work on the unit as a peer educator, to help promote and facilitate safe prisons. So coming from an environment as an ex-gang member to peer education is a huge transformation."
On Saturday, Henderson was one of 13 inmates at the maximum security Alfred D. Hughes unit in Gatesville to receive college diplomas during annual commencement exercises for graduates of Central Texas College and Texas A&M-Central Texas prison education programs.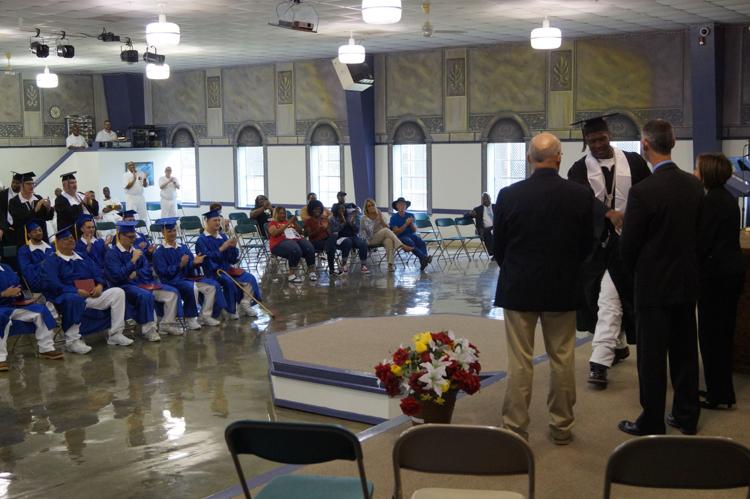 CTC offers associate degrees in general studies and interdisciplinary studies, along with vocational programs in restaurant operations and office assistant technology. A&M-Central Texas, meanwhile, offers a Bachelor of Business Administration-Management degree.
Henderson was one of eight inmates to receive a bachelor's degree in business administration. He will become eligible for parole in four years, and hopes to start his own landscaping/horticulture business, and also serve as a mentor to troubled kids.
"When I got to prison, I didn't know who I was — I knew who I was supposed to be, but I didn't know who I wanted to be. Education helped me find that out.
"College has helped me, because it has broadened my horizons, as far as how to think. It opened my mind, especially with the business aspect. There's so much that goes on in business — how do you have a competitive edge? Things like that. I take those things and I mirror them in my own life. I do my own accounting sheet, and I recognize what's my assets; what are my liabilities?
"So, even though I am incarcerated, the education that Texas A&M-Central Texas has given me, has given me a purpose. It's given me something meaningful.
"It has given me a vision to be able to set goals and accomplish those goals. In the past, all I had was a bunch of ideas. Great professors like Dr. Fulmore, Mr. Moore … they helped me shape those ideas and have realistic goals."
On hand to watch Henderson get his diploma Saturday was his wife of 26 years, Mary. The couple married shortly before his incarceration, and plan to settle in Central Texas when he is released.
"She's a gem of woman," Henderson said. "She's my best friend. I'm very thankful for her."
Mrs. Henderson, meanwhile, was all smiles as she cheered her husband on. He has been behind bars throughout virtually their entire marriage, but she says their bond is stronger than ever.
"I'm so proud of my husband," she said. "I'm overjoyed.
"It's been a long 26 years. He did something silly as a child — something he can't take back. I think the punishment didn't fit the crime — he'd never been in trouble before, and nobody got hurt — but of course, everybody is going to say that. They gave him a long sentence, but he only has a little time left.
"I'm blessed to be able to see him every week. We've had our ups and downs like anybody else, but he's an amazing man. I love him."