Emotions were high in Killeen as some 40,000 students and 3,300 teachers returned to the Killeen Independent School District this week as the fourth wave of the deadly COVID-19 pandemic runs rampant in Bell County.
Killeen ISD spokeswoman Taina Maya said Wednesday 40,803 KISD students attended school Monday. School officials are projecting enrollment to be as high as 46,000 students in the district this year.
"Our enrollment will continue to fluctuate during this first week as it has in years past," Maya said Wednesday.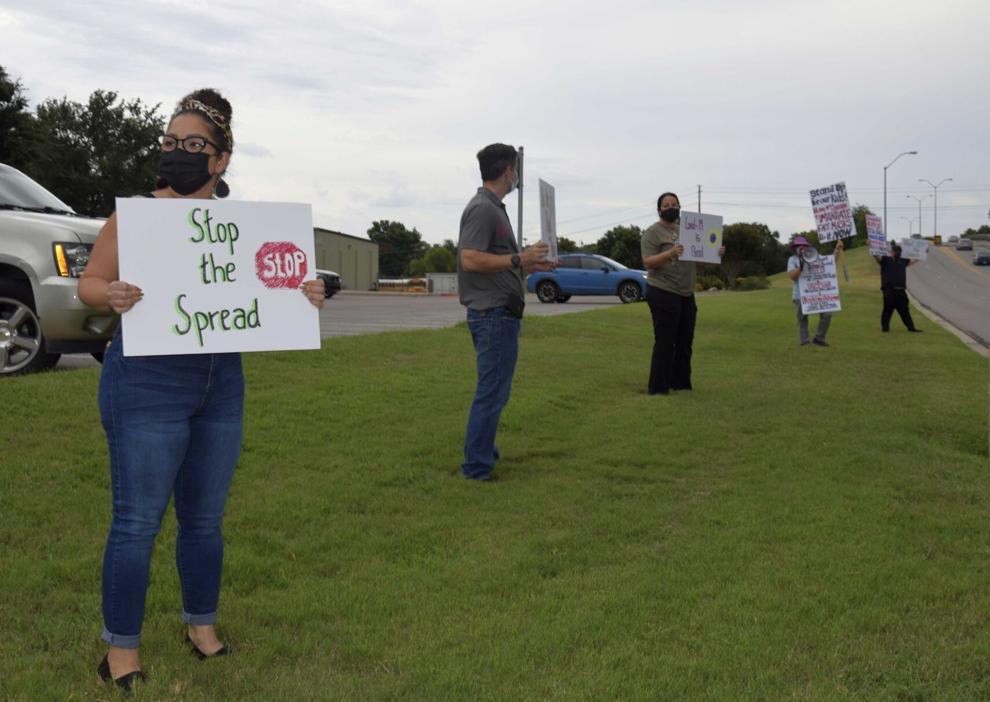 Small protests formed outside the Killeen ISD headquarters Monday and Tuesday as parents pressed the district to implement a mask mandate in opposition to Gov. Greg Abbott's executive order banning mask mandates.
Other parents took to social media sharing their experiences — including reports of overcrowded hallways and cafeterias, and alleged chair shortages with students reportedly standing and unable to sit in certain classes.
Some parents shared stories of students attending classes without a teacher, or with a substitute filling in, on the first day.
"This week has been very stressful on everyone," Killeen Educators Association President Rachel Bourrage said Wednesday. "Especially since there is no mask mandate and a shortage of teachers. But we are resilient, we come together in times like these and we do our best. The anxiety is there, no doubt, but we are educators, and we do what we have to do to keep our students safe."
The district openly discussed its struggle to hire new teachers during the Aug. 10 school board meeting.
According to Jessica Neyman, KISD's chief human resources director, the school district was short nearly 260 teachers as the 2021-2022 school year started, after hiring 381 teachers over the summer. KISD employs about 3,300 classroom teachers in total.
Some parents told they Herald they are concerned about the health and safety of KISD students and teachers as Bell County and Texas battles a fourth surge of COVID-19 cases.
Twenty-three KISD employees reported positive COVID-19 cases in the week before school started, according to KISD data obtained by the Herald Tuesday.
Five positive COVID-19 staff cases and one student case were reported to KISD on the first day of school Monday.
Vernell Mack — a Killeen resident, KISD grandmother, and former nurse — told the Herald Tuesday her grandson was inexplicably dropped from school on the first day of school.
"They dropped him from the roll because he had a doctor's appointment," Mack said.
On top of dealing with re-enrollment issues, Mack said she was shocked by how few people were wearing masks at Reeces Creek Elementary Tuesday.
"Some parents had on masks," Mack said. "But the kids didn't have on masks. What kind of mess is that? This is going to get out of control."
Sooyon Jeong moved with her family to the Killeen area from South Korea in October and said the difference between the safety precautions at Department of Defense schools in Korea and KISD were striking.
"I was hoping there would be some social distancing," Jeong said Tuesday. "In Korea, they had partitions between the students. They didn't let them sit side-by-side. I feel like (KISD) should've been more cautious and done more. Elementary kids don't even have the option to get vaccinated. It's just very concerning."
Jeong has four children attending KISD schools this fall.
"They have no choice, they have to go to school every day," she said.
Last year, her children had the option to attend KISD schools virtually, which is not available this year.
Trennika Latelers, of Killeen, said her three KISD students had varying experiences during the first week back to school.
All three of Latelers children said there was no sign of social distancing at the schools they attend: Early College High School, Ellison High School and Live Oak Middle School.
Mask use and hand sanitizer availability varied by class and school, Latelers said.
Karen Griffin, of Killeen, a mother to two current KISD students, said she was shocked to see a photo of Ellison High School's overcrowded hallways.
"I swear there are about 300 more students at Ellison than I ever remembered them having," Griffin said Tuesday.