Killeen ISD's COVID-19 case count rose 42% since the district returned to school Tuesday, according to KISD's online coronavirus dashboard last updated at 7:16 a.m. Thursday.
Two schools are close to the district's 5% COVID-19 threshold, which would launch an investigation into the possibility of closing a particular campus temporarily due to the virus, according to KISD policy.
Saegert Elementary is .55% away from the district's predetermined 5% COVID-19 threshold. The campus' positive case count rose from 32 cases Wednesday to 45 Thursday bringing the campus infection rate to 4.45%.
Gateway Middle School reported a 6.12% rate Thursday, with only three active reported COVID-19 cases.
According to the district's public health guide, "In the event the District, campuses or programs do not reopen or are ordered to close during the 2021-2022 school year, KISD will publish through its communication channels more information regarding specific updates pertinent to the closure period."
As of Thursday, Killeen ISD reported 415 active cases of COVID-19 — among 330 students and 85 staff. At its peak Saturday, KISD reported 425 active COVID-19 cases among students and staff.
All but one KISD campus, Gateway High School, reported active cases of COVID-19, according to KISD dashboard data published Thursday.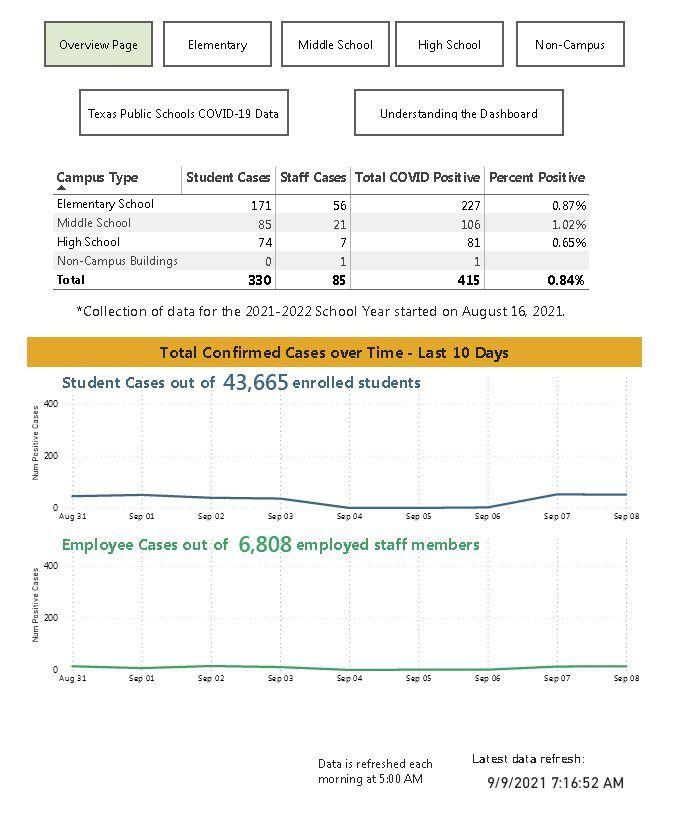 Fifty-four percent of KISD's active COVID-19 cases are among elementary school students and staff, according to the dashboard.
At the elementary level, 171 students and 56 employees have reported positive COVID-19 cases.
Eighty-five students and 21 staff members reported positive cases among KISD's middle schools.
At the high school level, KISD reported 74 students and 7 employees have tested positive for COVID-19.
Thursday's COVID case count equates to about .8% of the district's total population — the district has over 43,000 students and 6,800 employees.
KISD's active coronavirus cases account for 24.5% of all Bell County's active cases, according to Thursday's data from the Bell County Public Health District's online dashboard. There were 1,688 active coronavirus cases in Bell County on Thursday.
To see campus-level data, view the district's online COVID-19 tracker at killeenisd.org/dashboard. The dashboard includes confirmed positive COVID-19 data KISD has collected since school started Aug. 16.
The city of Killeen offers free COVID-19 vaccines and tests today through Saturday from 9 a.m. through 6 p.m. at the Killeen special events center, 3301 S. W.S. Young Drive.
Copperas Cove ISD reports its COVID-19 data weekly, unlike KISD which publishes its case count daily. As of Friday, CCISD reported a total of 122 active cases within the district — 96 students and 26 staff.
With around 8,300 students, the district has an infection rate of around 1.2% for its student population.