As Bell County's COVID-19 infection rates continue to climb, pro-mask mandate parents and staff say they will continue to protest until the KISD school board implements a face mask mandate for all KISD students.
Retired KISD educator Irene Andrews stood outside Killeen ISD headquarters at 8 a.m. Thursday morning holding a protest sign which read: "Stand up for our kids! Have the courage to mandate face masks. Do it now."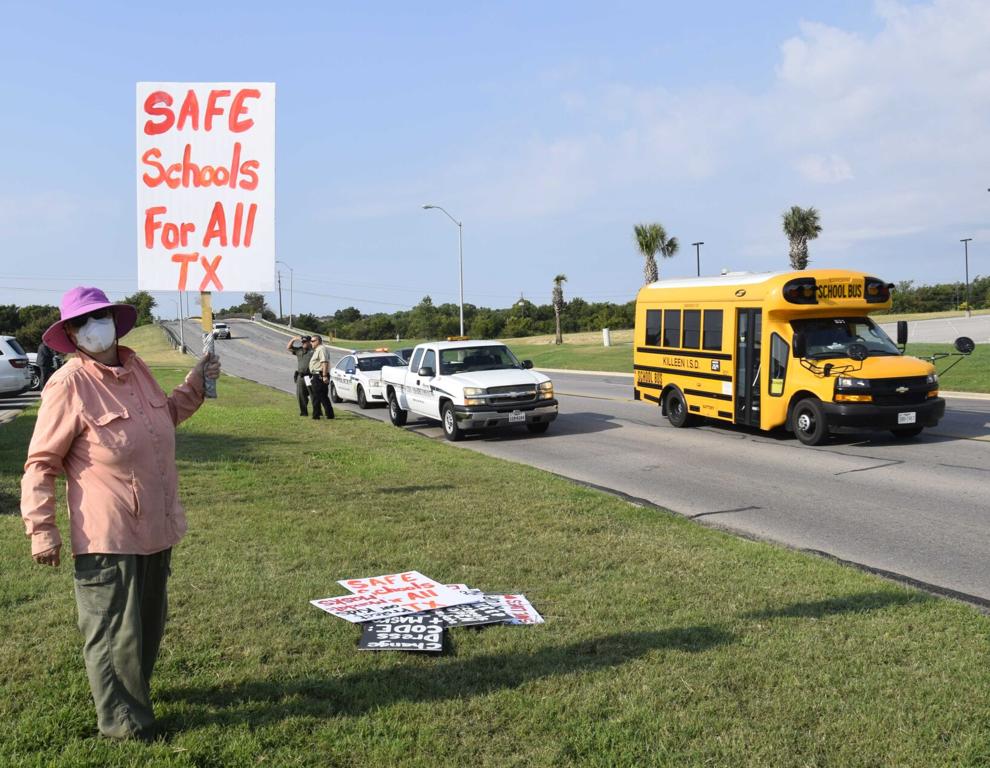 Andrews said she would continue to push for a mask mandate until she sees action from the KISD school board. A run-in with City of Killeen code enforcement Thursday morning — an issue over the proximity of some of her protest signs — didn't curtail her cause.
Within the first 10 days of school, Killeen ISD recorded 167 positive cases of COVID-19 at 41 of the district's 51 campuses. Most of KISD's recorded cases were among elementary students who are ineligible to receive a COVID-19 vaccine.
Pro-mask mandate parents and staff say a mandatory mask policy would decrease the district's COVID-19 infection rate.
The CDC recommends indoor masking for all individuals age 2 years and older, including students, teachers, staff, and visitors, regardless of vaccination status.
More than 30 pro-mask mandate protesters attended the KISD school board meeting Tuesday. After two hours of emotional public testimony, mostly from those in favor of masks, a motion from KISD board member Brett Williams for a districtwide mask mandate died on the floor of the boardroom after it failed to garner support from the remaining board members.
Protesters reacted Thursday to the board's inaction Tuesday.
"The board's callous attitude towards the well-being of our children is infuriating," Ayayi Eneli, mother of three KISD students, said Thursday.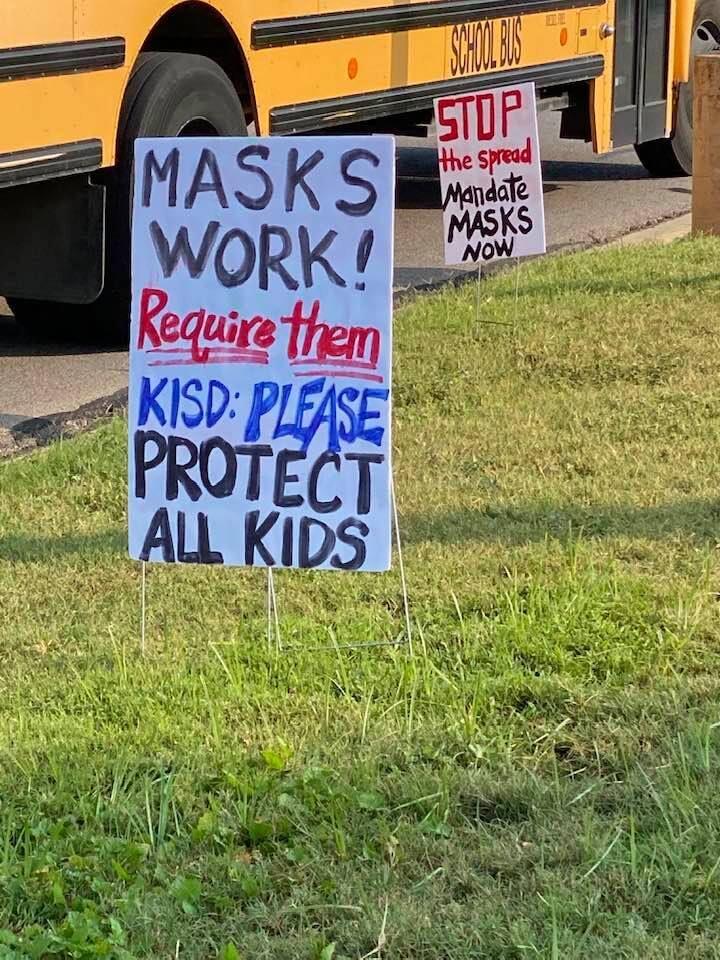 "Their decision not to even go on record and take a vote, in my opinion, is cowardly and reckless," Eneli said. "We know that children can be carriers — how is it that we cannot mandate something as basic as a mask to provide some protection?"
KISD Superintendent John Craft, board vice president Susan Jones and board member Corbett Lawler expressed their refusal to go against Gov. Greg Abbott's mask mandate ban — a ban that carries with it a $1,000 fine for each day a school district is out of compliance. More than 50 school districts statewide have shirked the governor's executive order by implementing their own mask mandates.
According to KISD's calculations, the district could be fined $171,000 at most for a year of violating the governor's executive order — a drop in the bucket for a district that boasts a nearly half-billion-dollar budget.
Harker Heights High School teacher Jennifer Lee, who was hospitalized for COVID-19 last year, said she will not stop speaking about the importance of masks until the district makes a change.
"We're definitely not done with this," Lee said Thursday. "This is not over. I will never be quiet about it."
Lee said she hopes the public will remember how the majority of the school board behaved during a deadly pandemic.
"It's exhausting because it's needless," she said. "We shouldn't be at this point. This is ridiculous. We've been at this almost one and a half, two years now; we shouldn't be in this position."
Lee said she was disappointed by the board's "spineless" inaction, but thanked Williams for being the lone board member to stand up for the students and staff.
"It's exhausting to know that each day is a statement of, 'We don't care,' she said. "We're pretending that COVID isn't there, we don't care. Wear a mask if you want a mask, but we really don't care. Mentally, it's exhausting."
But Lee said she's not giving up on Killeen ISD education.
"I'm very happy to be face-to-face with my students and getting to talk to them," she said.
The Killeen Educators Association, a branch of the Texas State Teachers Association which represents hundreds of KISD teachers and other staff members, thanked Williams for his mask mandate support during Tuesday's meeting.
"KEA wants to commend school board member Brett Williams for standing up to motion to keep the schools safe even though he didn't have the support he needed," KEA president Rachel Bourrage said in a statement Thursday.
Bourrage said 81 percent of KEA members who responded to an internal poll support a mask mandate at KISD.
"An additional and critically important part of mitigating the spread of COVID is for the district to have a mask mandate," Bourrage said. "There are dozens of peer reviewed scholarly studies ranging from the American Medical Association and the New England Journal of Nursing Studies that prove masks work to mitigate the spread. ... Leaders should set the example."
A neighboring school district, Waco ISD, implemented a districtwide mask mandate Thursday afternoon.