The venue and format changed, but the stars shined bright as ever.
The Killeen ISD Education Foundation, now celebrating 20 years, hosted its annual awards ceremony earlier this month honoring the top 10 academic graduates of each high school and their chosen favorite teacher.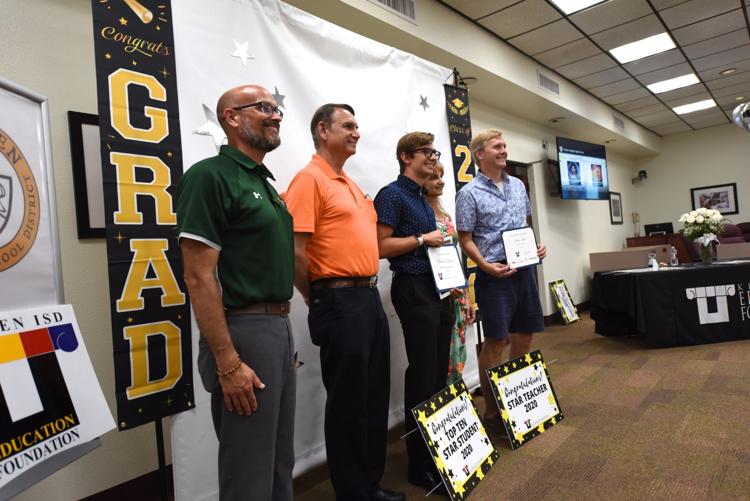 For the first time, the event was not an evening banquet in a large venue, but a series of individual celebrations spaced out every 5 minutes in the KISD Administration Building boardroom spread out six hours.
While concerns over virus spread moved the event later in the year into a less formal affair, the foundation's donors came through with even larger gifts. Students, with their two guests and chosen teacher received the personal touch.
"When we started our Starmakers planning for our 20-year anniversary, we never imagined we would be facing a global pandemic this school year," said Foundation Director Joyce Hodson. "We adjusted our sails and revised the plan to honor our students and teachers in a new way."
Community donors AdventHealth-Central Texas, the Beck Family Foundation, PBK Architects and Toyota of Killeen came forward with even larger awards than usual. This year, each student received $500 and each teacher received $200.
Honored graduates and teachers also received recognition on digital billboards during a week in May, yard signs identifying their honor and recognition in the Killeen Daily Herald's graduation tabloid.
One tradition that continued was the biggest award of the day, the Kliewer Family Leadership Award, a $10,000 scholarship spread out over four years for a new graduate that excelled academically and in terms of character and community service.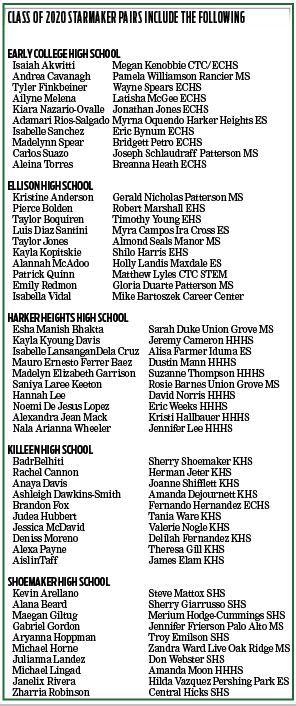 "It means a lot," said Patrick Quinn, Ellison High School valedictorian and winner of the Kliewer Award. "It was really a goal for my senior year. It will help tremendously. It's like a dream come true."
The top-ranked Ellison graduation completed KISD's new STEM program in conjunction with Central Texas College and earned an associate's degree. He is also a community volunteer and has worked to advance recycling efforts in the community.
While he hopes to eventually pursue studies abroad, he is currently scheduled to attend Texas A&M University.
Two graduates received $1,000 awards as Kliewer Family finalists, Esha Bhakta and Noemi De Jesus Lopez, both from Harker Heights High School.
For many of the top-10 graduates, the annual Starmakers event provides opportunity to praise teachers who served as valuable mentors and encouragers. While most choose teachers and coaches from their high school years, a handful recall teachers from further back.
"I've always been a high performer," said Carlos Suazo of Early College High School. "So many people have supported me. This is really more for them."
He chose to honor Patterson Middle School science teacher Joseph Schlaudraff. "He's been a role model for me. Middle school wasn't the best time for me, but he kept me motivated."
Isabelle Dela Cruz went back a little further. She chose Alisa Farmer, her pre-kindergarten and second-grade teacher from Iduma Elementary School.
"She was always really kind and she demonstrated good morals to me," Dela Cruz said. "I think I carried those moral values through the end of high school."
Shoemaker High School graduate Janelix Rivera chose kindergarten teacher Hilda Vazquez from her days at Pershing Park Elementary School. "She was my bilingual teacher in kindergarten, so we made an immediate connection," the high-achieving student said.
"She told me that I was going to make it and now here I am in the top 10."
All these years later, to hear from a past student and to be honored as their favorite was overwhelming, Vazquez said. "I was shocked," the grateful teacher said. "I had heard of Starmakers before, but I never expected to be chosen. When her mom contacted me, I cried."