For the second day in a row since the start of school, parents protested outside the Killeen Independent School District headquarters Tuesday, demanding additional safety protections as COVID-19 cases rise statewide.
Seven parents and grandparents stood outside the Killeen ISD administration building, 200 W.S. Young Drive, Tuesday evening holding signs and chanting 'Mandate masks!' at passing cars and school buses.
Mother of two KISD students, Zoila Recinos, of Harker Heights, said she organized the event Tuesday evening to bring awareness to safety issues she says she witnessed in the first few days of the 2021-2022 school year, and to push the district to institute a mask requirement in opposition to Gov. Greg Abbott's executive order banning mask mandates.
More than 40 school districts, cities, and counties statewide have challenged the governor's order, enacting local mask mandates of their own in recent days.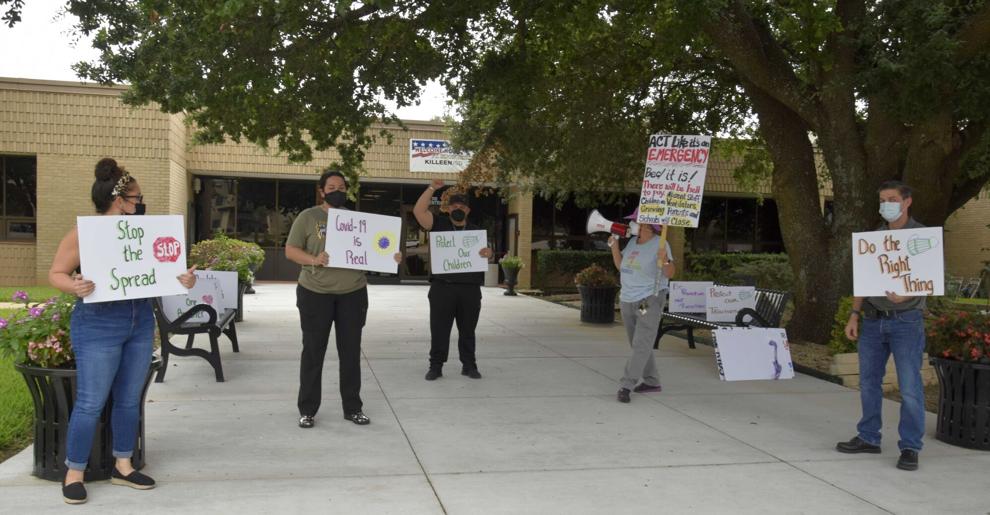 "The governor is not in charge of the safety of our children," Pierangeli Torres, a grandmother of KISD students, said Tuesday evening. "We are. These teachers are. At the end of the day, you have to make decisions for the children and not for some political agenda. It's not for that."
Free disposable face masks, hand sanitizer stations, and plexiglass partitions, Recinos said, would have made her more comfortable as KISD welcomed back an estimated 46,000 children to in-person learning Monday.
Instead, Recinos said she saw many maskless teachers and students at Skipcha Elementary School and Nolan Middle School on Monday, no hand sanitizer stations, and student desks situated uncomfortably close during an ongoing pandemic.
"The desks and chairs are sitting like nothing is going on in the world; there is no social distance," Recinos said. "How do you pretend to stop the spread if you're not doing anything? You (KISD) make it sound good in front of the news, that you are doing the most you can, but you are not."
Zoila Recinos' husband, Juan, said he expected additional safety precautions from a school district the size of Killeen ISD.
Parent of two KISD elementary students, Kyle Wallace, of Killeen, said he felt compelled to join the protest Tuesday.
"My kids are too young to be vaccinated and we're already having issues at school and I just found out on my way here we're not being notified this year," Wallace said. "That's insane, just crazy."
KISD's COVID-19 notification policy changed this school year to only notify parents of students who were in close contact with a COVID-19 positive individual, rather than notify the whole campus as the district did last year.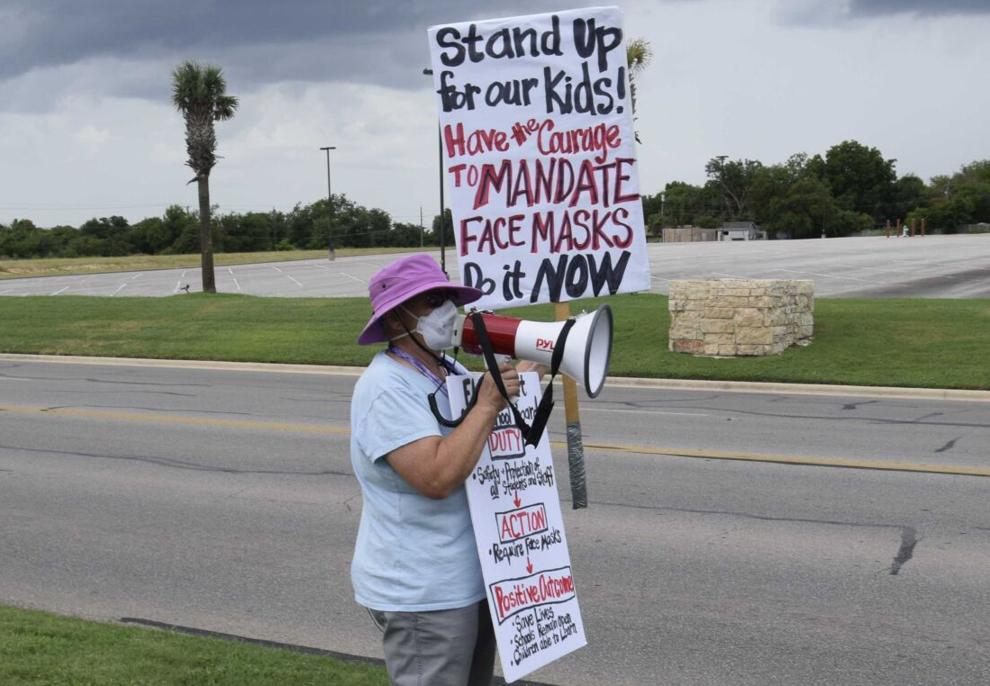 Irene Andrews, of Nolanville, a former KISD educator and great-grandmother to three KISD students, said she wished the district had delayed reopening during the latest, fourth surge of COVID-19 in Bell County.
"Delay the opening of school, period," Andrews said. "Delay it by two, three weeks so you can see what happens to other schools in the surrounding area.
Zoila Recinos said the rise in pediatric COVID-19 cases is something the district should take seriously.
"The hospitals are full," she said. "What are we going to do? There's no place for our kids to be sick. So, what are we going to do?"
KISD has had 23 reported positive cases of COVID-19 among staff in the past week, and a total of 1,877 cases among students and staff since March 2020, according to KISD data released to the Herald Tuesday.
Recinos said she will hold another protest at 5:30 p.m. Aug. 24, before the school board meets at 6 p.m.
"If I have to stand up and be the voice for my kiddos, I'm going to do it," she said.