A small protest formed outside the Killeen Independent School District headquarters on the first day of school Monday in an effort to push the district to enact a local mask mandate in defiance of the governor.
Gov. Greg Abbott's July executive order bans governmental entities in Texas — including all counties, cities and school districts — from requiring or mandating mask wearing.
Dozens of school districts, cities, and counties statewide are pushing back by enacting mask mandates of their own in an attempt to slow the spread of COVID-19.
Killeen ISD's public health policy allows students and staff to wear a mask, but does not mandate masks at this time, in keeping with the governor's executive order.
Bell County Democratic Party Chairwoman Chris Rosenberg and local activists Bill Rosenberg, and Irene Andrews, a former KISD educator and great-grandmother to three KISD students, stood outside the KISD administration building at 6:30 a.m. Monday with protest signs.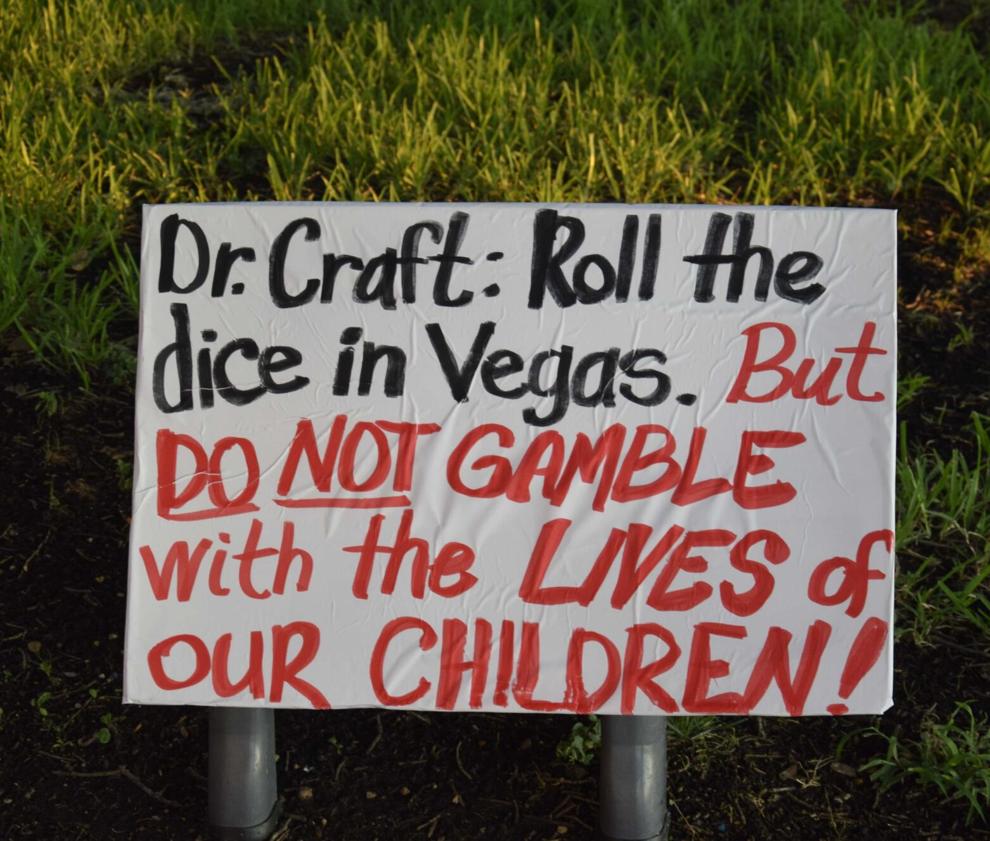 One sign read: 'Dr. Craft: Roll the dice in Vegas. But do not gamble with the lives of our children!'
"I couldn't sit home knowing this was the first day of school and knowing what was about to happen," Andrews said. "I think we need to continue to apply pressure."
Chris Rosenberg said she expects KISD leadership to do more to protect children as COVID-19 infection rates spike in Bell County.
"We're in absolute agony over these kids and the potential for really serious illness and maybe death," Chris Rosenberg said. "We want to encourage mask wearing in KISD."
Andrews said they arrived early in hopes of having a conversation with KISD Superintendent John Craft on his way to work Monday.
As of 9 a.m., Andrews said she had not seen Craft but did speak to a number of KISD employees.
"We're very disappointed in the governor and the state government and we're very disappointed in Killeen ISD for not doing the right thing, stepping up, and standing up to laws that make no sense," Bill Rosenberg said. "Follow the science."
Updated guidance from the CDC recommends "universal indoor masking."
"Due to the circulating and highly contagious Delta variant, CDC recommends universal indoor masking by all students (age 2 and older), staff, teachers, and visitors to K-12 schools, regardless of vaccination status," according to the CDC's website.
Additional masks for students and staff are available on KISD buses and at Fort Hood schools, KISD spokeswoman Taina Maya said Friday. 
"KISD will have face coverings available for buses and campuses on Post due to the Department of Defense order," Maya said. "If a parent wishes for their student to wear a face covering to a campus not located on Post, the parent must provide the face covering for the student. All clinics will have face coverings available as part of our COVID mitigation protocols, however KISD does not require students or staff to wear a face covering."