A Killeen activist, who is challenging the lawfulness of his arrest Saturday while videotaping police, published a recorded interaction with the Killeen police chief to YouTube late Tuesday.
The videographer — who goes by the pseudonyms "No Question Abaudit" and "I'm the Public" has declined to give the Herald his real name — stumbled upon Killeen Police Department Chief Charles Kimble in an elevator at KPD headquarters on Tuesday.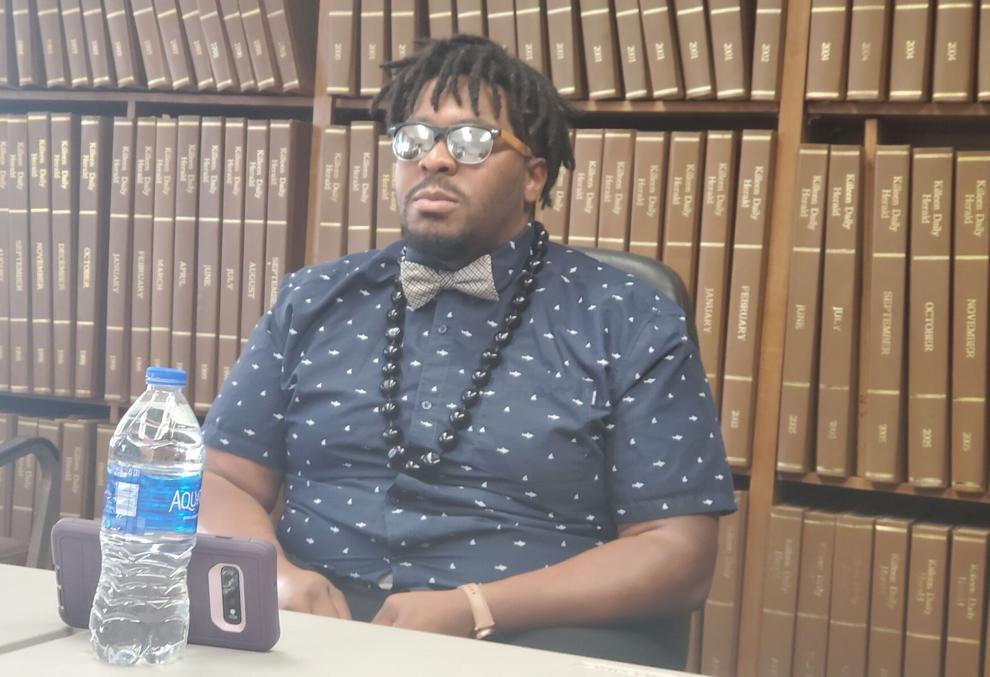 The YouTuber said he is a Navy veteran in his mid-30s originally from Detroit, Michigan. KPD confirmed police arrested a man and charged him with interfering with an investigation last weekend, but the agency has yet to release the man's name.
The Killeen Municipal Court, which handles misdemeanor cases, published a docket showing Kevin Duane Butler was arraigned on a charge he "interferred or obstructed an officer," with a hearing date scheduled for the same day as No Question Abaudit's hearing. The name of the arresting officer in Butler's case also matched up with the officer making the arrest in the video.
On Tuesday, during a live-streamed YouTube video titled "Police Chief shows why the ego can be hazardous" filmed at the Killeen Police Department headquarters, 3304 Community Blvd., the YouTuber happens to end up in the same elevator as Kimble. To watch the video visit: https://bit.ly/3J9m5qL.
Prior to meeting Kimble, the activist took his viewers on a tour of KPD's headquarters — walking through the crime prevention and internal affairs wing of the building - before meeting up with another YouTube videographer who calls himself "Foul Mouth Veteran."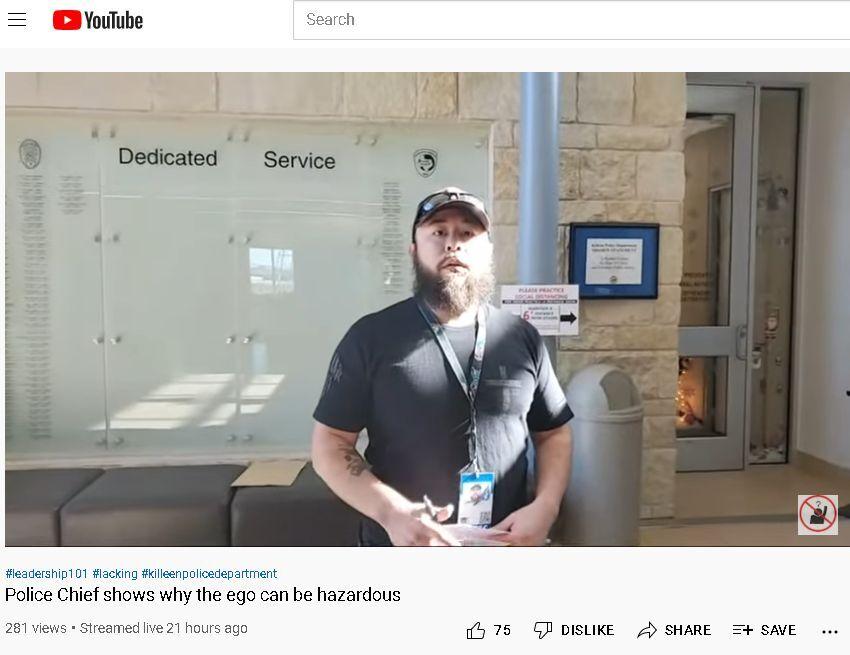 "As long as it don't say 'Restricted Access,' then it's free game," he said in his video Tuesday. "This is what we pay for; this is the people's building."
The YouTuber took a moment to check out KPD's refrigerator, remarking at a couple frozen turkeys found in the bottom drawer.
"If you want snacks, you come up to KPD, they got all the snacks," No Question Abaudit told his viewers.
On the second leg of his tour, the activist got on an elevator, featuring an interior sign which read "Public Access."
On his way to the next floor, as the videographer was facing the front of the elevator, a back elevator door opened and KPD Chief Kimble walked in.
No Question Abaudit greeted Kimble with, "How are you doing, Chief," before asking if he recognized him.
Kimble replied, "Vaguely. I think you were arrested a couple days ago."
When asked if the chief had time to talk, Kimble said he couldn't due to a "scheduled appointment."
After they exit the elevator, there is a brief discussion about how the activist got on the elevator.
"It's usually controlled access," Kimble said before waving his badge and getting back on the elevator alone.
Two additional videos were posted on No Question Abaudit's YouTube channel Tuesday — one of an interview with the Killeen Daily Herald and one of a walkabout through Killeen City Hall.
Since September, he's shared dozens of videos of interactions with Killeen police officers, public officials, and other public entities under his "No Question Abaudit" YouTube channel.
The activist identified himself as the person arrested by KPD Saturday for allegedly violating Killeen city ordinance Sec. 16-107: Interfering with or obstructing an officer.
No Question Abaudit's YouTube video of his arrest Saturday had more than 5,300 views as of Wednesday morning. After news of his arrest spread through social media, KPD released a statement about the matter Monday evening.
In the YouTube video of his arrest posted Saturday, viewers can see the videographer approaching and recording what appears to be a KPD traffic stop. To view the video visit https://bit.ly/3ehobqd.
As one KPD officer appears to be talking to passengers in the vehicle, the activist can be heard on his recording saying, "If you're a passenger you don't have to identify," at which point a second officer turns to the videographer, shines his light at his camera, and informs him "You are now breaking the law, you are interfering with a traffic stop."
The Detroit-native claims he was unlawfully arrested early Saturday morning, held for 12 hours, and mistreated during his time at the Killeen City Jail.
In a news release Monday night, Killeen Police Department Chief Charles Kimble said the department is investigating an arrest after a video circulated on social media over the weekend, but the individual arrested was not named.
According to KPD, an individual interrupted an investigation early Saturday morning in which a driver, who was pulled over during a traffic stop, was arrested for an outstanding warrant from Oklahoma.
"On December 18, 2021 at about 12:40 a.m., Killeen Police officers conducted a traffic stop and subsequently arrested the driver for an outstanding warrant out of Lawton, OK for Discharging a Firearm into a Dwelling. Investigating Officers learned that there was a weapon inside the vehicle and were trying to determine if any other laws were being violated," Kimble said.
During the investigation Saturday morning, No Question Abaudit said he happened to witness officers and began filming the interaction as he's done dozens of other times.
"While conducting their investigation, they (police officers) were approached by an individual who interjected himself into the investigation by engaging with other individuals in the vehicle, distracting the officers, and creating a safety hazard for all involved parties," Kimble said. "The subject in question was arrested and charged violating Sec. 16-107 (Interfering with or Obstructing an Officer) of the City of Killeen Code of Ordinances."
Monday the police chief confirmed the department would investigate the arrest.
"The Killeen Police Department Code of Conduct requires our officers to preserve and protect the individual rights and freedoms of citizens," Kimble said. "Due to the public interest in this incident, we will be conducting an investigation into the matter."
When asked by the Herald for the name of the videographer arrested, KPD refused, saying it is KPD policy to not release names in misdemeanor cases. The Herald submitted an open records request for information about the matter Wednesday morning.