Long lines, slow or non-working voting machines and a lot of late-season campaign work by the candidates — perhaps not all of it legal — marked a turbulent first week of early voting in the Killeen area during the past week.
If you didn't cast your vote yet, there's still two more weeks of early voting, along with Election Day on Nov. 3, to do so.
For those who did venture to one of the six early voting locations in Bell County already, there was a good chance they had to wait in line.
On Tuesday and Wednesday, some voters waited in line for hours as hundreds lined up at the two Killeen early voting locations and elsewhere in the county. By Thursday, however, there were still lines, but things were running smoother.
Part of the delay early in the week was attributed to voter check-in computers that were not working properly. Later in the week it was learned that Bell County was using less than 20% of the voting machines it has access to.
Out of the county's 400 ExpressVotes voting machines, some of which are currently down for repair, county officials said they are currently only using 61 between its six early voting locations. This is slightly more than 15% of its total number.
Bell County Interim Elections Administrator Matthew Dutton said the number of machines per location is fewer than in normal years due mainly to coronavirus measures and the department is unable to add more locations or move to larger venues.
"We can't change spots, and we will be sued into oblivion if we try to move spots after having posting notice of it being there," Dutton said. "As far as adding (locations) way back in late August and early September, when we do programming to get everything done and finalized, we can't do anything additional. We would basically have to shut this election down and start from scratch with brand-new programming."
The coronavirus pandemic has made this an election year like no other. City and school board elections that were supposed to happen in May were pushed to Nov. 3, combining them with an always-big presidential election. That made many ballots longer, and thus, longer times for voters to vote.
However, Saturday seemed to be a night-and-day difference from what was seen at the Killeen polls on Tuesday, when early voting began.
The Killeen Community Center at 2201 E. Veterans Memorial Blvd had no outside lines at 2 p.m. Saturday, but it was still busy with about 75 people going in, coming out or in the process of voting.
Traci Holmes-White, a 54-year-old Belton resident, said the process to vote was smooth and easy at the Killeen Community Center location.
"It was a fast process." she added.
State Rep. Brad Buckley, R-Salado, was out there, too, and added that the line had moved faster and it seemed like a more efficient process compared to Tuesday.
"I think the function of Tuesday to me was there were fewer voting machines because of social distancing," he said. "Some of the machines didn't do what they have to do to produce numbers and that slowed things down. Overall there is a good steady pace and when it is steady like that things run more efficient."
An election worker said that voters on Saturday have had a good attitude and everyone has been cooperative.
The early voting location at Bell County Annex, 304 Priest Drive, had at least 100 either waiting to vote or just finishing voting at 3:30 p.m. Saturday.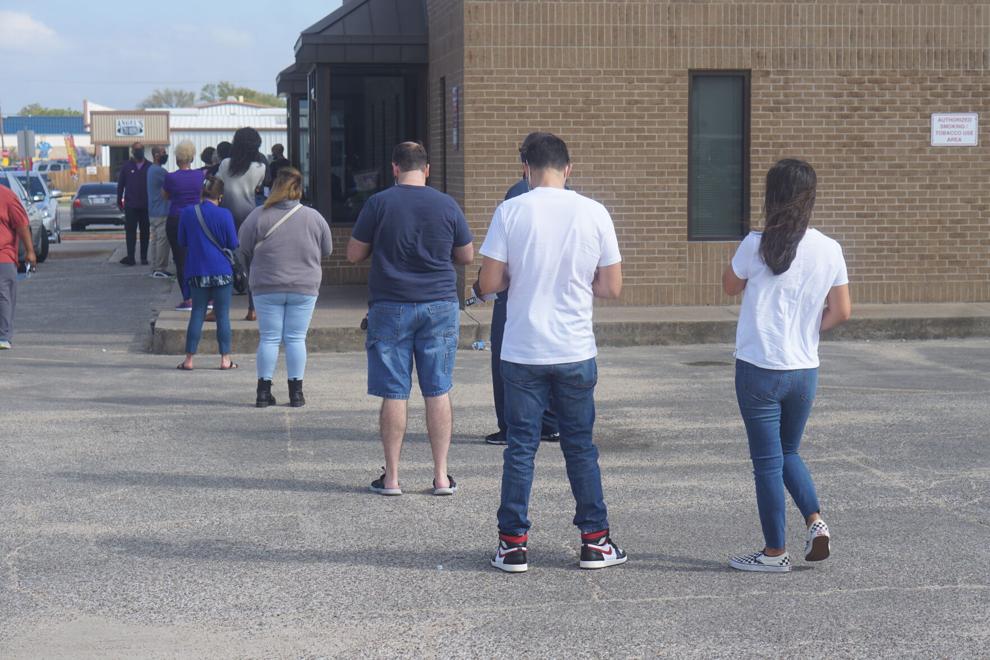 Ana Lee, 38-year-old Killeen resident said it was a lot more convenient to early vote on Saturday due to having to work during the week.
"It's important to vote to make sure our voice counts." she added. "I've thinking I've been voting since I was in my 20s."
Melvin Brown, a campaign volunteer for Keke Williams, D-Harker Heights, who is running against Buckley for Texas District 54, said every day since the first day of voting has been easier for people to vote.
"In my opinion I think they are making the necessary adjustments for voters," he said. "One of the biggest adjustments that I like is they are making adjustments for the handicapped. On the first day it wasn't set up and I gave them a few pointers and they liked it. It is running really smooth for everyone."
Amanda Gonzalez, a 41-year-old Fort Hood resident, said this is the first time she will get to vote.
"I just became a U.S. citizen this year in February," she said. "Having the right to vote gives you a chance to vote for the person that we believe is right."
Some candidates or their staffers were not entirely on their best behavior in the past week as complaints surfaced.
Bell County Judge David Blackburn said he received three complaints in his office that complained about candidates — or their representatives — violating the 100-foot electioneering boundary line.
One complaint included an allegation of a candidate or representative passing out food and drinks within the 100-foot boundary. Blackburn said handing out food and drink to potential voters is not illegal, so long as it is not conditional on a vote and it is not done within 100 feet of the entrance to the polling location.
All legal electioneering or campaigning is allowed outside the barrier.
Blackburn said none of the complaints he received named a specific candidate, but all three were related to the Killeen Community Center.
Blackburn said he asked Dutton to speak with the presiding election judge and make sure that periodically an election worker "patrol or police the area" and ensure there is no electioneering going on within 100 feet from the entrance.
Candidates who continue to campaign within the barrier face a Class C misdemeanor, according to the Texas Election Code, Blackburn said.
The city of Killeen also received some concerns.
"On the first day of early voting we received phone calls from Councilmembers with concerns of how long the lines were and if someone such as an election worker could walk the line and give voters instructions in hopes of making the voting process smooth and fast. Our City Secretary passed that message along to elections administrator," Killeen spokeswoman told the Herald in an email last week. "Other complaints that we have heard of, but not received directly: allegation that electioneering is occurring inside of the 100 foot marker and that food was provided by a candidate on the ballot to voters waiting in line. We became aware of it through media reports."
In response to election or campaign signs on city property, the city provided the following statement, which is "different than the message communicated to candidates previously," according to city officials.
"State law does not allow the city, as owner of the Community Center and other city facilities used for elections, to prohibit electioneering, including the posting of political signs, outside of the 100 foot area during early voting or on election day. However, the city's sign ordinance does prohibit all signs in the right of way and that extends to political signs," according to the email from Shine.
This year's early voting numbers remain fewer that those four years ago, despite its largest day this year, with the county seeing 6,427 voters Friday, compared to 5,469 voters on the same day in 2016. Saturday's early voting numbers were not available by press time.
Early voting locations
Killeen — Bell County Annex, 304 Priest Drive
Killeen — Killeen Community Center, 2201 E. Veterans Memorial Blvd.
Harker Heights — Parks & Recreation Center, 307 Millers Crossing
Belton — Bell County Courthouse Annex, 550 E. Second Ave.
Temple — Bell County Annex, 205 E. Central Ave.
Salado — Salado Church of Christ, 217 N. Stagecoach
Oct. 19 - Oct. 23: 8 a.m. to 5 p.m.
Oct. 24: 7 a.m. to 7 p.m.
Oct. 26 - Oct. 30: 7 a.m. to 7 p.m.
Ballots by mail can still be requested by sending applications to Bell County Elections Department, P.O. Box 1629, Belton, Texas 76513.
Applications must be received by close of business Oct. 23.
Copperas Cove Civic Center, 1206 W. Ave. B, Copperas Cove
Gatesville Civic Center, 301 Veteran's Memorial Drive, Gatesville
Early voting is Oct. 13 through Oct. 16, Oct. 19 through Oct. 23 and Oct. 26 through Oct. 30.
The time for Oct. 20 and Oct. 27 is 7 a.m. to 7 p.m. All other days, it is 8 a.m. to 5 p.m.
Ballots by mail can still be requested by sending applications to Early Voting Clerk, P.O. Box 6, Gatesville, TX 76528.
Applications must be received by close of business Oct. 23.
Lampasas County Conference Room, 409 S. Pecan St., Lampasas
Early voting is Oct. 13 through Oct. 16, Oct. 19 through Oct. 23 and Oct. 26 through Oct. 30.
The time for Oct. 20 and Oct. 27 is 7 a.m. to 7 p.m. All other days, it is 8 a.m. to 5 p.m.
Ballots by mail can still be requested by sending applications to Mark Bishop, Elections Administrator, 407 S. Pecan, Suite 102, Lampasas, TX 76550. Applications must be received by close of business Oct. 23.
Shane Monaco with FME News Service contributed to this report.