Marine veteran Jay Spiller, 57, has a newborn grandson he loves to show off, a pair of good friends he sees every day, a lifetime of rich memories, and he happens to be experiencing homelessness in Killeen.
"We're people like anyone else," Spiller told the Herald outside his tent across from the Walmart Supercenter, 1400 Lowes Boulevard, in Killeen.
Soon, with the help of KPD Homeless Outreach Officer Kyle Moore and the Central Texas Council of Governments, Spiller may have an apartment to call his own.
Thanks to an Emergency Homeless Voucher program aimed at homeless prevention, paid for by federal coronavirus relief funds, Moore and Central Texas Council of Governments are working to provide shelter to dozens of homeless people in the Killeen area.
"I've been working with those guys for years," Moore said of Spiller and other homeless people in the area. "They're not bad guys."
Spiller was one of five people seen experiencing homelessness Tuesday along Lowes Boulevard in Killeen where a small tent city is protected on one side by a drainage creek.
When asked where Spiller sees himself in five years, he said, "I want to have a place to live so I can watch my grandson grow."
Like any proud grandfather, he is quick to show off photos of the grandson he dubbed "Iceberg" because he was born during the freak February ice storm.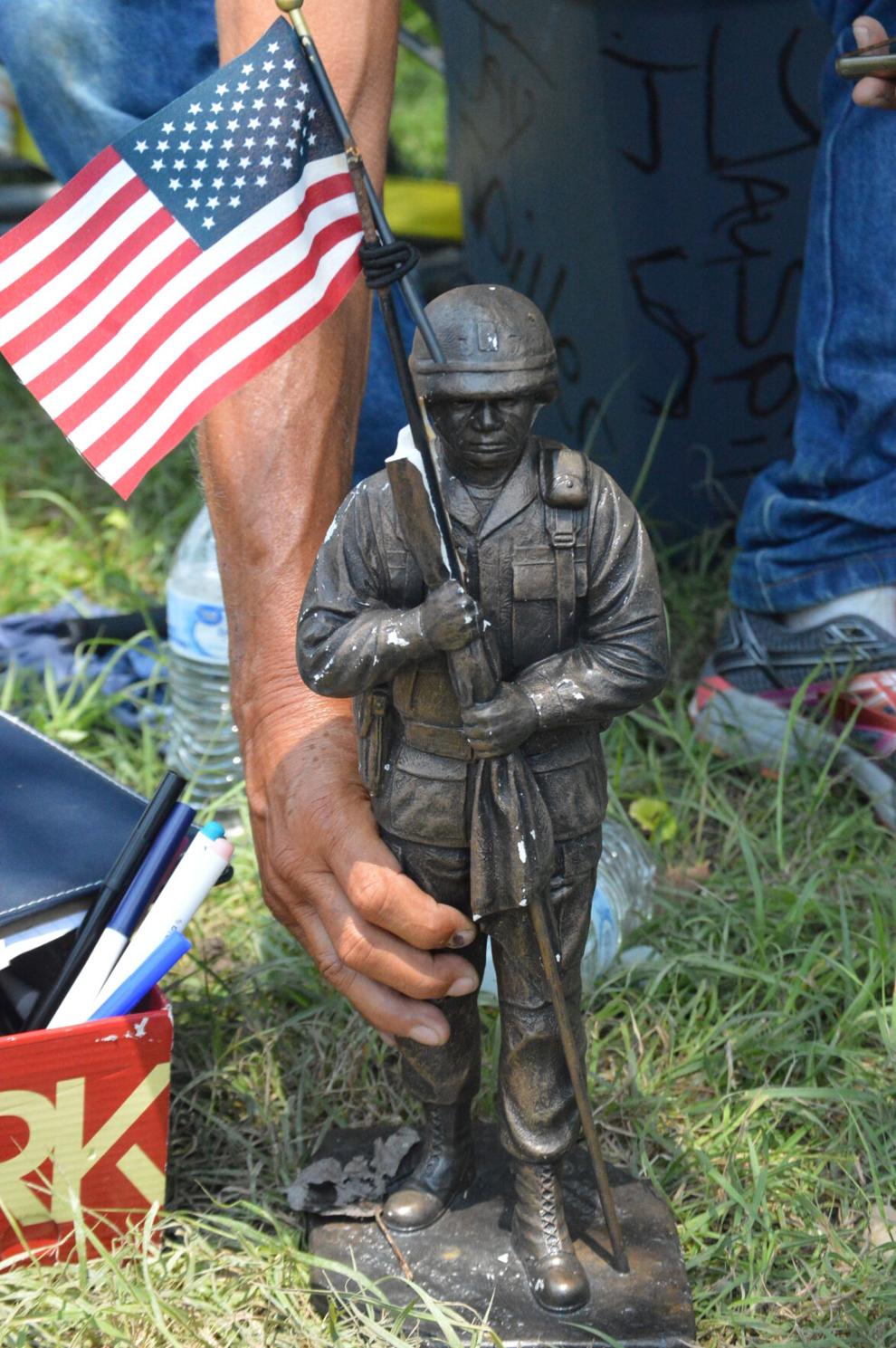 The Marine veteran, who asked not to be photographed, said he has experienced more than his share of grief: he still has a bullet in his back from sniper fire in Afghanistan, six of his high school friends died in combat, his grade school sweetheart wife died of cancer just after he returned from a tour overseas, and lastly, he's been battling homelessness off and on for the past nine years.
"I've had a rough life," he said. "But I'm happy, I'm here with my friends."
Moore said the emergency vouchers will pay for rental application fees, deposits, and rent through September 2023, but the problem is finding landlords willing to rent to people coming out of homelessness.
"I've been able to get several of them (homeless people) approved (for vouchers), but that's half the battle," Moore said. "The next step is getting an apartment complex, or a landlord to actually rent to them. That's the biggest step."
Moore said the stigma of homelessness is what keeps many people experiencing homelessness from finding a permanent home.
"I want people to get away from labeling people," Moore said. "Not all homeless people are drug addicts, or alcoholics. There are a lot of hardworking people out there. A lot of people are a paycheck away from homelessness. It's important to keep in mind, these are people."
Moore said those interested in supporting KPD's Homeless Outreach Team may do so by dropping off a check made out to KPD Homeless Outreach Team at either of the KPD facilities located at 3304 Community Boulevard and 402 North 2nd Street in Killeen.