When power went out last week and stayed out at Antoinette Dombroski's house along Stan Schlueter Loop in Killeen, she and her husband broke out the camping gear to try and keep the kids and pets warm, and cook everyone some dinner.
"We started having the rolling blackouts around 2 a.m. Monday, and then after about 4 a.m., it stopped coming back on, and we've been without power since then," Dombroski said Thursday afternoon.
As of 1 p.m. Saturday, more than 2,300 customers were without power in Killeen, according to electricity provider Oncor.
"The first couple nights, we slept all together in the living room so we could try to have some body heat together. We have tons of blankets; we have camping gear — sleeping bags, flashlights, lanterns — so after two days with no power, we moved our kitchen table and set up a tent in the dining area. We brought out our camp stove and cooked some grilled cheese.
"We had a ton of supplies, and we had food that didn't need to be cooked. After the second day, we moved all our fridge and freezer stuff out into coolers outside on our back porch and put some snow in there to make sure it stayed OK. We have a vehicle, and while we haven't been driving in these conditions, we were able to start our vehicle and put everyone in the car for short bursts to warm up or to charge our phones.
"We've been lucky that we had food in the house, all of those supplies, and that our water was still running. We've been cold, but we've been OK."
By mid-week, friends concerned about the Dombroskis braved dangerous driving conditions and drove to their house, packed the family up and took them home.
"We had a few offers from people inviting us to come over, but not everybody was willing to take our (three pet) rabbits, too. We didn't want to leave them behind in the cold.
"Our rabbits were displeased with the cold at our house," she said. "We were doing our best to keep them warm, but they were thumping at us a lot. Rabbits thump their back foot when they're displeased with something. After (Wednesday) morning, we had a few friends who decided that we weren't going to deal with it any longer, and they came and picked us up — and our bunnies — and we are at a house on Fort Hood right now," Dombroski said Thursday.
"We slept here last night, and ever since we've been here, (the rabbits have) been confused about the situation, but they haven't thumped at all. I think they're just happy to be warm.
"Being in the Army (she is now medically discharged), I've dealt with some cold temperatures, so I was OK with it, to an extent. Our thermostat was off because of no power, but my son has a little toy weather vane that was saying it was 48 degrees. I don't know how accurate that was, but that was the best we were able to gauge what the temperature was like inside.
"I know I was bundled up with a winter hat, gloves, scarf around my neck, three or four layers of clothing and socks, and six layers of blankets. I was still a little cold. By the second night, my (two) kids had a little bit of trouble — they were just done with not having any electricity and being cold. They're glad to be here now."
At one point when the Dombroskis were moving back and forth from their cold house to the warm car, they decided it might be a good idea to go fill up the gas tank, just in case. Driving on the icy roads was uneventful, but finding a place to buy some gasoline was a challenge.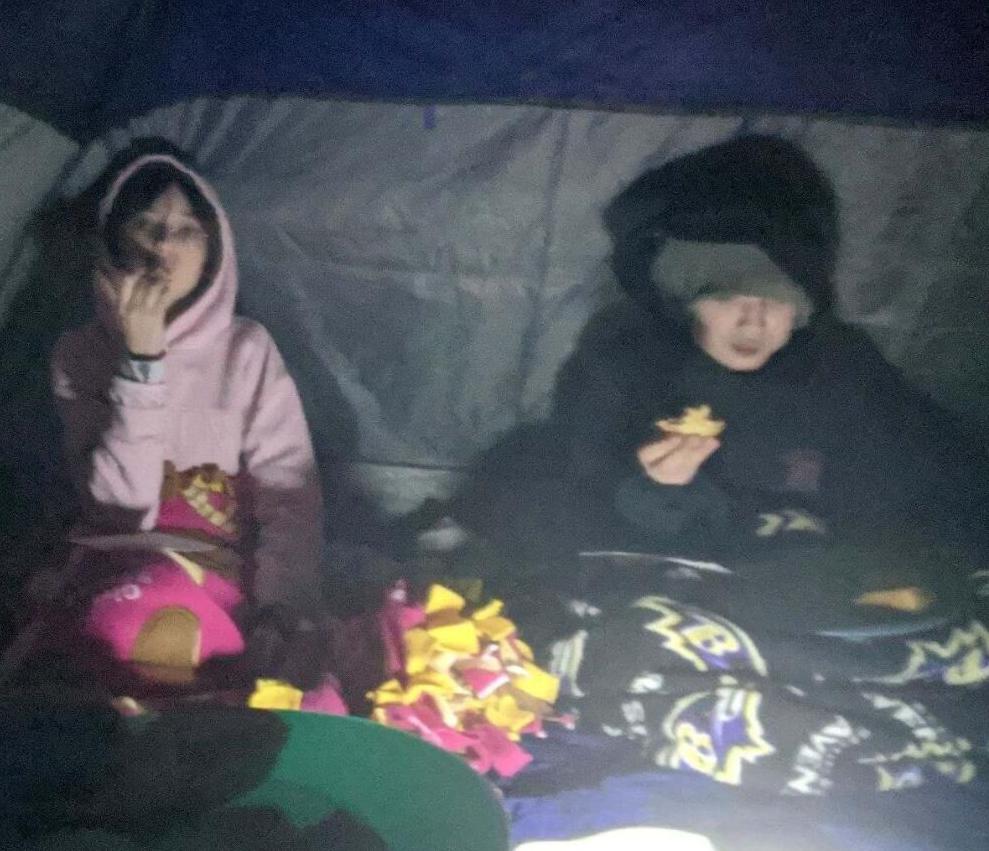 "It took a few tries to find something. The first place, right when we were about to pay, the pumps went down. There were a few stations that were completely out of gas. It was a mixture of gas stations where their pumps weren't working, they were out of gas, or closed."
Although it was a difficult stretch, things were improving by week's end. Not only were they rescued from the cold by friends, Dombroski said Friday morning that their power at home had been restored and they were planning to head that way by the afternoon.
A Girl Scouts leader and daughter of an Air Force veteran, Dombroski served in the U.S. Army from 2007-09, followed by a break in service, then again from 2010-15, including a deployment to Afghanistan before medical issues forced her to retire. Her husband, Patrick, is also a veteran.
She is upset about what some say is a failed response by local and state authorities to an emergency situation, but says there is something else that bothers her even more.
"My irritation right now is not as much as who's to blame, but how some people are acting. There's a lot of people who are blaming residents who are suffering, (and) lecturing them for being unprepared. We were lucky enough to have all the supplies we had. If we hadn't been picked up (by friends), we could have kept going and survived OK in the situation.
"Not everybody has all those supplies that we had. Even with knowing that winter weather was coming, people didn't know there were going to be extended power outages and no water. Also, this is midways into the month and some people didn't have money to go out and buy things – and the store shelves were empty anyway.
"All of our stuff has been accumulated over the years, so to blame people for not being prepared is … speaking from a place of privilege. I have another friend who doesn't even own a car. She didn't have any of the supplies that we had, and she didn't have a vehicle to go get anything.
"She was lucky enough to have a couple friends who delivered stuff to her.
"There are people who just don't have the advantages — the means — to prepare for something like this. So to blame them for not being prepared is just ridiculous and unfair."