A Killeen activist who regularly videos police interactions and posts them to YouTube claims he was wrongfully arrested Saturday after recording a police traffic stop in north Killeen.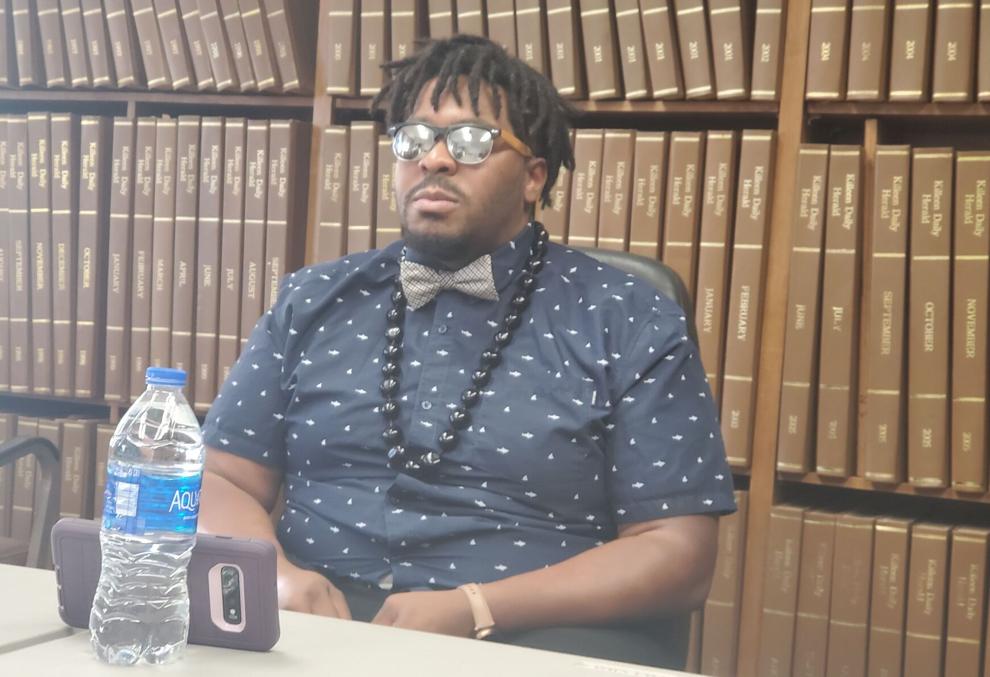 The videographer — who goes by the pseudonyms "No Question Abaudit" and "I'm the Public" — told the Herald Tuesday that the city's ordinance violates his constitutional rights of free speech and goes against a similar state law that allows people to video police while also commenting aloud on what they are seeing.
In a news release Monday night, Killeen Police Department Chief Charles Kimble said the department is investigating an arrest after a video circulated on social media over the weekend, but he did not name the individual arrested.
In a visit to the Herald Tuesday, No Question Abaudit, originally from Detroit, Michigan, said he questions how lawful the Killeen Police Department's charge is against him.
No Question Abaudit would not provide his name to the Herald Tuesday.
According to a Killeen Municipal Court docket, Kevin Duane Butler was arraigned on a charge he "interferred or obstructed an officer," with a hearing date scheduled for the same day as No Question Abaudit's hearing. The city court handles misdemeanor cases. The name of the arresting officer in Butler's case also matched up with the officer making the arrest in the video.
According to KPD, an individual interrupted an investigation early Saturday morning in which a driver, who was pulled over during a traffic stop, was arrested for an outstanding warrant from Oklahoma.
"On December 18, 2021 at about 12:40 a.m., Killeen Police officers conducted a traffic stop and subsequently arrested the driver for an outstanding warrant out of Lawton, OK for Discharging a Firearm into a Dwelling. Investigating Officers learned that there was a weapon inside the vehicle and were trying to determine if any other laws were being violated," Kimble said.
During the investigation Saturday morning, No Question Abaudit said he happened to witness officers and began filming the interaction as he's done dozens of other times.
"While conducting their investigation, they (police officers) were approached by an individual who interjected himself into the investigation by engaging with other individuals in the vehicle, distracting the officers, and creating a safety hazard for all involved parties," Kimble said. "The subject in question was arrested and charged violating Sec. 16-107 (Interfering with or Obstructing an Officer) of the City of Killeen Code of Ordinances."
The videographer said that city law omits a key provision in a similar Texas law, which provides a loophole if the obstruction or interference "alleged consisted of speech only."
Monday the police chief confirmed the department would investigate the arrest.
"The Killeen Police Department Code of Conduct requires our officers to preserve and protect the individual rights and freedoms of citizens," Kimble said. "Due to the public interest in this incident, we will be conducting an investigation into the matter."
In response to Herald questions about the investigation, KPD Assistant Police Chief Alex Gearhart said KPD's internal affairs department is conducting the investigation and the two KPD officers involved in the arrest Saturday are not on administrative leave.
When asked if KPD would have investigated the matter if the arrest video hadn't made waves on social media, Gearhart provided the following statement:
"All arrests are subject to supervisory review," he said. "Referrals to Internal Affairs are usually generated from those internal supervisory reviews, or from an external complaint. Before either of those instances occurred, we learned of the video posting on social media and the public interest in the case. In the interest of transparency and accountability, we are conducting an internal review to ensure the arrest was lawful and within policy."
When asked by the Herald for the name of the videographer arrested, KPD refused, saying it is KPD policy to not release names in misdemeanor cases.
Killeen city councilwoman Mellisa Brown posted a statement about the matter on Facebook Monday.
"I am aware of a video on YouTube showing the arrest of one of our citizens who appears to be a bystander at a traffic stop," Brown wrote. "I am tracking the situation and will be requesting updates regarding the investigation into it. Once all information has been received and the investigation is completed the situation will be handled appropriately. Since there is an active investigation, I will be limited to what I can share until its conclusion. I appreciate your patience as we go through this process."
Since September, No Question Abaudit has published 38 videos to his YouTube channel of the same name — mostly of interactions with Killeen law enforcement officers.
He said he began filming police officers, public officials, and other public entities after a Killeen traffic stop in February.
"My main thought process was just to document everything," he said. "That's the other reason why I named myself No Question Abaudit... It's like an audit, so I'm auditing the police in the course of their duties."
No Question Abaudit's YouTube video of his arrest Saturday had more than 4,300 views as of Tuesday evening.
The videographer said he has witnessed a lot of KPD interactions in the neighborhoods around Rancier Avenue in north Killeen.
"Literally the majority of my interactions with the police are in the same neighborhood," he said Tuesday.
No Question Abaudit said he was denied medical attention and a phone call at the Killeen City Jail where he was held for 12 hours following his arrest Saturday. He said he posted the video later Saturday, after he was released from jail.
The Killeen activist said he will continue recording interactions with public officials in an effort to educate citizens of their rights.
The ACLU of Texas was not available for comment Tuesday but offers general information online about the public's right to film police. To visit the ACLU of Texas's article about filming police visit https://bit.ly/32mD4F1.