KEMPNER — Fried, scrambled, and poached kackleberries, slapjacks, the Yardbird, and a Cheese Cow Patty are among the homestyle menu items made from scratch and fresh ingredients at the newly remodeled and recently re-opened Log Cabin Café in Kempner.
"We also have the Fat Boy, which is a fried bologna sandwich," said owner Ken Shirley, who spent the past two-and-a-half years renovating the restaurant that has been in the family since his dad first bought the building in 1999.
"We call our burgers Cow Patties — plain cow patty, cheese cow patty, bacon cow patty. You can even get a starter cow patty, which is our version of a plant-based burger, because that's where it starts before it becomes beef. The Yardbird is our chicken sandwich. Pancakes are called slapjacks from back in the chuck wagon days. S.O.S. is obviously taken from the military. It's actually not chipped beef. It's a mixture of Wagyu and Angus (beef).
"I'm working with the Brick Oven (restaurant) down the street (and) they are going to start making me pretzel buns for The Neighbor, a Philly cheesesteak sandwich with pepperoni, bell peppers and onions, on a pretzel hoagie, with a craft beer cheese for the sauce. It is phenomenal."
From his recollection, the building alongside U.S. 190 just west of Copperas Cove has been around for about 50 years, Shirley said. In the late 1980s, it was an antique store. In the early '90s, it was a two-bedroom family home. At one time, it also was a gun shop, and a church.
Shirley started working at the restaurant when he was a senior at Lampasas High School. Things were great for a number of years, then Ken Sr. got seriously ill with a slow-acting virus he apparently contracted sometime during his military career. After the family closed the doors but held onto the building, new management came in and it became Rebecca's Kitchen for 11 years.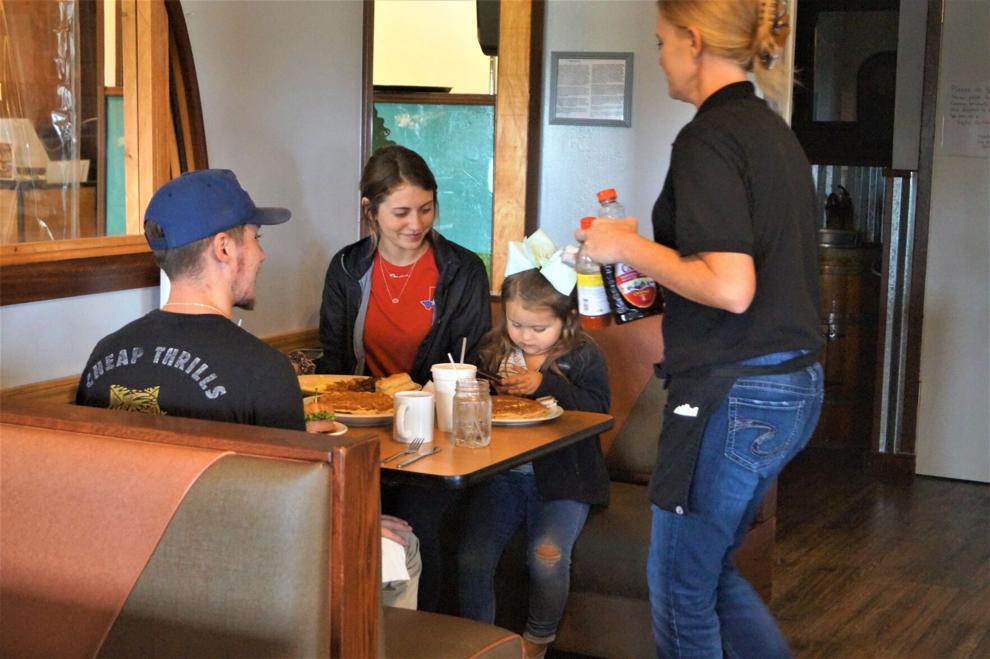 Three years ago, the restaurant closed down again, and Ken Jr. decided to get back into the food business.
"After dad got sick, I made a call to my sister, who was stationed with the Navy at Pearl Harbor," Shirley said. "She came home to say her good-byes to our father, who was on his death bed.
"He survived, and the doctor asked him, 'Do you believe in Jesus?' He said, yes, and the doctor said, 'Well, that's the only reason you're still alive. I cannot medically tell you why you made it through this.'
"He doesn't move as fast as he used to, but he's walking (and) cutting his own grass.
"When my sister came home, she said, 'No matter what happens, when all this is done, why don't you come out to Hawaii for six months and just relax.'
"I'd been running this place since I was 18 years old. Dad worked the day shift and I worked the night shift. Did all the shopping, the payroll, the books. When he got better, he told me to go ahead and go on out to Hawaii, so that's what I did.
"I went out there and went hiking, surfing, snorkeling, and just … living Hawaii. After a while, I was like, 'You need to do something with your life,' and oddly enough, there was an offshore (speed) boat zipping across the water.
"I thought, 'You know, if you're gonna have a bad day, have a bad day in paradise.' So I came back to the mainland and went to MMI (Marine Mechanics Institute) down in Florida. Got hooked up with Performance Marine, and the guy took me under his wing and I spent 10 years down there working with him."
Along with working on racing boats, Shirley also got involved with drag racing and later snowmobile racing, but eventually felt central Texas calling.
"I realized that I only came home about four times in about 12 years," he said. "One of those times was when my mom's twin sister passed away. I was, like, 'You know, my parents aren't spring chickens anymore.' So, when race season was over, I came back home.
"I was in the process of looking for a piece of property to open up a boat shop when Rebecca's closed. I still had to pay the taxes and I still knew how to cook, so I gave up the boats and started selling Fat Boys and slapjacks."
Since opening again in March, business has been great, Shirley says. He was a little concerned with COVID-19 restrictions still in place, and the February deep freeze did some damage as he worked to completely remodel the interior, but it all worked out.
"I was kinda worried with the COVID. We actually only had six tables in here. Everybody was 10 feet apart, (wearing) masks and everything. Then they started loosening the restrictions and so we kept going.
"It started with me being the only cook, and I couldn't keep up. We were open for about two months before we put up a sign. This place has been around forever, and I wanted to do a soft opening. I wanted to make sure that everybody and their brother didn't come up — because they knew the name.
"But people were lining up outside the door on Saturdays. Then, it hit Lampasas breaking news (Facebook group), and Lampasas radio came out. We sponsored Rabbit Fest and we're sponsoring the dunking booth at Kempner Fest. It's just been going, going, going."
The restaurant is open 6 a.m. to 2 p.m. Monday through Saturday, with plans to possibly open for dinner later in the summer. In the past, smoking was allowed inside, but no more. Shirley said he also plans to install a gazebo outside, where dining and smoking will be allowed, and customers will be able to enjoy sunsets on the western horizon.
He offers free drinks to first-responders as a way of showing support, and says he plans to be open as long as possible.
"I love what I do," Shirley said. "Because this place has been here for so long as a restaurant, I can't see the community not having it anymore. There was a girl who got diagnosed with some terrible disease, and they put (a notice) up on the wall, and enough of the community saw it that they ended up raising like a hundred thousand dollars for her – and she made it.
"If you can have a place where everybody can come together for something like that, why not?"