A Fort Hood soldier and her spouse said they are grateful for the outpouring of community support they received following the recent premature birth of their daughter at a mere 22 weeks and 1.5 pounds.
The couple said they continue to seek answers as to why multiple warnings to Fort Hood officials during the soldier's sensitive pregnancy went unheard.
Spc. Neshia Bivens, 29, of the 49th Transportation Battalion, and her husband, Darrion, 34, celebrated several significant milestones in their youngest daughter's life over the past seven days.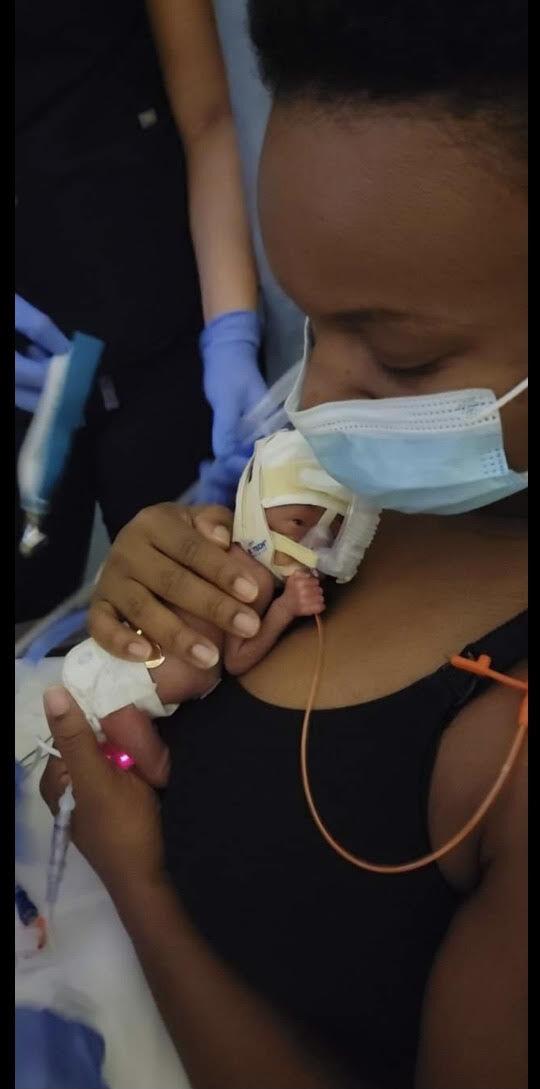 "She is still in an enclosed incubator because she can't be in an open bed yet — she still can't regulate her own body temperature," Darrion Bivens told the Herald on Friday.
Their daughter, Jane, gained 4 ounces and successfully had her breathing tube removed under the care of doctors at St. David's Medical Center in Austin.
"Jane is doing a lot better than she should be doing," Bivens said. "She has a long way to go, but she's still alive and she's still fighting."
In the midst of a tumultuous pregnancy, Spc. Neshia Bivens went into labor 18 weeks early on the road and was taken by ambulance to Carl R. Darnall Medical Center, where Jane was born on Oct. 20 weighing just under 600 grams.
Baby Jane was transferred to St. David's Medical Center in Austin, Bivens said, because Darnall did not have the means to care for a 22-week-old infant.
At birth, St. David's doctors told the couple their daughter had a 5% chance of survival, but the family continues to hold out hope Jane will come home on her original due date in February.
"She has been gaining weight," he said. "She's doing a lot better than they expected her to be — still fighting."
The couple's story seemed to strike a nerve on social media, with more than 350 people commenting online — many sharing similar traumatic pregnancy stories about Fort Hood's Darnall in response to Bivens' article in the Herald detailing their nightmarish experience.
"I'm so sorry for this woman having to deal with this," Sarah Pomponio wrote on Facebook. "I went through my 3rd pregnancy at Ft Hood at Darnall and the doctors don't listen to patients at all."
As a pregnant soldier, Spc. Bivens said Fort Hood officials and Darnall Army Medical Center did not consider her serious health concerns — including severe migraines and bleeding, which she said were worsened by her working conditions in the months and days prior to her emergency birth.
"She shouldn't have been exposed to anything," Darrion Bivens previously told the Herald. "But she was exposed to diesel fumes, paint fumes. She was doing unit-level (physical training) when she was training, when she wasn't supposed to."
Darrion Bivens said someone from Fort Hood should be held accountable for the way his wife was treated during her pregnancy.
"Money is not something I'm looking for," he said. "I'm looking for someone to go to jail. I'm looking for them to implement some type of program for soldiers to report toxic leadership, because even in the comments (on Facebook) you saw so many people coming forth telling their stories. They're not the exact same as my wife, but it's similar. So, the Army knows what's going on, they know that this is an issue, but they're not doing anything to fix it. They're just waiting for the story to blow over."
Spc. Bivens was placed on "temporary place of duty" Monday while she is in Austin recovering and caring for their youngest child.
"Leaders across the 96th Transportation Company, III Corps, and Fort Hood, are committed to understanding Spc. Neshia Bivens' situation in its entirety," Col. Matthew H. Ruedi, deputy commander of 13th Expeditionary Sustainment Command, said in a statement Nov. 1. "We are committed to finding out all facts and have a diligent process that allows for that. Pending results of the ongoing investigation, we are prepared to hold any personnel accountable if any wrongdoing is found. Spc. Neshia Bivens has been placed on a specific 'temporary place of duty' status to facilitate her focus on the health of her family. Her maternity leave time will be protected for when she returns home. Our thoughts and prayers go out to her and her family."
But Darrion Bivens said he learned Friday the temporary assignment orders, which helps offset the cost of lodging and meals, are only for two weeks.
"It's like just when we were starting to breathe fresh air thinking things were going to work out then they call with new problems. It's one thing after another," he said.
The father said Fort Hood's decision to provide TDY two weeks at a time doesn't add up.
"It doesn't make sense financially for them to put her on TDY two weeks at a time, because when you put someone on TDY you only get paid 100% per diem for the first 30 days and then after that it's 75%," he said. "It's not financially beneficial for them to only do her TDY two weeks at a time. I'm assuming they're doing this just until my child dies, or to save face for now, but if they really had intentions to fund her being there they would've done TDY based off what the doctor said which is projected to be until February."
Bivens is still holding out hope for a conversation with U.S. Army Forces Command Commanding General Gen. Michael Garrett as he requested on Oct. 25.
"We're just waiting to see what happens," he said.