While he enjoyed seeing the world, Killeen veteran Henry Mosley said his most treasured memories from his 22 years of military service were nurturing and molding young soldiers to reach their full potential.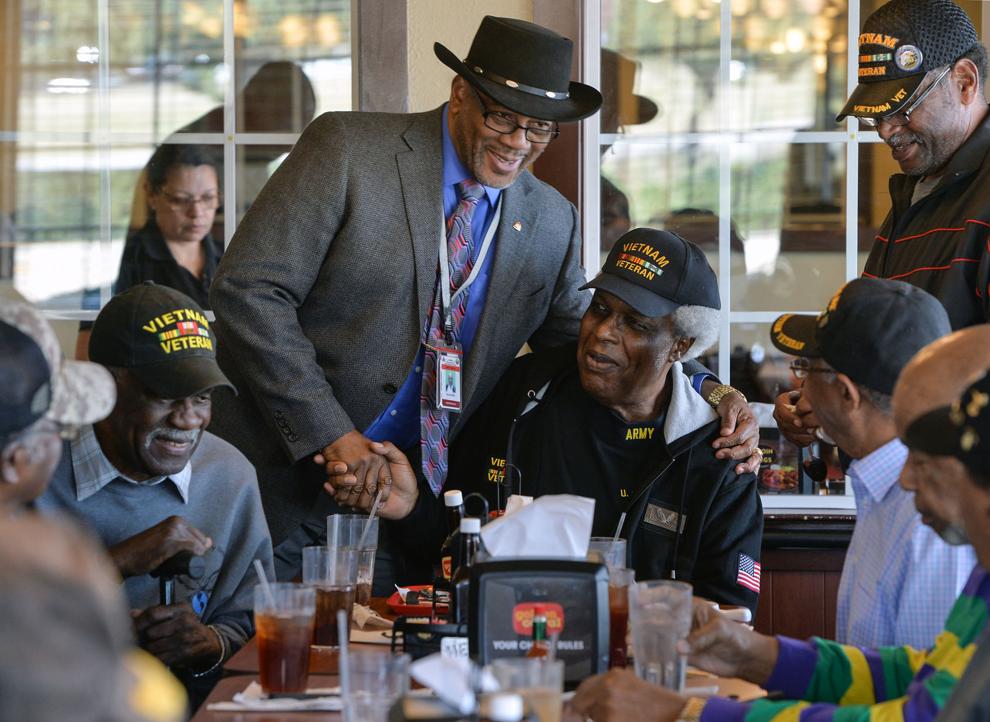 "Young soldiers would come in from different lifestyles," Mosley said. "Now they were in the Army, and they had to be conformed to what the Army wanted them to be."
One of Mosley's first military experiences was as a cook patiently leading 10 soldiers who were resentful of working under an African American man and mentoring them until those same soldiers saw him as a friend.
"These guys had a problem working for me — all of them were white," Mosley said. "Once we got together, we all became friends."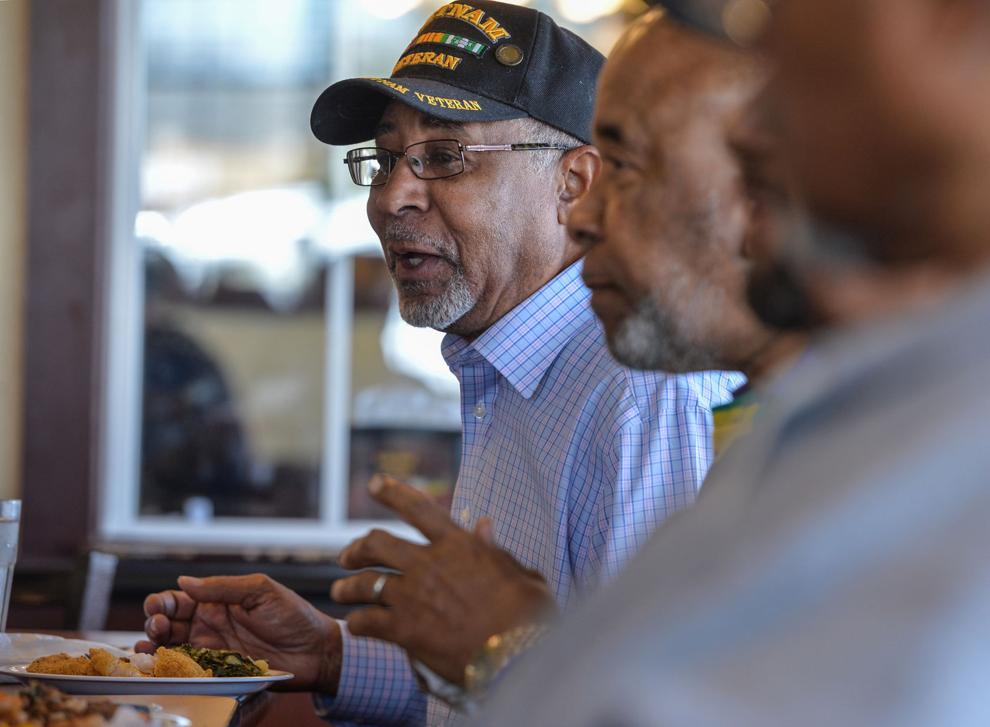 Mosley continued in the Army after those 10 soldiers moved on to different careers, but 25 years later, they looked him up.
"They called me, and we made a bond," Mosley said. "Every two years, these guys for the last 20 years we meet with their families, and their children. They came to understand we were no different from what they were and we just became friends."
This year, the old colleagues will meet in Waco, he said.
After his military service, Mosley went to work at the Veterans Affairs hospital in Temple as a recreational therapist.
"That was an experience that involved me being with other veterans who experienced what we have experienced," Mosley said.
In 2008, he officially started the Retired Military Brothers Association of Central Texas with three other retiree friends to facilitate those sorts of connections and camaraderie with local veterans.
Through the years, the group has grown to 19 regular members who meet every Wednesday at the Golden Corral in Killeen, Mosley said.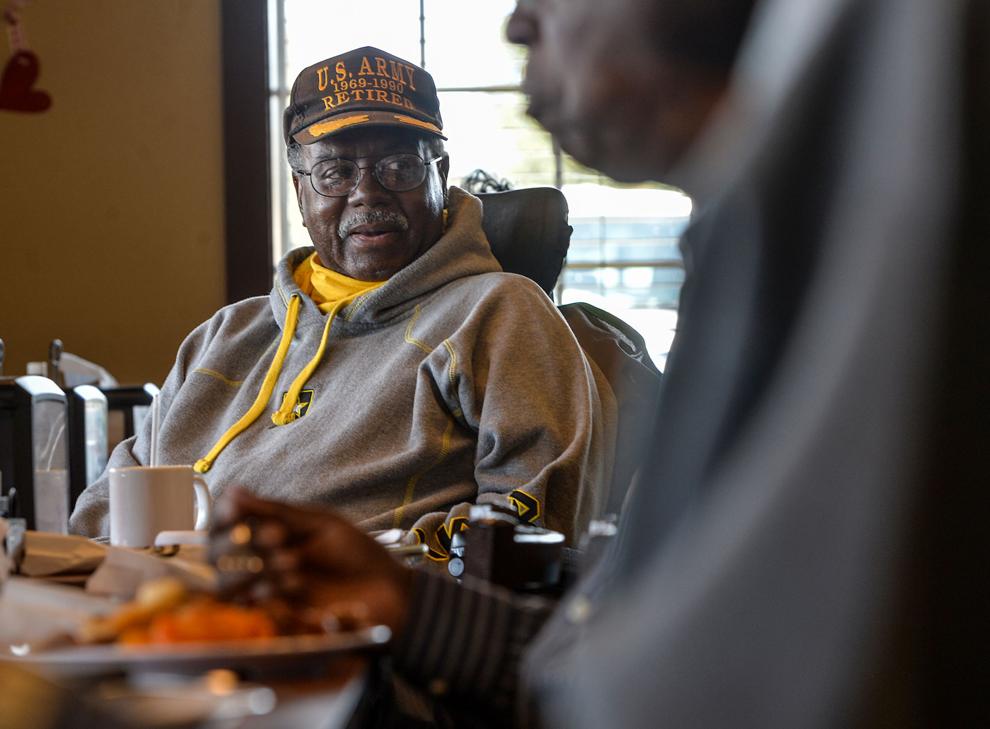 Between the 19 regular members of the Retired Military Brothers Association, they share 353 years combined service.
"I live for every Wednesday to come meet these guys to share their relationship, friendship, their experience in the military," Mosley said. "The rank means nothing, they're just guys getting together to talk and have a good time."
Mosley was a Lufkin native who was drafted into the military at 18.
His time in the service was deferred while he attended college. He went on to have a 22-year career before retiring in 1990 as a first sergeant.
"The closest I got to Vietnam was Hawaii," Mosley said. "I was air defense, and I shot missiles."
While in Hawaii, Mosley enjoyed visiting the islands of Kauai, Maui and the Big Island. He also spent time in Korea, Germany, Japan, England and Alaska.
His love of travel continued with fellow retiree Leon R. Fraiser who he met in the early 1990s.
"We used to travel all over Texas, and up to Oklahoma to go to casinos," Fraiser recalled. "I liked to travel with him because he has a brain like a trap. He can go all over and he didn't need a map. I could follow him all over the place."
Fraiser became one of the first members of the Retired Military Brothers Association.
A native of Brooklyn, New York, Fraiser, 68, joined the Army straight out of high school and served for 27 years.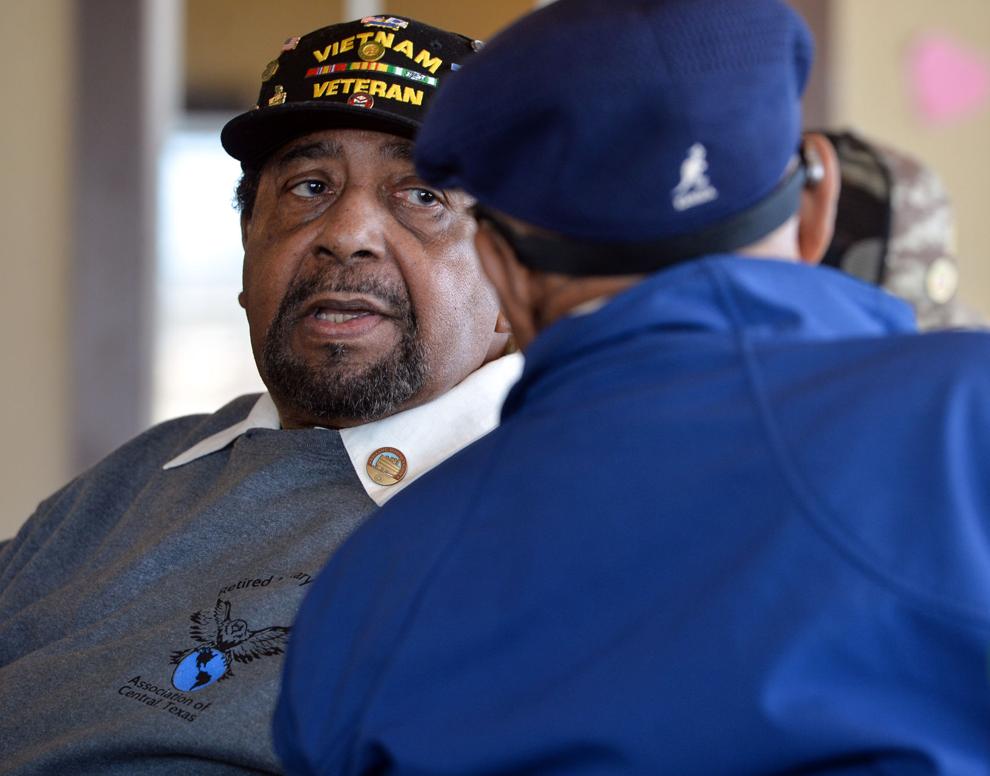 He enjoyed getting to see the world before settling in Killeen.
"I've been a lot of places a lot of people haven't been," Fraiser said. "I went to Alaska and I stayed there 18 months — I didn't want to go back. Too much cold — too much snow."
In addition to stations on both the West and East coasts of the United States, Fraiser also spent time in France, Japan, Germany, Korea, Thailand and Vietnam.
But after the Army, Fraiser said he didn't want to move back to New York, he settled in Killeen in 1985 because the laws in Texas drew him.
Local veterans from across the country who have settled in Killeen have grown alongside the city as they have embraced it as their home.
Copperas Cove resident Luther C. Powell Sr. has lived in the Fort Hood area since he retired from 22 years of Army service in 1974.
The 79-year-old has watched Killeen grow from a small town with a small town mentality to a big city.
"And it has to accommodate the people who are here," Powell said. "And it has done a great job of doing that."
Much of his career, Powell worked in communications, but he retired as a housing officer at Fort Hood.
"The last legitimate case of off-post housing discrimination occurred when I was here in 1975," Powell said. "From that point on, I don't know of any legitimate case of discrimination in the area. I have seen this city change."
Prior to his time in Vietnam, Powell recalls instances of racial discrimination, but the racial climate shifted upon his return.
"From a racial perspective, the Army had no problems — people had problems," Powell said. "The Army had the rules — everything set up to work if people would just follow what they said."
Powell said once he returned from Vietnam, in his experience the Army's system of integration was the best.
"The military continues to be a beacon of fairness — especially the Army," Powell said.
While working five and a half days a week during his first overseas assignment in Korea, Powell appreciated the bonds coworkers were forced to develop, in spite of a variety of social backgrounds.
"There was no family to go to," Powell said. "There was just a bunch of buddies who worked together, played together and so there were no real issues."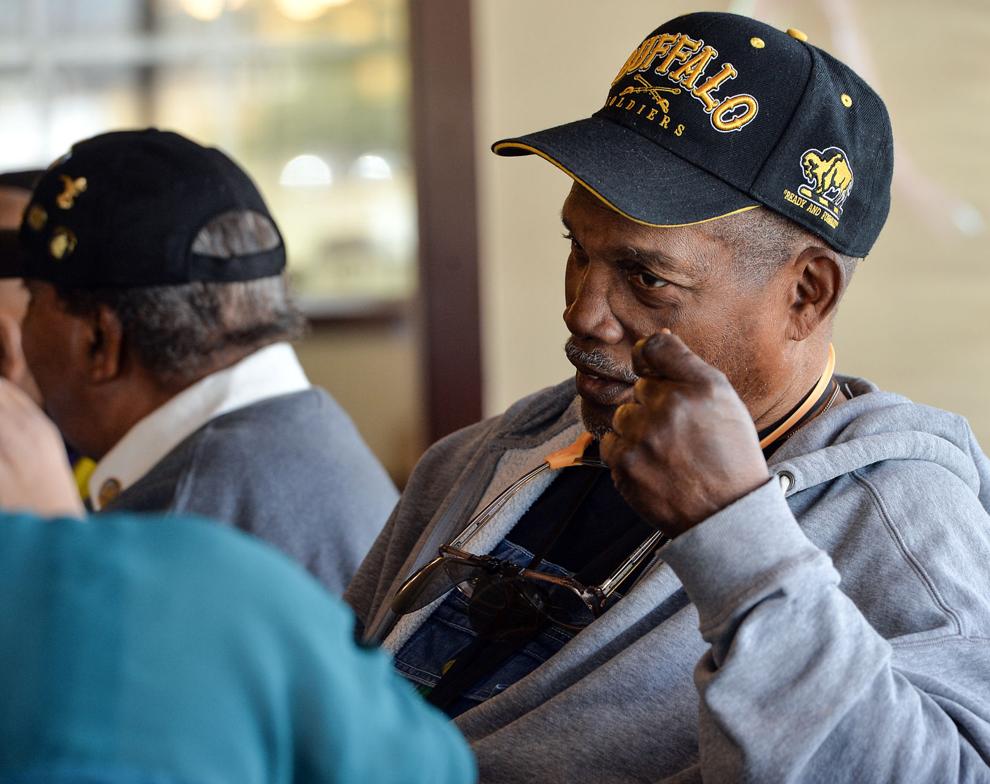 Powell has come to treasure the weekly meetings of the Retired Military Brother Association of Central Texas.
"We're a bunch of guys who came from the same background — a segregated South — came into the military and became professional soldiers and contributed to the nation's defense," Luther said. "And now we're retired, just sitting around sharing stories with each other."
In addition to creating a tight-knit community, the Army helped prepare soldiers for secondary careers after the military.
After retiring from the Army as a first sergeant, Jessie Carruth said his experience as an Army aircraft repair specialist prepared him for a secondary career as a contract aviation supply supervisor.
Carruth said he took in the good and the less pleasant of his assignments and enjoyed meeting a variety of people along the way. He settled in Killeen because he could never see himself going back home to Helena, Arkansas.
"It was too black and white — the racial split," Carruth said. "Also, there were no jobs for someone who had traveled and experienced life elsewhere."
Fellow retiree Douglas Ashford's family felt warmth and openness that made them feel at home, he said.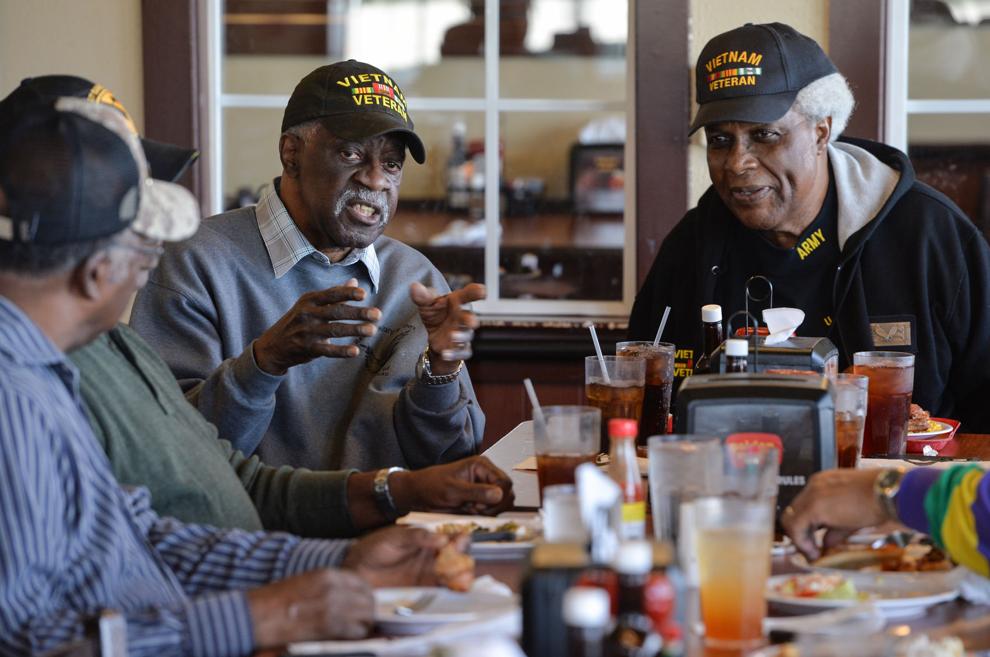 "Killeen is a city without limits," Ashford said. "There's not a black side of town and a white side of town. You move to wherever your money will take you."
Ashford wrestled with joining the military after an injury prevented him from pursuing a career in baseball, but ultimately, the military draft finalized that decision.
Early in his career, he was sent to Korea, where he later met his wife.
After five years in service, Ashford tried civilian life for a time, but ultimately he was drawn back to finish out his career.
"It was the camaraderie that drew me back. And the places I had traveled," Ashford said, "and when I traveled back home, the area for a minority — it was kind of a down-and-out from my experience being in the military. I found it much more comfortable when I did go back into the military."
Originally from Port Huron, Michigan, Ashford believed he would go back after he retired from 24 years in service.
"I had no aspiration to be here in Texas," the 76-year-old Killeen resident recalled. "But then, I brought my family here — my wife is Korean — and I had the idea that I was going to move. But my wife told me, 'you can move back there, but you'll have to come down here to visit me and the kids.'"
His wife and two children were attached to their friends, jobs and community, and did not want to uproot and move again, he said.
Over time, Ashford said he found the diversity of Killeen both welcoming and uplifting.
"My son, Doctor Ashford, is bilingual in English and Korean," Ashford said. "And my daughter D'Andre Taylor is retired from the Navy and she and her Husband both live in Hawaii. She is fluent in Japanese, Korean and English, and speaks some Spanish."
Retired 1st Sgt. Robert Miller Jr. is originally from North Carolina, but the warm community in Killeen is what prompted him to make it his home in 1962 after 28 years in the military.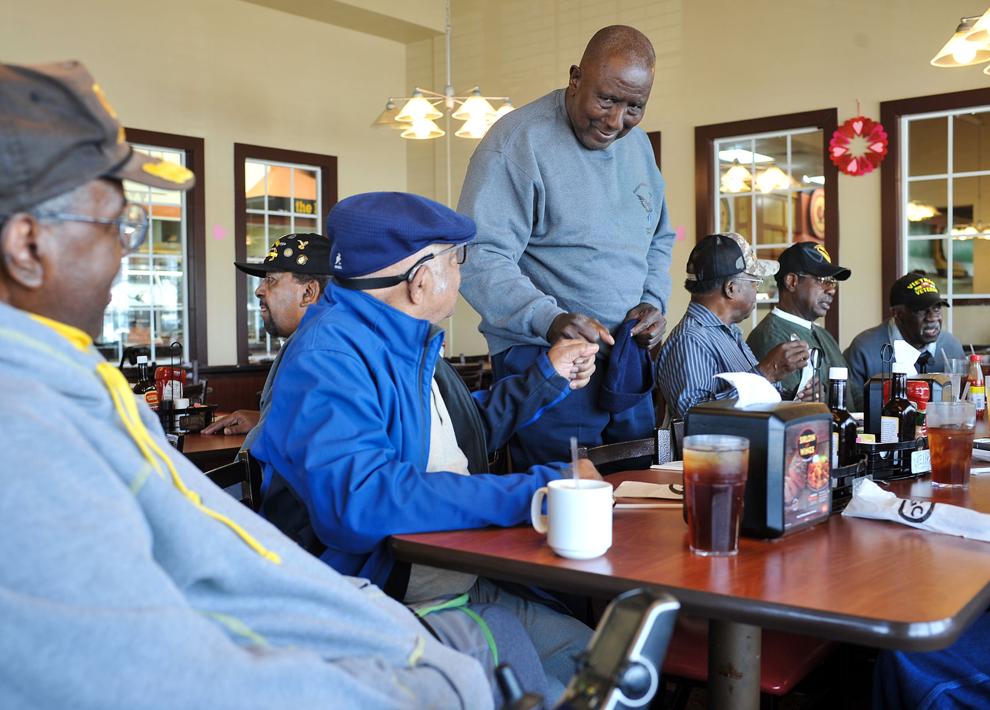 The 80-year-old Killeen resident said Killeen is a nice place to raise children and further your education.
"We have good colleges here," Miller said. "And we're somewhat close to Dallas and Houston, so it's easy to do a lot of traveling."
Miller's professional football team allegiances have changed through the years as he traveled to different duty stations, but having settled in Killeen, he appreciates being able to travel to Dallas to root for the Cowboys.
The son of a Mississippi sharecropper, A.C. Cotton, 84, joined the military to experience military life.
He became the first African American command sergeant major in the 1st Calvary Division.
Cotton retired after more than 33 years of service.
His family initially settled in Kentucky, but he relocated to Killeen when his wife became ill in September 2005.
"She passed away Christmas Day 2014," Cotton said. "We were married 59 years. Never fought, never argued — none of that stuff."
Cotton's family embraced military life, he said. The eldest of his two daughters served in transportation during her 21 years in the Army before retiring in Killeen, as well.
In addition to his retired friends and family, Cotton appreciates those currently serving.
"I hope the American people realize what a great Army we have, great soldiers who get up every day to defend our freedom," Cotton said. "Take the time to welcome soldiers and their family members. They're going through tough times these days with all of these deployments."