In the last seven months, leaders of cash-strapped, quickly growing Killeen have discussed whether developers of large projects should help taxpayers fund infrastructure related to that growth.
On Tuesday, the Killeen City Council could approve, reject or amend plans for impact fees designed to shift some infrastructure costs from taxpayers to those who make money from growth.
Two weeks ago, the council was split on the topic.
The cost of new roads and other infrastructure related to new subdivisions currently is borne by Killeen taxpayers, according to a city report.
With impact fees, developers would help fund new roadways and water and sewer pipes related to their new subdivisions and commercial properties.
On Tuesday, the council will vote on recommendations for the fees including the maximum set rate and a built-in 20% annual increase for the first five years. The suggestions are from the 10-member capital improvements advisory committee, made up of people who represent developers and residents.
The Herald sent email correspondence to council members last week asking how they will vote on Tuesday. Three of the seven responded.
Councilman Butch Menking said, "I haven't made a decision on impact fees at this time."
Councilman Steve Harris said he is in full support of the impact fees.
Councilman Gregory Johnson said he has "all the information I need to make a sound decision."
A final vote on impact fees is scheduled for Dec. 17.
Killeen has experienced its share of growth in recent years. In 2015, there were 140,187 people living in the city. Today, the population is close to 150,000.
With growth comes more demand for city services like water delivery, wastewater removal, roads and first responders.
Impact fees can be used to construct water/sewer pipes and roads related to new developments, said Hilary Shine, the city's communications director, in an email on Monday.
An example, according to city staff members, is using money from developers' water impact fees in the Stagecoach Road area toward building a 12-inch water line along Stagecoach between Trimmier Road and W.S. Young Drive.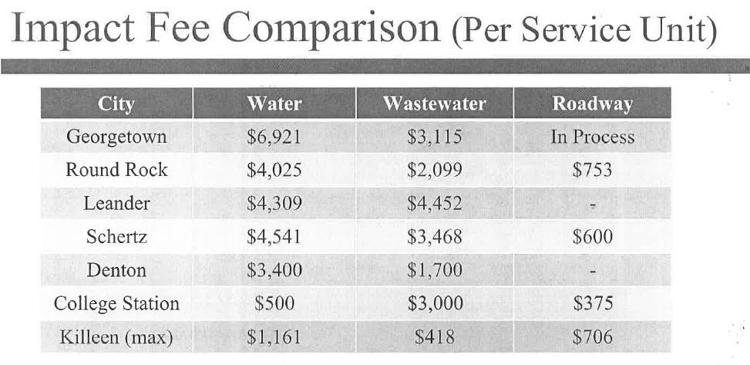 Shine said the fees would solely apply to capital improvement projects on the city's approved list. Projects not on the list could not be funded directly by impact fees. The list contains about 70 projects in a more than 10-year timeline. The plan was constructed by Fort Worth based engineering consulting firm Kimley-Horn and Associates, Inc. and the city's public works department. It was passed by the council in a 4-3 vote in July 2019.
For close to nine years, the Killeen council has attempted to move forward with impact fees.
In recent months, residents and developers spoke at council meetings with different opinions. Residents have said they are in favor of the fees. Developers have been opposed.
Longtime resident Jack Ralston has spoken in favor of the fees at several recent council meetings.
In a Nov. 22 letter to the editor, Ralston said: "The bottom line for the impact fee is who pays — the folks who profit the most from growth, or the citizens who do not?"
Fran Mitchell, president and owner of Victory Homes, spoke against impact fees during a public hearing Nov. 19.
Her argument is that the fees would be passed down to the buyer and she "has to justify that."
The price of a home in Killeen is still relatively low, according to local realtor Ramon Alvarez.
The median home sale prices for Killeen range from $130,000 to $150,000; and in Harker Heights range from $200,000 to $215,000, he said, attributing the data to the Texas A&M Real Estate Center.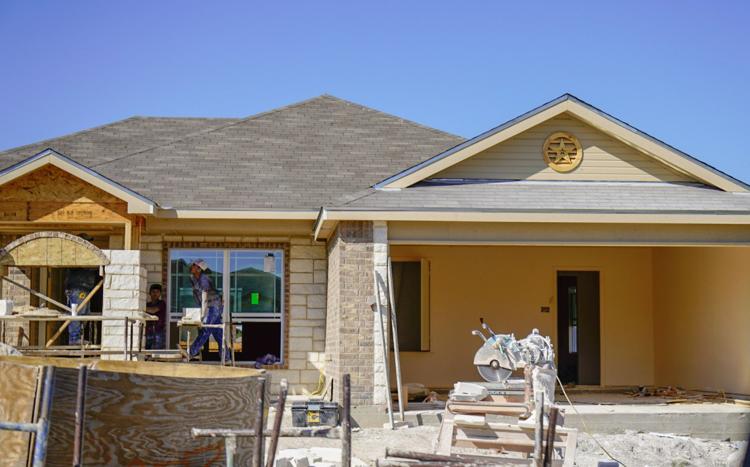 "The fact that the price-per-square-foot is typically higher in Harker Heights than Killeen, you could make the assumption that even with an impact fee that housing would still be more affordable in Killeen," Alvarez said.
An impact fee added to a home is usually spread over the life of the mortgage.
The lowest end of the proposed maximum rates per service unit could total $1,769 for water impact, wastewater and roadway impact fees combined, according to city figures.
Regional economic analyst Ray Perryman said impact fees have pros and cons.
"One of the things that needs to be avoided is trying to use them to pay for things other than the needs of the developers using the land. Typically, when that happens, developers are reluctant to invest in an area," said Perryman, president and CEO of The Perryman Group, an economic research and analysis firm based in Waco.
When asked if impact fees could fund something like the $24 million Chaparral Road project for the new high school, Perryman said, "it is hard to say."
"A public road to accommodate a public facility (school) would not generally be covered unless developers were planning to use the land around it and required infrastructure," he said.
Chaparral Road funding became a hot issue with the Killeen Independent School District's plans to build a new high school. The location was chosen by school officials who said they were estimating growth at the Yowell Ranch subdivision and growth from RSBP Developers and WB Development, which have land near the road.
Bruce Whitis, developer of Yowell Ranch, also has Turnbo Ranch, which will be a subdivision under Bell County Municipal Utility District No. 2. The MUD property, expected to have a 3,750 homes, is off Chaparral Road.
The Yowell Ranch property is between Chaparral and Stagecoach roads on Featherline, across from the new Killeen Police Department headquarters.
Land for the police headquarters was purchased in 2006 from the Yowell trust. The city bore costs of infrastructure to place the headquarters in the sparsely populated area. Two years later, Whitis was presenting plans for the Yowell Ranch subdivision to the city. The subdivision is across Featherline Drive from the police headquarters.
Dallas based senior economist Jason Savings, in his pros and cons, said the benefit of impact fees generally is lifting the burden of growth from the population's shoulders.
"If there is no impact fees then the cost of extending services to (a) new development will mainly be borne by existing taxpayers, which could potentially have an economic impact of its own."
Savings, in an email to the Herald, said the downside of impact fees is that they could "drive up the cost of new development from the point of view of the developer, potentially deterring some development in the region."
Alvarez said with or without impact fees, "Killeen taxpayers will bear the majority of this burden (paying for infrastructure)."
"Whether via a one-time impact fee paid by a developer and passed down to the homebuyer or via an increased street fee paid in ... monthly utility bill."
Street fees were added to Killeen water bills in August 2019 because the city, while building roads for growth, couldn't afford to fix older streets needing maintenance. The city began charging about $1.70 per month to fix roads before they deteriorated to the point of needed reconstruction.
When plans for the new high school made Chaparral Road improvements pressing, the city considered, but decided against, seeking a $30 million taxpayer-funded bond.
Former City Manager Ron Olson said during the Fiscal Year 2020 budget talks that Killeen doesn't have extra cash.
Currently, the city of Killeen is $279.6 million in debt with an expected total payoff date in 2039.
For FY20, the city put aside $15.8 million of its budget towards debt.
Two years ago, the city took $1.67 million from the trash ratepayers' fund and put it in the city's operating reserve fund.
The city's growth finances were a topic of the 2017 external audit, which reported city officials had years of lax oversight over developer agreements and had never reviewed developers' books for construction estimates, despite having the authority to do so.
In 2011 and 2013, two developers were paid from the city's operations fund, a misuse of taxpayers' money, the auditor stated.