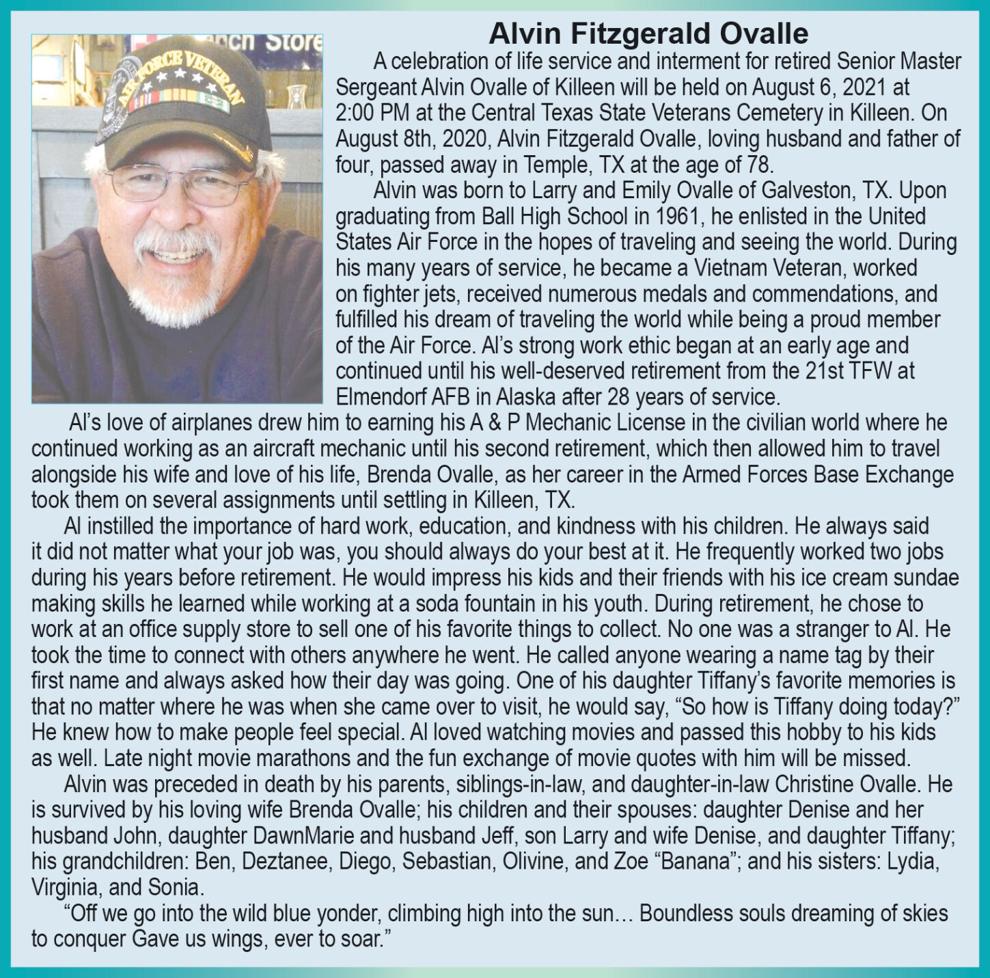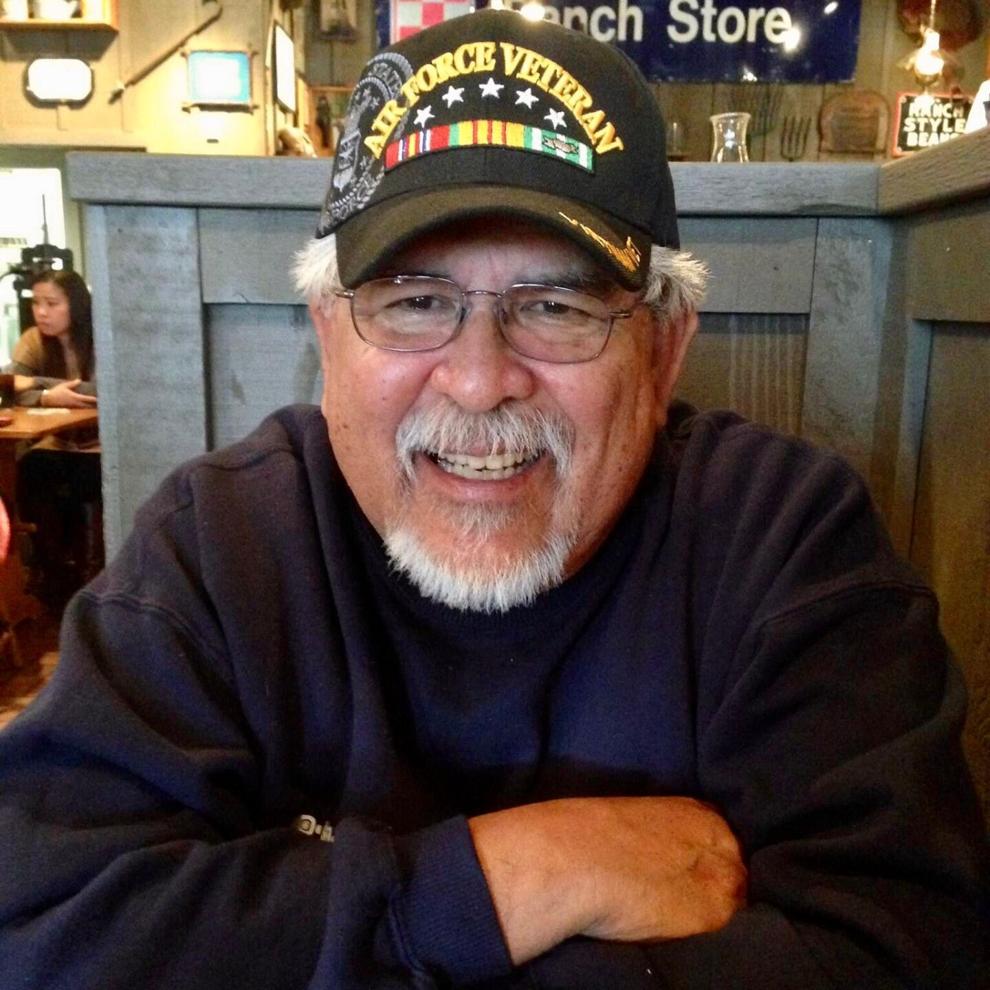 A celebration of life service and interment for retired Senior Master Sergeant Alvin Ovalle of Killeen will be held on August 6, 2021 at 2:00 PM at the Central Texas State Veterans Cemetery in Killeen.
       On August 8th, 2020, Alvin Fitzgerald Ovalle, loving husband and father of four, passed away in Temple, TX at the age of 78.
       Alvin was born to Larry and Emily Ovalle of Galveston, TX. Upon graduating from Ball High School in 1961, he enlisted in the United States Air Force in the hopes of traveling and seeing the world. During his many years of service, he became a Vietnam Veteran, worked on fighter jets, received numerous medals and commendations, and fulfilled his dream of traveling the world while being a proud member of the Air Force. Al's strong work ethic began at an early age
and continued until his well-deserved retirement from the 21st TFW at Elmendorf AFB in Alaska after 28 years of service.
       Al's love of airplanes drew him to earning his A&P Mechanic License in the civilian world where he continued working as an aircraft mechanic until his second retirement, which then allowed him to travel alongside his wife, and love of his life, Brenda Ovalle, as her career in the Armed Forces Base Exchange took them on several assignments until settling in Killeen, TX.
       Al instilled the importance of hard work, education, and kindness with his children. He always said it did not matter what your job was, you should always do your best at it. He frequently worked two jobs during his years before retirement. He would impress his kids and their friends with his ice cream sundae making skills he learned while working at a soda fountain in his youth. During retirement, he chose to work at an office supply store to sell one of his favorite
things to collect. No one was a stranger to Al. He took the time to connect with others anywhere he went. He called anyone wearing a nametag by their first name and always asked how their day was going. One of his daughter Tiffany's favorite memories is that no matter where he was when she came over to visit, he would say, "So how is Tiffany doing today?" He knew how to make people feel special. Al loved watching movies and passed this hobby to his kids as well.
Late night movie marathons and the fun exchange of movie quotes with him will be missed.
       Alvin was preceded in death by his parents, siblings-in-law, and daughter-in-law Christine Ovalle. He is survived by his loving wife Brenda Ovalle; his children and their spouses: daughter Denise and her husband John, daughter DawnMarie and husband Jeff, son Larry and wife Denise, and daughter Tiffany; his grandchildren: Ben, Deztanee, Diego, Sebastian, Olivine, and Zoe "Banana"; and his sisters: Lydia, Virginia, and Sonia.
       "Off we go into the wild blue yonder, climbing high into the sun… Boundless souls dreaming of skies to conquer Gave us wings, ever to soar."