James "Jim" Eugene Johnson
September 7, 1927 – January 31, 2021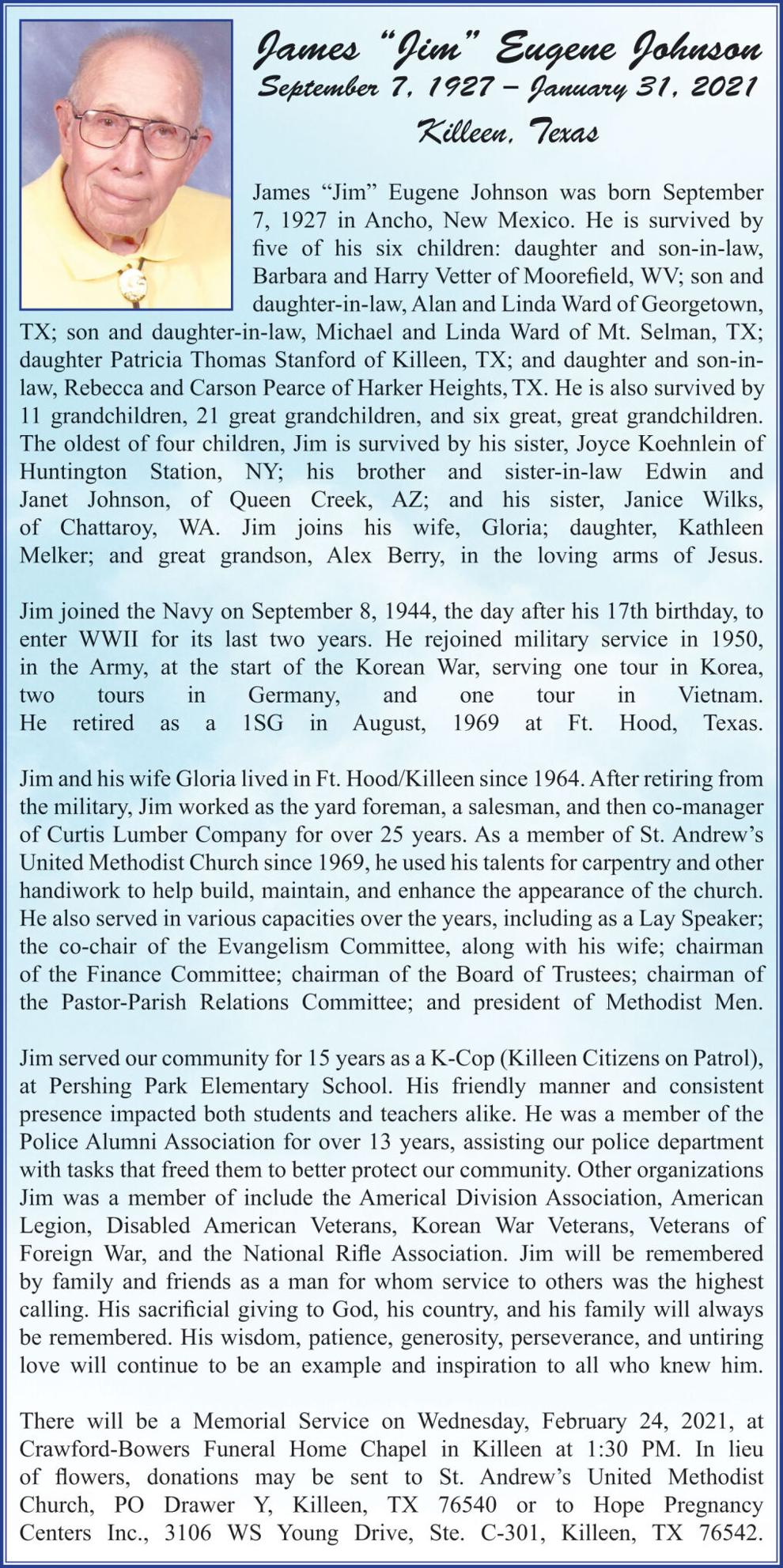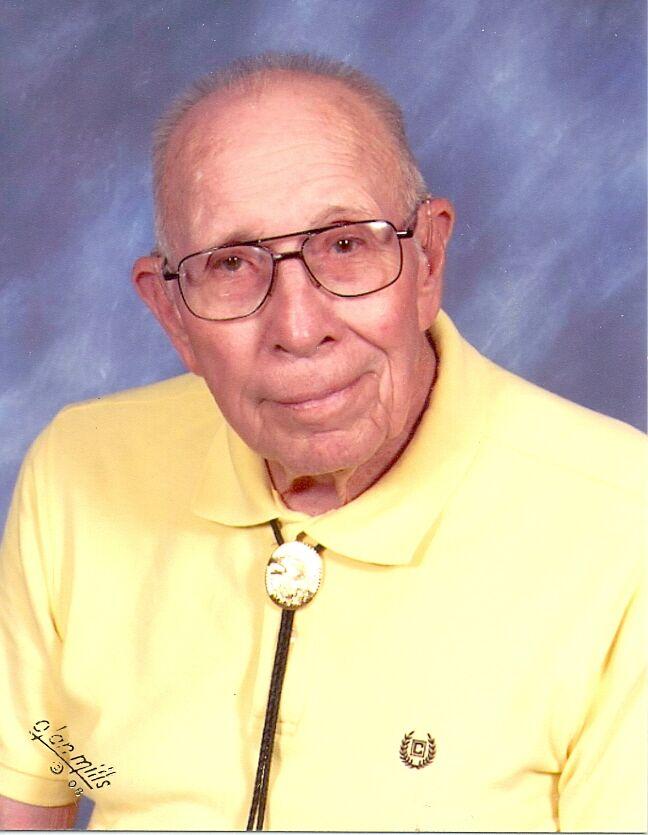 James "Jim" Eugene Johnson was born September 7, 1927 in Ancho, New Mexico. He is survived by five of his six children: daughter and son-in-law, Barbara and Harry Vetter of Moorefield, WV; son and daughter-in-law, Alan and Linda Ward of Georgetown, TX; son and daughter-in-law, Michael and Linda Ward of Mt. Selman, TX; daughter Patricia Thomas Stanford of Killeen, TX; and daughter and son-in-law, Rebecca and Carson Pearce of Harker Heights, TX. He is also survived by 11 grandchildren, 21 great grandchildren, and six great, great grandchildren. The oldest of four children, Jim is survived by his sister, Joyce Koehnlein of Huntington Station, NY; his brother and sister-in-law Edwin and Janet Johnson, of Queen Creek, AZ; and his sister, Janice Wilks, of Chattaroy, WA. Jim joins his wife, Gloria; daughter, Kathleen Melker; and great grandson, Alex Berry, in the loving arms of Jesus.
Jim joined the Navy on September 8, 1944, the day after his 17th birthday, to enter WWII for its last two years. He rejoined military service in 1950, in the Army, at the start of the Korean War, serving one tour in Korea, two tours in Germany, and one tour in Vietnam. He retired as a 1SG in August, 1969 at Ft. Hood, Texas.
Jim and his wife Gloria lived in Ft. Hood/Killeen since 1964. After retiring from the military, Jim worked as the yard foreman, a salesman, and then co-manager of Curtis Lumber Company for over 25 years. As a member of St. Andrew's United Methodist Church since 1969, he used his talents for carpentry and other handiwork to help build, maintain, and enhance the appearance of the church. He also served in various capacities over the years, including as a Lay Speaker; the co-chair of the Evangelism Committee, along with his wife; chairman of the Finance Committee; chairman of the Board of Trustees; chairman of the Pastor-Parish Relations Committee; and president of Methodist Men.
Jim served our community for 15 years as a K-Cop (Killeen Citizens on Patrol), at Pershing Park Elementary School. His friendly manner and consistent presence impacted both students and teachers alike. He was a member of the Police Alumni Association for over 13 years, assisting our police department with tasks that freed them to better protect our community. Other organizations Jim was a member of include the Americal Division Association, American Legion, Disabled American Veterans, Korean War Veterans, Veterans of Foreign War, and the National Rifle Association. Jim will be remembered by family and friends as a man for whom service to others was the highest calling. His sacrificial giving to God, his country, and his family will always be remembered. His wisdom, patience, generosity, perseverance, and untiring love will continue to be an example and inspiration to all who knew him.
There will be a Celebration of Life Service on Wednesday, February 24, 2021 at Crawford-Bowers Funeral Home Chapel in Killeen at 1:30 PM.
In lieu of flowers, donations may be sent to St. Andrew's United Methodist Church, PO Drawer Y, Killeen, TX 76540 or to Hope Pregnancy Centers Inc., 3106 WS Young Drive, Ste. C-301, Killeen, TX 76542.